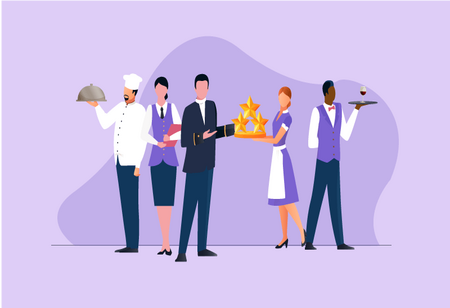 With almost every industry vertical going through some major paradigm shift at present, Hospitality Sector is no exception. As one of the top-notch segments to experience the severity of the pandemic, business in the hospitality industry took an impressive stand while bouncing back to its previous form in the post-pandemic era. In an attempt to lure back their wide consumer base with a salient promise that safety and hygiene are indeed the primary preferences at their stations amidst the lingering effects of the pandemic, the leading players in this particular domain are taking exclusive measures to convince the customers about their utmost safety. As the trends and challenges in the hospitality sector are evolving continuously, the food and beverage outlets and hotels are looking forward to accelerating existing hospitality industry trends and discovering innovative ways that can trigger lasting changes. Augmented consumer consciousness about sustainability, along with a consistent focus on health & well-being, has established new benchmarks for hospitality enterprises. Apart from that, the rise of technologies such as AI, Machine Learning, and Virtual Reality for enhanced customer service experience as well as product promotion is emerging as a major trendsetter for the hospitality segment at present.
This article explores the distinctive trends of the Hospitality sector that are reinventing the industry in the present era.
Hotel Work Spaces
Though it was started as a result of the global health crisis during the emergence of the COVID Pandemic, working remotely is gaining wider acceptance across the corporate community, and employees are standing massively in favor of it. With several prolific MNCs and top-notch corporate conglomerates such as Amazon, Twitter, and Facebook leading the way by adopting a hybrid or flexible approach to working remotely, the remote working culture is not going to be just a passing trend. As the percentage of workers around the world who are permanently working remotely is expected to double in the upcoming future, hospitality venues are currently being used as make-shift offices for leisure travelers, as well as locals in need of a change of work environment.
This has emerged as a great opportunity for hotels as well as F&B venues to capitalize on the trend and adapt their offering accordingly. With abundant plug sockets, free as well as high-speed WIFI, and delicious refreshments in terms of tea or coffee, small or mid-size hotels can easily adopt this trending phenomenon.
Digitized Guest Experiences
With each passing day, digitization is penetrating a little deeper into our lives, and keeping this in viewpoint, the hospitality segment is excessively implementing Apps to bestow their customers with out-of-the-world experiences. Starting from seamlessly managing the services they provide to their customers to control numerous aspects of guest cycle and experience, the inclination of the hospitality domain to ensure digital and contactless services is gradually gaining new momentum. Owing to the more widespread use of technology, services pertaining to mobile check-in, contactless payments, voice control, and biometrics are becoming the new normal in this industry. Apart from that, concepts like accessing hotel rooms through facial and fingerprint recognition are majorly expected by the customers who have already tested the comfort and luxury of unlocking their smartphones and laptops via the same technology. Though these upgrades are costly to install and maintain, the investments around these gadgets are worthwhile and necessary.
Customized Services
Nowadays, customers' expectations have evolved, and they expect to be recognized as well as treated as individuals. Ensuring personalization or customized experience during customer service has become the new mandate for business establishments, and they are not hesitating to go the extra mile to interact with their customers at a more intimate level. In one such recent example, tools like Mailchimp and Zoho have made personalized email marketing reachable to the masses, ascertaining exclusively targeted and audience-specific communications. Now, hotels have access to data that provides a clear understanding of the person's past preferences and purchasing habits. Going one step beyond simply adding the customer's name to email greetings, hotels are tailoring their offers and promotions to automatically provide similar services to customers who have already used them.
Presently in the hospitality segment, technological platforms such as CRM and CEM have enabled big data to promote one-to-one interactions between the guests and the hosts at a larger scale. Apart from that, AI-powered chatbots have also emerged as a customer service asset both during the booking process as well as responding to recurring queries while availing hospitality services. With the enhanced use of advanced management systems across the various hotel operations, such as monitoring and optimizing revenues, promoting customer relationships, apt management of property, and so on, present-day hotels have indeed evolved a lot. Owing to the escalating importance of numerous contemporary trends such as predictive analytics, integrated messaging, and customer profiling, the hospitality Industry is rejuvenating itself to sustain any possible roadblocks in the future.
Employment of Robots at Hotels and Restaurants
Automation is one of the top-notch hospitality trends that the present–day leaders of this domain need to be aware of. Lately, robotics has emerged as one of the most modern and competent trends to be used across the hospitality sector. During the pandemic, when it was vital to maintain physical distance amongst each individual, the hotels, restaurants, and similar businesses were seen using robots to greet and interact with the customers, as well as carry out other services related to food service. This trend is useful even now as well while dealing with restaurant customers trying to lessen close interaction with people as much as possible. Apart from assisting customers in availing vital information, robots can also play a significant role in security operations, offering room service, cleaning, and other housekeeping chores.
Virtual Reality Tours
Ranked among the most exciting hospitality technology trends, VR tours have emerged as one of the most favorable means for potential hotel guests or restaurant diners to experience their probable surroundings, all from the comfort of their own homes. Virtual tours/ 360 videos not only help the customers to better understand the facilities available but also gives the hotel owners an edge over their competitors who have not yet adopted the web-based nature of modern VR tours.
With the popularity of hygiene protocols and contactless technologies now firmly embedded in the daily activities of hospitality businesses, the hospitality industry has resumed its previous charisma. Though there have been some ongoing murmurs about the upcoming global recession and chaos caused by fluctuation in demand, Industry stalwarts are positive about the hospitality industry demonstrating an upward graph in the coming days.