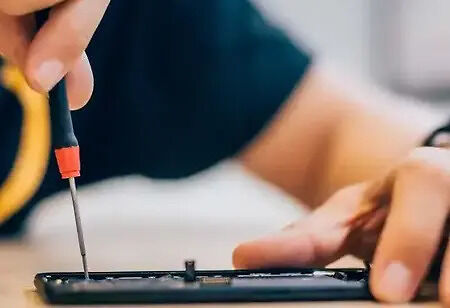 Visiting the local electronics repair shop is relatively the most reliable option for most people looking for a quick gadget fix. Not to mention that it is budget-friendly as well. Since the majority of issues are accidental damages such as display screen cracks, scratches, dents, water damage, etc., standard warranties do not cover them. Unless it's a software repair, in the case of smartphones, only then are users eligible for free repair service.
Although having to repair a smartphone by its respective manufacturer is a costly affair, companies have made it clear that third-party repair invalidates the warranty. Certain relief was exercised on this in 2016 when iPhone users replaced their Touch ID fingerprint scanner through third parties and found their phones unusable after a software update. After many users complained about this issue, Apple relaxed its policy around it.
The Ministry of Consumer Affairs has introduced the 'right to repair' policy that will permit mobile and laptop repairs from third-party service providers and has released a set of frameworks for the same.
Key Points of the 'Right to Repair' Framework
Tech companies should provide complete knowledge and access to manuals, schematics, and software updates.
The parts and tools to service devices, including diagnostic tools, should be made available to third parties, including individuals, so that the product can be repaired if there are minor glitches.
When any gadget lasts for more than a particular period, more often than not, users are forced to replace them due to the unavailability of spare parts. This culture of 'planned obsolescence' won't be encouraged.
The framework is touted to bring an end to the monopoly of manufacturers in the market.
Understanding the Law
The right to repair is a law that has existed and been developed in many forms for decades. The question of whether a business selling a product to a consumer has an obligation to permit a user to continue using it without incurring high costs over the product's shelf life has been raised at the outset of the right to repair regulations around the world. For instance, if a user pays Rs.50,000 on a smartphone, the right to repair laws advise that a user shouldn't have to spend a sizable sum of money above this value to fix it if the device has problems.
Steps Taken by the Center for Implementing this Law
On July 13, the Department of Consumer Affairs held a committee meeting in India, which also identified important industries where consumers' access to the right to repair would be critical.
The government is considering international models to incorporate this into Indian law, and doing the same would be crucial to establishing an electronics circular economy in India. It acknowledged that manufacturers have the right to proprietary control over their spare parts in order to prevent the emergence of an unofficial and third-party spares market, but it also pointed out practices like the issuance of digital warranty cards and the absence of user manuals that are detrimental to a consumer's trust.
A key part of the regulation, issued by the Centre's statement, said, "Tech companies should provide complete knowledge and access to manuals, schematics, and software updates and to which the software license shouldn't limit the transparency of the product in sale. The parts and tools to service devices, including diagnostic tools, should be made available to third parties, including individuals, so that the product can be repaired if there are minor glitches."
The Act is also believed to specify the time frames within which a company would be required to give customers access to reasonable and practical means of device repair. To teach a greater number of consumers how to repair a device, it is also looking at overseas models where repair workshops are held. It might also create rules to stop companies from putting up barriers that would interfere with attempts by a third party to repair a device.
How do Consumers Benefit from it?
Customers may soon be able to purchase their own set of tools to repair their smartphones and computers, along with the well-written documentation necessary to do it. Users could also decide whether they want to fix a product themselves or take it to a company's authorized repair facility. Should repairs become necessary, this may ensure that the lifetime cost of a product is reduced.
However, the right to repair is also expected to introduce planned obsolescence into the equation, giving products a target number of lifetime years within which the law would recognize the right to fix them. This might be done to lessen e-waste and create a circular economy where products are refurbished in a planned manner.
What does it Mean for Companies?
Companies like Apple, Samsung, and others all safeguard their internal product designs as trade secrets and intellectual assets. If this market sector were to be opened to third-party accessories, a possible black market for these items might develop.
Indeed, there are marketplaces for third-party repairs of goods produced by the majority of electronics manufacturers. It will be interesting to observe if the future right to repair laws give credibility to this industry, as this could also modify the current warranty and customer regulations.
This takes into account how other countries are treating this law, particularly the current scenario around regulatory bodies such as the European Union and the US government.
A Circular Digital Economy
To create a circular economy of digital products and offer users access to repair tools for consumer appliances, the EU introduced right to repair legislation in 2019. The EU is still striving to broaden the scope of these product fixes, and there is still active legislation being developed. In the meanwhile, France assigns products a required repairability score that ranks them according to how easily they can be fixed and informs customers of this information before their purchase.
The US approved the Digital Fair Repair Act, a law granting the right to repair, in June of this year. According to the rule, businesses must provide patented tools and remove software limitations that prevent customers from fixing their own products, at least in the state of New York.
Independent repair shops have reacted favorably to the change, as they can now provide repair services that are competitive with those provided by product manufacturers.