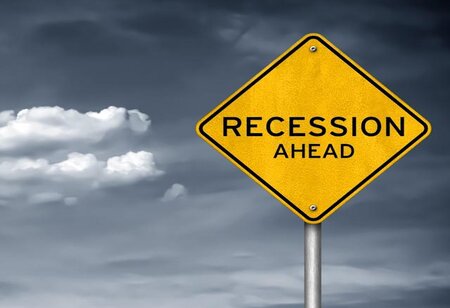 As the world is recovering from post-pandemic stress, factors like ongoing war, inflation, and slower economic growth have accelerated the probability of an imminent global financial crisis. Though many industry stalwarts have predicted the economic regression in the upcoming year for the global leader US, some have also highlighted the possibility that the US might avoid it narrowly. Amidst the ongoing perceptions and ongoing analysis about the upcoming global recession, being a 140-crore population that strives to reinvent itself in the socioeconomic parameters, India is curious about the years ahead. Let's explore the upcoming impact of the global recession on the Indian economy and draw valid and conducive arguments around it.
According to one of the recent reports by Nomura—a Japanese financial holding company, India's GDP is expected to develop by 7.2 percent in 2022 before diminishing to 5.4 percent in 2023. Publishing a research note last month, the research firm has affirmed that the 'prolonged mild recession' in the US can lead to an economic slowdown in India, which has been showcasing a significant recovery rate in this pre-pandemic period. The rate hike by the Federal Reserve can also diminish the investor spirit, the report stated further. Nomura also released its Nomura India Normalization Index to trail the growth of numerous sectors in India. As per the index, the country envisages a broad-based improvement across almost all sectors, including consumption, investment, industry, and the external sector. Some of the areas that can create a negative impact on the country's economic growth are pertaining factors such as negative sentiment shock for consumers, supply chain disruptions, worsening energy availability, and tighter financial conditions.
What to Expect if Recession Hits India
Although an economy can demonstrate various signs of flagging months before a recession commences, the process of determining whether a country is genuinely in a recession (or not) often takes time. A recession can be short, yet its impact can be long-lasting. One of the major consequences of recession is unemployment, which tends to increase at a higher speed once the economy takes a blow from recession. These occurrences especially happen amongst the low-skilled workers, and to curtail expenses, private companies, as well as government organizations, start lying off their employees. Recently, we have come across many start-ups laying their employees off as a way of cutting down their expenses and preparing them for the probable recession period. Though this can be taken as a sign of approaching recession in India, its severity in comparison to the global recession is yet to be determined.
Another consequence of the recession is a fall in output and business closures. A drop in output tends to last until the comparatively fragile companies are driven out of the market, and then the output picks up again amongst the surviving enterprises. With more people out of employment, and families struggling to make their ends meet, there will be a rise in demands for augmented government-funded social schemes. But with the downsizing in government revenues during a recession, it will be extremely difficult to meet the rising demands on the social sector.
Impact of Global Recession on India
Amidst the ongoing geopolitical developments happening around the globe, exports have slowed down globally, and central banks have tightened their fiscal policy. And considering these ongoing scenarios, it is widely expected that India may experience an economic downfall in the medium term.
Moody's Investors Service recently shared a report, where it lowered India's economic growth projection to 8.8% for 2022 from 9.1%, which was projected earlier by citing high inflation. However, the bond credit rating business of Moody's Corporation, which represents the company's traditional line of business and its historical name, has also stated that it has maintained its growth forecasts for 2023 at 5.4 percent.
Since India's economic fundamentals are much sturdier as compared to other countries, therefore, despite some short-term turbulence, the impact on the long-term outlook will be minimal. In terms of good news, the fear of an upcoming recession is now bringing commodity prices down. Prices of most commodities are dipping, starting from crude to metal and edible oil. This might come as an opportunity for India, which is one of the foremost importers of these commodities.
Similarly, across the retail market, edible oil prices have started declining with the depletion in international rates. India will be immensely benefitted from this trend as it imports more than 60 percent of its edible oil requirement from abroad.
Since April of this year, the global prices of base metals have been witnessing a sharp fall as well. This phenomenon is expected to boost consumption in India because user industries, such as white goods and automobiles, would be able to cut their input costs and pass on the profits to their consumers.
The crude oil, otherwise known as the black gold, is trading below $100 for the first time since May 11th of this year, and this fall in prices is majorly driven by recession fears. It is expected that crude prices might touch $65 a barrel by the end of this year and could even fall to as low as $45 by the end of 2023 if the recession hits. Though this might affect the advanced economies adversely, it will be a relief for India, which is regarded as the world's third largest oil-consuming and importing nation.
According to recent data, the crude oil import bill of India nearly doubled to $119 billion in the last financial year as energy prices soared globally following the return of demand post-pandemic and war in Ukraine. As India's soaring import bill of crude prices will come down, India can push demand fiscally and monetarily to recover a bleeding economy.
The Silver Lining
Most economic stalwarts believe that the global recession won't affect the Indian economy severely, as our economy is strong enough to maintain solid growth momentum. Not all businesses and industries go through the same pain during economic downturns. There are few silver linings, as some businesses benefit from the recession. The reason behind this is that the consumers cut back on substitute products. Strong businesses can take this opportunity to thrive as labor and capital become economical.