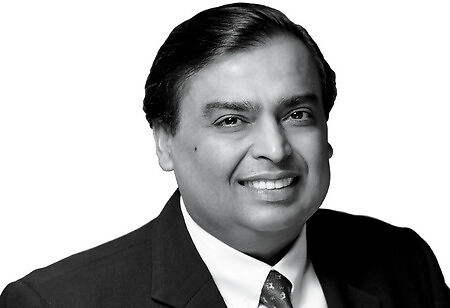 Growing up, most 90s kids in India would have desired to become rich and famous like the television superstars or prominent personalities whose names flashed in newspapers. You might have come across some parents encouraging their kids to study hard to achieve their dreams while referring to the ones who have made it big in their respective industries. Even still, many people may struggle to recall the name of the nation's vice president or even their state's chief minister's name, but never the name of Mukesh Ambani, the unparallelled Indian business tycoon.
The energy business Mukesh inherited from his father has been the backbone of his enterprise for decades. Before Reliance Industries Ltd became the e-commerce giant that it is today, it was rather like a cool supermarket chain that had people bragging about the products they purchased to their neighbors and companions. But after his father's passing, Mukesh came to the throne in 2005 and started to transform it together with his family.
Today, even as Mukesh steps down as director of RIL's telecom unit, Reliance Jio Infocomm Ltd, and the Chairman of Jio Platforms, he will remain the legend and inspiration he has always been for aspirant leaders in the country. His son, Akash Ambani, will take over as Managing Director of the telecom unit.
Looking back, how did the nation's richest individual position RIL at the summit of the nation's top favorable companies? What were the hurdles he tackled and the ideas that made a big bang in the market? Let's reminisce about some of them.
Taking Control of Reliance
Around 1980, while Mukesh pursued his MBA from Stanford, his legendary father, Dhirubhai Ambani, had triumphantly beaten the Tatas and Birlas to obtain a license for the production of PFY (Polyester Filament Yarn). When Mukesh took over, he expanded Reliance's reach by building the largest petroleum refinery in the world at Jamnagar, Gujarat. But Mukesh didn't stop there; he established their telecom division, Reliance Communications. It's just an example of how Mukesh went about it.
In 2002, his father passed away without a will. Initially, the brothers collaborated, with Mukesh serving as chairman and Anil as vice chairman of Reliance, which was already the most significant business empire in India at the time. They had plans to diversify outside what had become its energy specialization.
However, dents began forming in the brothers' relationship, eventually becoming a newspaper feud feeding content for yellow journalism.
To end this feud, the assets were divided among the brothers, with Mukesh allotted Oil and Gas, Refining, and Petrochemical companies. In contrast, Electricity, Telecom, and Financial services companies were to Anil.
Mukesh Vs. Anil
Anil received certain businesses that Mukesh had worked hard to build. Moreover, those businesses had a higher growth rate, which was a blow to Mukesh. Due to a non-compete clause in the split, Mukesh was even prohibited from entering specific fields.
However, Mukesh recognized his chance to remove the clause following the 2008 financial crisis. Many of Anil's initiatives were stuck and needed gas at acceptable prices, jeopardizing him. Mukesh stepped in to provide the gas on the condition that the non-compete provision is lifted.
Mukesh invested money from his oil and petrochemical business over the next five years to build a successful company in the telecom industry. Several companies were already vying for control of the telecom sector at the time, making this seem like a reckless idea. Then, Mukesh came up with the idea of launching Jio. And everything about Telecom in India changed.
The Birth of Jio
With 4G, Mukesh launched Jio to provide the lowest internet prices in the sector, making them virtually impossible to compete. Here, Mukesh's commercial savvy was plain to see. He exploited the industry, which had long benefited from pricey goods in exchange for subpar 2G and 3G services. Jio even compelled rival companies to decrease their profit margins on their items.
The pricing war began affecting telecom giants such as Bharti Airtel and Vodafone Idea, and Jio made it clear that it is here to dominate.
Thanks to Reliance's petrol business, Jio had a significant investment to rely on, which surfaced Vodafone's struggle to withstand the headwinds that blew in the market. To establish a 2G network across India, the telecom industry's collective efforts took 25 years. It is significant that Jio accomplished this in under three years as a result of Mukesh's zeal and effective execution.
What happened next was much expected. The business tycoon crafted Reliance into a conglomerate with holdings in the energy, petrochemicals, textiles, natural resources, retail, and telecommunications industries.
Then, Reliance became the much-talked-about new kid in Silicon Valley, with some opinions of praise and looking at it as a competitor.
Reliance Makes it to Silicon Valley
Along with founding the telecom giant 'JIO,' Mukesh Ambani partnered with Mark Zuckerberg's WhatsApp to gradually enter the retail and e-commerce sectors. By purchasing a 9.99 percent share in Reliance Jio in April 2020 at a pre-money valuation of $65.95 billion, Facebook invested $5.7 billion in the company.
After that, Reliance Retail Ventures Ltd. (RRVL), a Reliance Industries affiliate, bought Kishore Biyani's Future Group in a deal worth $24.713 billion, deepening its roots in the retail sector (which is currently engaged in a legal battle with Amazon). Following this, RIL also paid around 620 crores to purchase most shares in the online pharmacy 'Netmeds.'
Reliance became the first Indian business with a market valuation greater than $100 billion. Additionally, it is currently India's most profitable firm.
The company has been in charge of nearly five percent of the money the Indian government receives in Customs and Excise duty. The expansion also helped him rise to be the wealthiest man in Asia.
Mukesh has been India's richest man for a while, yet he never has and still doesn't take his success for granted. It is evident in his efforts to make Reliance a carbon-free organization. Despite the fact that petrochemicals are one of Reliance's strongest foundational industries.
"Data is the new oil," says Ambani. This demonstrates a shift in his attention to the tech industry. He might, but his business ideas are never going to retire.