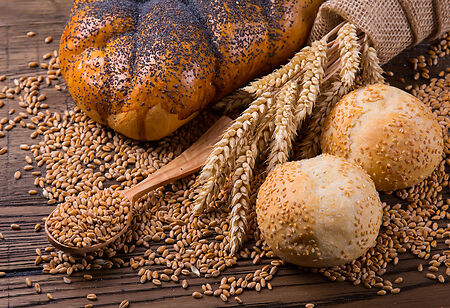 India is the second-largest producer of wheat, with a chance to take a big chunk of the world wheat trade. Countries with a variety of cuisine high in wheat consumption might become regular customers purchasing wheat from India. Although India does not supply much of its wheat to other countries, its export ban on the grain is likely to not only compound a worldwide shortfall worsened by the war in Ukraine but aggravate the existing starvation across the globe.
Not only that, the United States Department of Agriculture's data indicates that India has about 10 percent of the world's grain reserves and is a country seen as reliable to make up for global supply shortages.
In fact, Prime Minister Narendra Modi gave his word to the US President, Joe Biden, saying India would pitch in to supply the world with its reserves. To the point that domestic wheat producers were looking forward to the opportunity, saying Indian officials and financial institutions should support exporters.
But those words flew towards a different direction. A direction that could spare the country's harvest from the excruciating heatwave.
The wheat production in Ukraine and Russia is interrupted by the war, transport of the grain, followed by poor harvests in China, the heatwave in India, and drought in other countries have added to tensions in the global supply. But there are other reasons for the export ban, and they are stated below.
Factors More Gruelling than Heat?
Internal factors such as record low wheat procurement by government agencies, low yield in major wheat-producing states due to adverse weather conditions, rising wheat prices, and spiraling inflation may have influenced the government's decision to prohibit wheat export with immediate effect.
In recent months, private players purchased a substantial quantity of wheat at prices above the MSP, causing market prices to rise as farmers decided to sell their wheat on the open market. In less than two months, Indian traders are expected to export over four million tons of wheat, with approximately 1.2 million tons already transported abroad. Many farmers also held back their stock in anticipation of higher prices.
Are the Consequences of the Ban for the Good?
A lack of wheat has produced a jump in wheat flour prices in the domestic markets in recent weeks due to surging demand, and higher prices are given by private dealers. According to estimates, the monthly average retail price of wheat flour (Atta) in India in April was Rs 32.38 per kg, the highest since January 2010.
Wheat export restrictions will help to stabilize market prices and bring them closer to the MSP. This could assist consumers in absorbing the effects of growing inflation by lowering the price of wheat flour on the market.
The Centre's action will assist government agencies in increasing procurement from states where it has been trailing.
Private traders will be forced to unload stocks built up in expectation of more price increases. Wheat market prices are projected to fall as a result of this.
But not for the Indian Farmers?
Yet, some experts criticized the ban as an anti-farmer move. They suggested that the government could have filtered exports rather than deciding on a sudden knee-jerk ban. Some even said that a minimum export price or a tariff could have helped farmers earn a little while calming down the market prices.
After the PM spoke about 'feeding the world' in the aftermath of the Russia-Ukraine war a few weeks ago, the policy shift is sure to be criticized.
Despite reports of a wheat export restriction, food secretary Sudhanshu Pandey said there was no plan to restrict exports.
"We estimate 60 lakh MT less production of wheat this year. From the overall grain management side, still the government is in a surplus situation. Due to rise in market price and higher private demand, purchase by government agencies is less. The farmers are getting a good price and they are only selling to the government what they could not sell in the market. Don't see a reason to control exports, only 10 lakh MT exported, contract for first quarter is 40 lakh MT," said Pandey.
"Wheat export is already taking place, there's no curb and the government is enabling additional market access to exporters," claimed Pandey.
For the World!
The export ban could be a further setback for international organizations attempting to combat the growing issue of global hunger. The United Nations' World Food Program has warned that the war's rippling effects might cause an extra 47 million people to go hungry, compounding an already dire situation of rising food prices and a fertilizer shortage.
The ministry's decision, according to Ashok Gulati, a leading Indian agricultural economist, reflected poorly on India because it contradicted the government's prior statements about wanting to deliver wheat to countries in need.
"If there is a global surge, you can tame it by opening, rather than closing down borders," Mr. Gulati said.
Did India take a Hit to its Pride as a Global Wheat Producer?
The government's imposition of stock holding limits on pulses against the farm reforms law, including the latest wheat export ban, constitutes more than a knee-jerk reaction to inflationary pressures. But the worry is more on the long-term impact on the farm trade and policy credibility, considering the time and money for building export markets, warehouse infrastructure, and creating supply chains.
Investments in these, which are necessary for Indian farmers and consumers, are reliant on a solid policy framework. Which agribusiness will be willing to invest in huge processing and storage facilities or look for new consumers for Indian produce if the government makes abrupt policy changes, such as informing them they can't keep more than 200 tonnes of pulses or contract fresh exports?