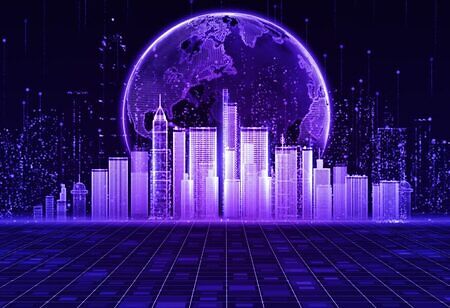 Earlier this year, an Indian couple from Tamil Nadu held the Metaverse wedding reception, and 500 guests attended the function. The event created virtual waves in the country, indicating a craze for the Metaverse. This leaves one to assume how the Metaverse could impact industries, human interaction, and activities.
Let's start with now. Even though it is not necessary, cryptocurrencies can be a great fit for a Metaverse. They allow for creating a digital economy with different types of utility tokens and virtual collectibles (NFTs).
Impact of Metaverse on Human life
Human life is highly impacted by technologies, and the Metaverse could change our daily lives with its exciting applications. People have different opinions about this novel concept, but Meta is quickly becoming the social media evolution through which people can connect, shop, and grow their businesses using the latest VR/AR technologies. The user impact of VR/AR gives a positive impression and signs to society.
Importance of Metaverse in Present
Many people still don't know how important the Metaverse is, and it is looking for more developments in the future. According to Mark Zuckerberg, Co-founder and CEO, Meta platforms has stated that there is a lot of potential for Metaverse. Zukerberg plans to invest more in the developments that help make it a reality. Meta plans to bring more people to spend more time online; he aims for a more advanced network-building process. Metaverse will help people to develop beyond apps and social media. Improved features will help people to use the more immersive realities. The platform will allow the content creators to create the content and advertising.
Metaverse Transformation of the Existing Companies
Microsoft is the stalking horse of the new technology trend. In the last few years, most companies have been using the platform to host their product. The company's newest offering is called 'Mesh for Microsoft teams,' an advanced version of 'Microsoft Teams' is the communication platform Microsoft. It has a mixed-reality feature that permits people of different physical locations to collaborate and meet virtually by their holographic presence in real-time anywhere. The creation made remote online meetings more personal, attractive, and enjoyable and can be used on smartphones.
The Metaverse is likely to impact every industry. From software companies to luxury fashion labels, businesses could soon start getting their place in this digital landscape. Early adopters, from small crypto startups to tech giants, are already doing so. Gaming and entertainment could gain the most, with 26 percent of 300 US-based developers betting on each in a recent survey by software platform Agora. Music, art, and fashion are also potential Metaverse magnets.
Pradeep Singh, chief executive officer, Squirrel, says, "early adopters in India would be segments like gaming, education, entertainment, luxury, and high-value product industries. The reason is that initially the Metaverse will be seen as a place for curiosity, creativity, and leisure. However, the underlying technology will evolve to eventually offer opportunities to deploy robust use cases in core industry segments like banking and healthcare."
Last month singer Daler Mehndi, who has already hosted a concert on the Metaverse, reportedly bought a virtual plot called Balle Balle Land. Now Lepasa, a metaverse startup, plans to create 15-20 virtual themed cities. The metaverse hype could redefine how we view even property. Ways in which the Companies Utilizing the Metaverse:
Business or Commercial Use
Metaverse is exploring the ways to business and finance. To start this, Zuckerberg has created a virtual reality world where business meetings and conferences can be held. During the launch of Horizons Workrooms, he held a virtual press conference where all the participants appeared as avatars. According to the Oculus website, Horizon Workrooms is a new meeting room where colleagues can collaborate on their ideas right from their home office. Workrooms will help in increasing the companies' productivity even though the team works from home.
Gaming and Technology
The Metaverse combines AR and VR technologies. These features make Metaverse perfect for the ultimate gaming experience. The connections in the virtual world can bring people together in the Metaverse, unlike single-player games, even if they use VR. Gaming companies are now incorporating the Metaverse into the experiences they offer. The Metaverse is more than just playing games on a screen because, directly, one can connect with other players through virtual reality. Aside from data information and calculations, AI can also generate better algorithms that improve the user experience. For example, AI helps with language processing and translation tasks, creating avatars and word generations. Artificial intelligence also paved the way for more improvements in VR interactions. For example, AI can gather data that measures muscular and bioelectrical patterns. It can also help with other advanced technological features, such as image recognition for people with visual disabilities.
Medicine and Health
The big problem in the present world is to quality of training the doctor receives. By utilizing virtual means, health professionals are afforded better training opportunities, like performing surgeries and diagnosing patients. The platform can also be used as a space for the rehabilitation of patients. For example, a team of American surgeons was able to perform AR surgery with the help of an Israeli medical technology company. They used vision AR headsets on a living patient.
Where is Metaaverse Heading?
The development of the fantasy world is still fresh in many minds, and the concept is still hard to understand. There are limitless possibilities that come with the development of a virtual world. These new ways can alter the ways people talk, connect, interact, and even how they live. Individuals who can afford the expensive equipment. VR headsets can get access to the Metaverse. So while tech developers are aiming for more people to use the technology, there is still a big question mark about when the general public can experience it.