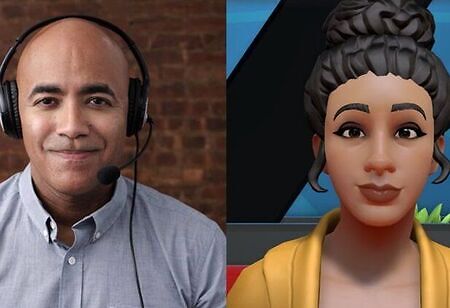 Having the camera turned off in a virtual meeting is one thing, but holding the entire meeting in an animated form in an animated setting is on a whole new 'metaverse' level. The term is often on the papers these days ever since the formerly called Facebook renamed itself as a 'Meta' proclaiming to have commenced its efforts in transcending to the metaverse. Microsoft is also making its way to that land through its 'Mesh' that turns a whole virtual meeting into an animated setting with real people having animated characters for interactions.
The reason for this is that the tech giant observed two trends, one is that remote workers are far more efficient than most business leaders ever imagined and the other is that they seem to miss each other. It seems to note that they miss hallway moments, kitchen catch-ups and chance encounters and the body language across the conference room table that says things that can't be said. The tech giant feels that remote working often tends to come off as impersonal and miss out the small moments that build relationships and careers.
People feel more present and engaged in meetings when everyone has their video cameras on, according to ongoing studies at Microsoft's research group. However, the video option is inconvenient and binary on or off. But many people are a static image or bubble with initials for far too long.
Avatars Can be 3D and 2D
Microsoft's Mesh software, which was released earlier this year and enables augmented reality and virtual reality experiences across a range of headsets, including Microsoft's own HoloLens, is used in the technology. Customers who do not have a device that can display 3D graphics will be able to view the material and avatars in 2D.
With its Mesh for Microsoft Teams, the feature combines mixed-reality capabilities allowing people from different physical locations to join collaborative and shared holographic experiences, combined with Microsoft Teams' productivity tools, which allow people to join virtual meetings, send chats, collaborate on shared documents, and more.
According to Microsoft, it mixes shared holographic experiences with existing communication technologies such as virtual meetings, chats, and shared documents. The program, which can be used with a smartphone, laptop, or virtual reality device, is based on Microsoft's Mesh technology, which was initially demonstrated earlier this year.
There are plenty of reasons why people leave their cameras off during online meetings. People feel more present and engaged when their video is on. These explanations range from concerns about privacy and video fatigue to facts like the fact that it's difficult to multitask when on video and that some people work in their comfortable clothes on some days but would rather not be called out for it during a late afternoon meeting.
The tech giant believes that an immersive space within a team's Microsoft Teams channel could help to reinforce cohesion and common purpose. For example, a Microsoft product design team might construct an immersive environment for their regular standup meeting. Customer photos may be shown on one virtual wall to keep the team grounded, while a whiteboard on another wall could display color-coded chores. On a table, product prototypes could be presented.
Users will have a number of options to design and join a Teams meeting as a unique, personalized avatar when Mesh for Teams is in preview in the first half of 2022. Avatars, video, or a static picture or bubble with initials could also be used to represent other attendees.
A Preview of Dynamics 365 Connected Spaces
In the coming month, Microsoft will provide a preview of Dynamics 365 Connected Spaces. D365 Connected Store, which was announced in 2019, would be replaced by Connected Spaces.
According to Microsoft, Connected Environments will strive to serve a broader range of business demands, including optimizing retail spaces as well as scenarios such as worker health and safety. According to an announcement made at Ignite 2021 this week, it enables low-code capabilities to govern observations and then provide real-time, predictive insights.
It came with pre-built connectivity to Azure IoT Central, which used camera and sensor data to help shops optimize aspects of the retail experience such as the number of cashiers on hand, traffic patterns, and equipment usage.
Microsoft bought Orions Systems in 2020 to improve the video AI and management capabilities of Connected Store, a retail in-store optimization system based on computer vision and other sensor-based data processing. Microsoft CVP Muhammad Alam said at the time. Our goal is to make the customization process easier for organizations by allowing them to leverage their domain knowledge to teach the solution how to adapt to their needs using visual tools—no coding or technical knowledge required. We will prioritize businesses' ability to preserve control and security of their own data without having to share information with Microsoft or other vendors in order to achieve this ambition.
Both technologies are examples of the metaverse, which has long been thought to be the next version of the internet and which is slowly coming to life.
Microsoft is implying that there will be multiple types of metaverses through programs like Mesh for Teams and Dynamics 365 Connected Spaces, according to O'Donnell. He explained, "It's suggesting you can do a lot more practical and business-focused things than just these wacky kinds of consumer applications".
According to Rob Enderle, president and lead analyst of the Enderle Group, an advisory services organization in Bend, Oregon, these technologies give us a restricted picture of the metaverse.
People who deal with 3D physical models of everything from bicycles and high-end furniture to new jet engines and sports stadiums were originally the target audience for this technology. Designers and engineers, students and teachers can communicate and iterate in these Mesh-enabled immersive venues regardless of their physical location.
"We're going away from a set of workloads that are extremely relevant for first-line workers and toward workloads for knowledge workers," Kipman explained. "People like you and me, we work in front of a desk. What are our options? We work together. What are we doing at the moment? We're working together. So, Microsoft Teams comes out to be a great, amazing collaboration platform, and we're like, 'Huh?' Today, that's where people collaborate".
This discovery showed Kipman how Microsoft's primary collaboration tool may act as a portal to the metaverse, allowing him to demonstrate a novel approach to remote and hybrid work to a 250 million-strong audience.