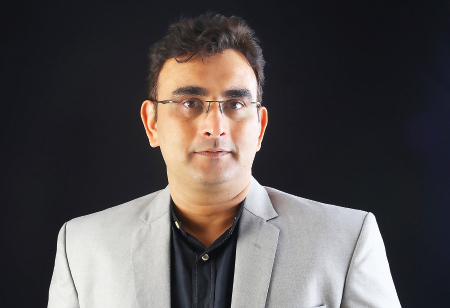 Ashish Dalia, CEO, Chief Business Strategist, I Knowledge Factory, 0
Digital Branding, Social Media Marketing, Website Design and Development this is what Ashish has been living and breathing for the past 18 years
We are living in a digital disruptive world. Every thing which was conventional is being challenged by the digitally connected world we live in today. The conventional growth models are losing ground. This has necessitated the need for digital marketers for navigating businesses through the digital mire. Many of the companies lack the necessary skills to capitalize on the digital world of social media, mobile, internal social networks, automation, and analytics. That means a majority of companies run the risk of falling behind as the digital world surges forward. You have to continually adapt to customer behavior and consumer demands. Successful companies must now go where their customers are online.
Businesses thus have two options of amplifying their digital persona for surviving the digital disruptions. First is to create a digital footprint and to make sure your digital presence ranks high on search engines like Google. For this organisations need to start creating their own digital assets. Gone are the days when physical assets were the only source of growth. In today's era, creating digital assets are important too.
How to Create a Digital Foot print?
Step by step you have to create a strong digital footprint like website, social media platforms, your blogging platform or LinkedIn platform. However different platforms give you different kinds of opportunities and diverse types of visibility.
•Website
Your website is the core of your company's digital identity and personality. You will be driving your entire online traffic first and foremost to your website. Ensure your website is up and running, is mobile compatible and downloads fast. You also have to ensure your major keywords are ranked up on Google search engine. If not, you have to consult your web designer or your digital marketing agency that will help you with it.
Expectation what you should have from website is
a.it should be fast to download
b.it should be multi browser and multi device compatible
c.it should feature unique or non-plagiarized content
Expectation what you should have from search engine optimisation
a.Ensure website should rank at the top of the search engine
b.If you are planning to go beyond a geography, you have to initiate Google Adwords as well
c.People who visit your website initiate with your
remarketing. Remarketing is an approach where if anyone visits your website and do not generate an enquiry, Google Adwords account tracks their digital footprint and you get better insights into what they are looking for.
Your Website Is The Core Of Your Company's Digital Identity And Personality. You Will Be Driving Your Entire Online Traffic First And Foremost To Your Website. Ensure Your Website Is Up And Running, Is Mobile Compatible And Downloads Fast
•Social Media
Similarly your social media is also all about creating your digital footprint. It's all about creating your social persona. Usage of Facebook Instagram Twitter, YouTube etc. helps build your brand proposition in the minds of your customers and other audience. It also aids in managing your reputation as this way you connect and interact with your target audience directly. You can use it to effectively showcase your organization culture and let every one know about the values your organization imbibes.
How to Steer the Digital Marketing Engine for Your Kind of Business?
With my experience in digital marketing, I come across clients who initially think digital marketing is not for their industry. But it is not so. It entirely depends on how well you accept and embrace it for the benefit of your organization. We are observing the trend that as brick and mortar businesses are extending their scope to include e-business; there is also a reverse trend of online businesses extending theirbrick and mortar presence. So it is important to maintain a healthy balance of both, to sustain a healthy and growing business. Thus businesses are leveraging digital marketing that compliments their way of doing business. You can to use digital for two purposes-
•For brand & reputation management by creating a digital footprint
•Towards aggregated sales approach using Search Engine Optimisation, Search Engine Marketing Google Adwords, Lead generation campaigns etc.
These two cannot be implemented exclusively. Just having a strong digital footprint without having a strategic aggregated sales approach will not give sustainability. Also, having a strong digital sales strategy without a digital footprint will also not work. They have to go hand in hand to be effective. People have to start looking at all aspects of their business with a digital marketing perspective be website, social media channels or be it your search engine marketing campaigns.
Also, digital marketing activities cannot be carried out in silos. It works best when integrated with traditional media and response channels. It is always recommend that you develop an integrated digital marketing strategy. Once the digital transformation is complete digital marketing activities will be part of your marketing plan and part of business as usual.
I hope all the people start thinking in digital terms and help take their business up the digital express highway.