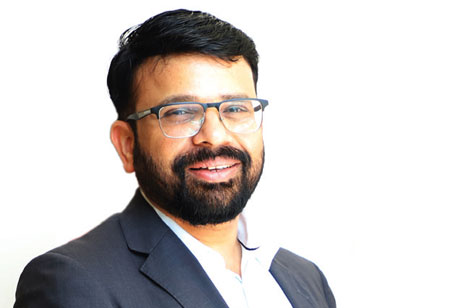 Lalit Das, Founder & CEO, 3SC Solutions, 0
Holding an MBA in Supply Chain Management from the Management Development Institute Gurgaon, Lalit has been associated with 3SC for over eight years now, prior to which he held the role of VP - Asia Pacific at Kuehne + Nagel.
Our desire to simplify our lives in an increasingly disorienting world has been rising dramatically. It has become nearly impossible to envision our existence without all the tech-savvy solutions, as they make our survival easier with each passing day. Not only in our personal ventures but within businesses too. Technological advancements have been creating strong ripples across the world, and the logistics sector is no exception.
According to research by IBEF, the estimated Indian market size of the logistics industry is pegged at $215 billion and is growing at a CAGR of 10.5 percent. Even though the involvement of so many geographically dispersed players makes the process of supply chain management full of uncertainties, the growth seems inevitable owing to digitalization. Currently, there is a lack of consistency and transparency along with information sharing in the supply chain model of businesses, but with technology foraying into the sector, all such roadblocks seem to disappear. Let's explore how digitalization is transforming the logistics industry:
Effective Communication
Undoubtedly, fast communication creates improved operations. Hence,it is keyto maintain transparency, be it in supply chain management (SCM) or any other business venture. Traditionally, SCM providers used to depend on outdated techniques for communication. The arrival of technology has made the process much simpler with various platforms facilitating the change for these suppliers. The advancements have allowed more successful and productive integration between parties. It has become the dire need of the hour that logistic firms should remain competitive at every front, openly and honestly communicating with stakeholders at all times. Communication only helps to form a unified business which enables fast development. Technology has certainly changed the supply chain for the better.
Internet of Things (IoT)
Consider it the days of yore when you had to ask for directions at every few kilometers of your journey to reach your final destination. Now, all you have to do is open your GPS. The easy access to the internet connects everyone to everything, and that is why it's known as IoT. It is opening-up many opportunities for the supply chain, as its precision has definitely expanded and developed the inventory network. The IoT-enabled devices effectively track and authenticate shipments using GPS and other technologies, which also reduces costs and delays by avoiding risks. The highlevel accuracy of GPS increases efficiency and enhances customers' satisfaction by tracking channels' locations, estimating the time of arrival, and improving hauls via access to updated traffic data. The sensors, built into cargo ships, trains, et al, connect to an alarm system or dispatcher that monitors and tracks. These sensors help both the
sellers and buyers to receive prompt updates the moment supplier picks an order from the seller and when it is delivered to the customer. IoT deployment in this sector is usually at the physical end of the supply chain. With digitization via this solution, every service touchpoint that comes with costs can now be digitally visible and streamlined. It can drastically reduce the company's cost of operations as well.
Since the utilization of technology can assist with leading scm suppliers in their market, it can likewise be utilized to aid rapid scalability
Blockchain Enabling Visibility & Consistency
The ease in communication has indeed allowed for quicker connectivity between businesses and customers. With technological advancement enhancing the consistency and visibility of the customers, it doesn't come as a surprise that their expectations are growing exponentially. Be it in terms of transparency, delivery or response time, reducing stock losses with real-time stock checking, improving labor management, or monitoring resources. The supply chain is more transparent than ever, all thanks to blockchain. It helps to create a digital and secure system that offers a decentralized network where the interactionbetween manufacturers, suppliers, customers, carriers, shippers, and others has become instant and smooth. With full visibility of the process, human errors, risks, duplication of the documentation processes, and opportunities are picked-up faster than it was ages ago. Therefore, blockchain creates greater efficiency at a much faster pace. What was once a convenience, has now become a necessity for the customers as well as for the businesses.
Mitigation of Risks
Every business leader desires to mitigate their risk and increase their revenue and profitability. Right from e-invoicing, computerized shipping, and tracking to automated notification, technology has been into SCM slowly but surely. It enables customers to place orders with ease, track their shipments and monitor inventory in real time, in turn mitigating the risk factor involved. Many firms have been using predictive analytics at every process of the SCM, which helps them to determine how to protect themselves against vulnerabilities. For instance, algorithms are built to deliver notifications in the increase and decrease in demand and supply. Then, this information is closely monitored and fed back into the SCM process to drive better distribution and transportation management, production planning, and capacity of the supplier. It reduces the risk of bad decision-making.
Scalability
Since the utilization of technology can assist with leading SCM suppliers in their market, it can likewise be utilized to aid rapid scalability. With the growing demand for products comes the growing need for logistics. Digitalization can significantly help with the rising demand and the inescapable stress of processing that accompanies it. The boundless potential that tech-savvy solutions have can easily allow a supplier to broaden their offerings practically in no time.
Summing-up
To grow and upgrade productivity, keeping abreast of innovations is an absolute necessity. Undoubtedly, the logistics sector has been benefiting colossally from all the advancements in technology, and it is only expected to develop more as evolution happens further. The leap forwards in technology will continue pushing the boundaries for the forthcoming years.