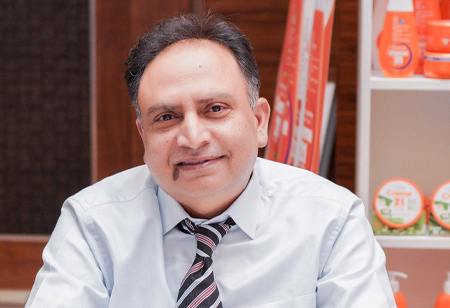 Vivek Dhir, CEO - International Business, Emami Limited, 0
Having completed his Global Advanced Management Program from both Indian School of Business and Kellogg School of Management, Northwestern University, Vivek boasts of a 30years long successful career during which he has was associated with Dabur Group for 25 years, heading the key functions of Sales & Marketing for International Business, prior to joining Emami group in 2018,

CEO Insights recently got a chance to interact with Vivek, where he shared his insights on the importance of sustainability in today's dynamic business landscape and various other aspects. Below are the excerpts of the exclusive interaction –
Tell us your thoughts on the sustainability factors in today's business landscape.
Sustainability has been the epitome of every activity these days, be it business-related or non-business. People are increasingly inclined towards sustainable living and are thus seeking sustainability in every possible aspect. We, as humans and consumers, are an integral part of the larger society, wherein we are weaved into and involved in every aspect of Mother Earth and the universe. We humans are becoming more knowledgeable about sustainability and eco-friendliness than ever before.
When we look at the adverse effects human activity has had on the environment, we are obviously pushed towards embracing sustainable practices in our actions. This phenomenon is very strong in the West, where the education levels of the average population are higher. As a result, any practice that the West adopts towards sustainability will gradually move into regions where there is still a lack of proper education, knowledge, and awareness about the environment. We, as business leaders, being the educated lot, are able to study and understand which actions of ours are having a negative impact on the environment and society and thus bring about a change to our business processes, operations, etc. accordingly.
Over consumption of resources is another major activity that is witnessing a widespread decrease due to increased environmental awareness among businesses and individuals. People are now becoming increasingly conscious of the effects their everyday actions might have on the planet. As a result, companies across all industries are striving to make their products and services as sustainable as possible by carrying out stringent studies pertaining to the effects their offerings might have on the environment, thus making sustainability an integral part right from the initial conceptual phase itself.
How are digital tools adding value at each stage of the business operations cycle?
The latest digital technologies have resulted in a uni-polar, well-connected world. A person residing in any part of the world can now easily observe things happening in any region of choice on a real-time basis due to high-speed digital connectivity. Also, digital has now become a very important integral aspect of any business, wherein
it offers a hassle-free connection between the business and its customers.
Secondly, in terms of data assimilation, the entire business cycle—right from input material purchases to back-end supply chains—is digitized. This has resulted in a reduced wastage of resources and also eased the decision-making process due to the ease with which information is available to business leaders. Furthermore, digitization and automation are also significantly contributing to the sustainability of the planet. Thus, it is safe to say that digitization, when used in the right way, can have a significant impact on the organization, society, and environment around it as well.
How do sustainable practices contribute to the business' growth and the society's welfare?
Consumers today are increasingly conscious of our planet and thus prefer products or services from companies that adopt sustainable practices. Any business that does not implement sustainable practices in its day-to-day operations is bound to falter and eat dust in the days to come. Also, any action or process by a company that leads to a negative environmental impact is seen scornfully by consumers today. As a result, sustainability is no longer a choice for organizations but a norm to strengthen their brand proposition among consumers. So another 15-20 years from now, any company that hasn't embraced sustainability as one of its core values to operate a business will definitely cease to exist.
The re-cyclability of the packaging or product is the first factor that people look into, followed by its biodegradability. Also, one must keep in mind the amount of energy that will be needed in the recycling process of these materials. Further, there is a lot of research that is currently happening worldwide in these areas, and the industry itself is shaping up very well in this regard. Thus, it is very evident that sustainability will be an integral part of every decision being made by businesses in the near future.
Sustainability is no longer a choice for organizations but a norm to strengthen their brand proposition among consumers.
What is your roadmap towards becoming an environmentally responsible organization?
The journey had already begun a few years ago. The organizations that are already way ahead in the journey have carefully evaluated each function of their business, right from the use of sustainable and environmentally friendly ingredients, manufacturing processes, optimal use of energy, design of packaging structures and materials, least transportation and movement of goods, etc. Also, thorough emphasis is laid on the re-usability factor of every raw material that is being used and its effect on soil, water, and air when released into the open environment after use.
What is your advice to upcoming entrepreneurs and business professionals aspiring to lead a sustainable business journey?
Firstly, one must understand that no matter what role they hold in the organization, they are an integral part of a bigger society, where different parts of the society work in tandem with each other. Also, every leader must ensure that have a clear view of the impact of every action by their organization will have on the environment.