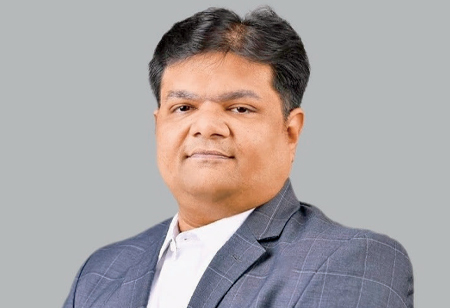 Amit Gupta, Chief Financial Officer, Arka Fincap Limited, 0
Amit Gupta, the Chief Financial Officer (CFO) of Arka Fincap Limited, discusses the transformative developments in the finance industry and outlines his plans for implementing a sustainable strategy in the coming year, during an interview with CEOInsights India. Amit started working at Arka Fincap Limited in February 2019 as the Head of Resources and Corporate Finance. Over time, he advanced to become the Chief Financial Officer (CFO). Amit possesses more than twenty years of expertise in various areas including business, credit, treasury, capital markets, finance, compliance, corporate finance, and investor relations. Following the completion of his CA and CS degrees, Amit commenced his career with Magma Leasing Limited in Kolkata in 2003.
Tell us about the important changes the finance sector has taken to embrace digitization and its stakeholders since demonetization.
The finance sector or BFSI segment has undergone tremendous changes over the years. If we talk of incidents like global financial crisis in 2008, Taper Tantrum in 2013 – 2014, demonetization in 2016, Nirav Modi saga in 2018 and some large conglomerate failures, and the pandemic in 2020, industry has learned from each incidence and evolved over the period. Technology has played an important role in the journey of evolution. Digitization has changed the way of functioning and ensures proper control mechanisms at appropriate levels. Industry has embraced the changes in terms of digital payments, collection, monitoring mechanism and others. Digitization has been playing a critical role in growth of the organization, starting from customer acquisition, loan processing, disbursement, collection, monitoring and ensuring enhanced customer experience.
NBFCs operate in a highly regulated environment. How do you ensure compliance with the regulatory framework while also driving financial growth and profitability?
I believe, BFSI is the highest regulated industry. The objective of the regulatory framework is to ensure that regulations are in the common public interest and fit for purpose. Infact, I think that sustainable growth needs the support of effective regulation. A regulator introduces regulations; amend the existing one, in line with the evolution of industry. As I stated earlier, over the period, the BFSI industry has encountered various crises, which resulted in failure of those institutions who were not strong on their governance framework.
The base for sustainable growth and profitability lies in high governance standards. It is very important to have a proper internal control mechanism in place, which provides the platform to augment growth and ensures quality deliverables. Indeed, the current environment needs agility in the process, to ensure adaptability in line with the changing regulations. Moreover, compliance is a continuous journey and not a destination. Institutions have to embrace it in their DNA to ensure long term sustainable growth. We have made it an essential element of our deliverables and put in a proper monitoring mechanism to avoid any deviations.
How do you examine environmental risks as the chief financial officer to determine the financial impact they have on your company? And how do you mitigate them?
The BFSI segment is very prone to external environmental/ economic changes. Not only domestic, it is crucial to keep an eye on the global economies and also to devise one's strategy. The lending business is very sensitive to interest rate risk, liquidity risk and other related factors. It is very important to be updated on global economic matters and keep strategizing accordingly on a regular basis.
It is very important to have a proper internal control mechanism in place, which provides the platform to augment growth and ensures quality deliverables.
How do you keep your organization constantly and consistently relevant to the investors during these evolving times?
I remember one of the sentences from one of my seniors, who suggested that, "It is your performance and you have to highlight the same, don't expect others to do it for you." I believe in highlighting the performance and strategy to our investor's regularly. Understanding the investor expectation and accordingly designing your framework and plans is the mantra. It becomes important to build agility in your decision to mold it according to the ever-changing macro environment.
What changes do you anticipate for your position in sustainability strategy over the next five years?
If I look back, I find that the role/ position has transformed completely. The responsibility has increased manifold and a diversified knowledge base is of utmost importance. The landscape has been broadening and expectation from the role is increasing in a calibrated manner. In terms of sustainability strategy, one has to be updated with the economic scenarios and should be equipped/ experienced enough to deal with the same. I believe there will be more learning opportunities in the next 3 – 5 years and the position will evolve further over the period. Also, it becomes very important to have deep insights of the ancillary functions along with core competencies to ensure that fruitful contribution can be provided at relevant times to ensure sustainable growth.