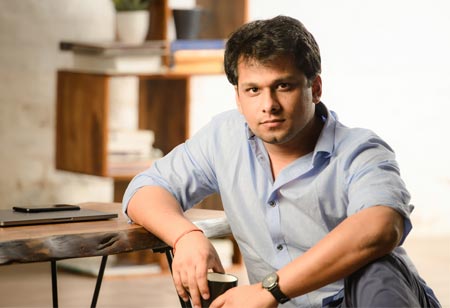 Raghunandan Saraf, Founder & CEO, Saraf Furniture, 0
Raghunandan is a renowned personality in the industry of commercial and residential sector. He is a keen problem solver with unique approaches for online retailing.
The advent of E-commerce has been one of the greatest developments to come across in the realm of internet and tech-enabled commercial activities. The growing need for accessible technology has further driven growth within this realm and continues to be its major growth driving factor across the world. Whether it's B2B, B2C, or conversational commerce, there is something for everyone in this ever growing industry and its multifarious fields.
In India, e-commerce has grown steadily over the past decade due to easy access. According to a report by Indian Brand Equity Foundation (IBEF), the Indian e-commerce market is expected to be worth USD 200 billion in the next 6 years driven by increasing disposable income of consumers, rising usage of smartphones, and 4G & 5G networks. The report further states that the internet penetration in the country grew to over 52 per cent in 2019 from just 4 per cent in 2007, clocking in at 24 per cent CAGR between those years. Furthermore, the total number of Indian internet users is projected to rise from 687.62 million (September 2019) to 829 million by next year; which means more chances for e-commerce to reach wider audiences.
Over the years, e-commerce has branched out to introduce typically offline experiences into the online world, specifically in the furniture market. A shift from what was once considered to be a task that required an entire day, furniture shopping online is now becoming the most sought-after option among customers. One major reason for this has been constant innovation in both e-commerce, and the furniture industry in general.
Let us explore how new and innovative technology is driving the popularity and growth of e-commerce furniture industry and what else can one expect from this realm in future.
Easier customization and personalization
Use of innovative technology has allowed players in the e-commerce furniture market to offer customers a chance to personalize and / or customize any furniture according to their specific tastes & preferences from the comfort of their home. People can now select their preferences for any furniture while browsing online, and even opt for assembly upon delivery. What's more, the ability to customize and delivery assistance can build trust and brand loyalty among customers, which is always great for any business, be it offline or online.
Unique Designs
With an option to customize, e-commerce furniture brands over another interesting approach – unique designs. These days, most consumers focus on the concept of uniqueness and they seek that in every aspect of their lives. They no longer wish to possess something that another person has a chance of owning. Therefore, through innovative technology, several e-commerce furniture players offer ergonomic and distinct designs that revolve around individuality, especially for those who seek something that can set them apart from others.
Virtual Assistance in Real-Time
Virtual assistance is becoming one of the fastest ways for e-commerce furniture platforms to make online shopping for customers a hassle-free experience. When visiting a website, consumers can opt for virtual assistance through which they can navigate through different products, decide what they want, and discuss their options, all in real-time. Just like shopping assistants in offline stores, virtual assistants offer suggestions to consumers based on their precise requirements and often help them in their final purchase decision. Moreover, it also makes it easier for customers to learn about latest trends in furniture buying and make their choice accordingly.
Over the years, e-commerce has branched out to introduce typically offline experiences into the online world, specifically in the furniture market
Augmented Reality
Online furniture spaces are quickly adopting augmented reality technology in order to provide a wholesome shopping experience to customers. Virtual reality is gradually becoming the preferred reality of enjoying a shopping experience, especially during challenging times like the present Covid-19 pandemic. Apart from creating the experience of offline shopping in online spaces, virtual / augmented reality is accessible, ensures smooth shopping experience, and a boon to the e-commerce industry.
Highly Interactive Mobile Applications
One of the biggest advantages of innovative technology in e-commerce furniture industry is how it has made the entire online shopping sphere highly interactive. With increasing smartphone penetration, it has further become extremely easy for customers to explore different products through integrated mobile applications that offer swift customer service with just a touch or tap of a button. All a customer needs to do is download the app of an e-commerce furniture app and then surf through it at leisure, irrespective of where they are based.
Apart from the above-mentioned technology, the e-commerce furniture industry is constantly evolving and adopting new innovations to keep up with ever changing market trends and buying behavior of consumers. Going by such encouraging insights, it is evident that this industry will continue to grow and evolve over the next decade. It could also eventually become the preferred destination for shopping among consumers from not just metropolises, but fast-growing cities across India.