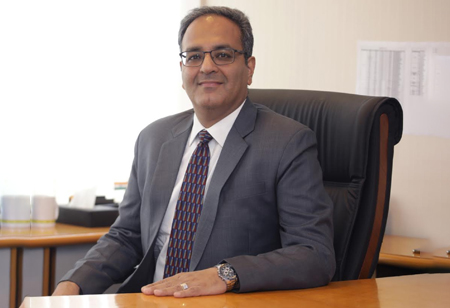 Sumit Bidani, CEO, Knauf India Pvt. Ltd, 0
Having completed his B.Tech degree from IIT Madras and PG Diploma in Marketing & Finance from XLRI Jamshedpur, Sumit brings to the table an enriched 28 years long career. He has successfully handled key roles across diverse companies such as Colgate, General Mills, Mother Dairy, Shell and Fletcher Building, prior to joining Knauf in 2018.

In a recent interaction with CEO Insights, Sumit shared his insights on various aspects pertaining to the current construction materials industry. Below are a few select extracts from the exclusive interview –
Throw some light on the recent trends in the construction materials market in India.
Green Buildings is one of the major trends that have been gaining widespread prominence in the real estate and construction industry today. Green buildings mainly relate to various certifications such as LEED, EPD and many others, which every major player in the industry owns. Another major aspect that almost every company is investing a lot of time and money on is sustainability. Sustainability is primarily about how you adapt your processes and embrace new technologies to reduce your carbon footprint. Industries are working to optimize not only Scope 1 Carbon dioxide generation but also on Scope 2 & Scope 3 generations. Focus on green technology is helping in alignment with the sustainability goals set by the organization along with ensuring that standards set by the government and other regulatory bodies are complied.
Recent trends towards usage of material which can contribute to the energy savings, involves having lower embodied energy and contribute to lowering the overall energy of the building after completion. This is not only limited to drywalls but also for floors, building facades, false ceilings, windows, lift shaft walls, plastering's etc.
It is a noticeable fact that India will need construction materials which can contribute towards saving of water, arresting noise pollution, fire protection and more usage of recyclable materials resulting in higher productivity. New trend will not be limited to the product usage or its properties but great emphasis shall be laid on its use as a system or whole assembly resulting in performance parameters.
Tell us about the key challenges currently prevailing in the construction materials industry.
One of the key challenges when you come-up with a new construction material is that you are required to ensure adoption of few new construction practices compared to the traditional materials that are currently being used with a set of existing practices. Also, you need to have a clear engagement with various stakeholders about the various advantages of adopting this new materials and the practices that need to be followed.
Another major challenge that the construction companies face here is the lack of skill sets among the people on how to use the new materials. Through effective training programs, practical demos, and engaging with various training programs imparted by the authorized bodies, companies can train people in this regard to ensure that they reap the maximum benefits from these new materials. Unlike other industries where the product is light weight and can have one single manufacturing plant to supply across various regions, construction materials are heavy and the distance which you can transport the materials viably is limited. Hence, it is important for building material companies to have adequate scale within a certain radius from the manufacturing location.
How is the construction industry adapting to ensure resilience and growth amidst economic, social, and environmental factors?
Since one company will not have all the materials that are required for the building construction process, we are witnessing a lot of collaboration and partnerships among various companies in this domain in recent times. Also, the construction industry is putting-in a lot of efforts to understand their clients' exact requirements in terms of performance, appearance of the end product and various other aspects and accordingly developing the end product and being a solution provider. Companies are also making sure that the required certifications are in place, efforts are being put into making materials available in short period of time and with no compromise on quality. A lot of energy is being put into recycling and up-scaling as well. The building materials companies should work with the relevant authorities towards upgrading the building codes & its implementation. This will help in creating knowledge on subjects like Fire, Acoustics, Thermal etc., not only with the specifiers but for a larger audience in the constriction community.
To ensure adoption of few new construction practices compared to the traditional materials that are currently being used with a set of existing practices is one of the key challenges.
Suggest a few ways construction companies can strengthen their relationship with the clients.
The key factor that acts as the foundation of a client's relationship with a company in our industry is trust. Thus, it is necessary for every construction company to maintain complete transparency throughout the project lifecycle and make sure to finish the project within the pre-determined timeline. Most importantly, due to the extremely serious nature of our industry, it is paramount for all the departments involved in the construction process to collaborate with each other and work as a team to make sure that the projected is delivered on time, within the specified budget and at par with the industry standards and without any compromise on quality. The organizations should collaborate with the new age materials & system providers to upgrade their knowledge, skills resulting in improved productivity. They should provide innovative solutions in the overall construction techniques which are proven tested & provide optimum performance.
How do you expect the construction and building materials industry to evolve in the days to come?
Today, the rate at which construction companies are implementing sustainable practices is at an all-time high and this is only expected to grow even further in the coming years. Right from the sourcing of raw materials to the manufacturing process of the final product, sustainability has already become a core focus area of every construction company and is no longer a mere option. Also, companies are expected to increase their investments in terms of adopting latest technologies to better understand the market dynamics and customer requirements. This will also enable them to optimize their overall process, maintain high quality at affordable rates and thus cut-down the overall building costs for the owners. This will no doubt be a welcome factor given the price-sensitive market that our country is. Lastly, companies are expected to engage more closely with their customers by leveraging digital technologies. Digitization at the manufacturing end and customer end will only make us ready for the times to come. Digitization will minimize errors and maximize output. With a great emphasis on energy savings, lightweight & dry construction the building material industry must partner with government & private stakeholders to provide fully certified performance solutions right from the design stages. The organizations will have to impart knowledge & training to the construction community on new age materials & its usage which also involves the young & budding specifiers, engineers.