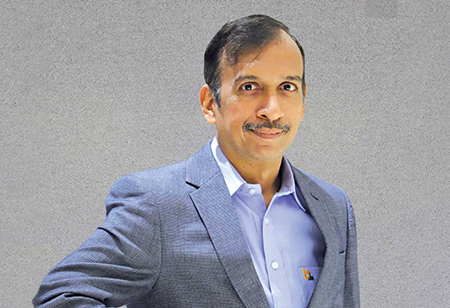 Alok Agarwal, Chief Marketing Officer, Orientbell Tiles, 0
With over 25 years of professional experience, Alok is a seasoned expert in igniting team inspiration and catalyzing brand growth. His impressive track record spans diverse domains, showcasing his adeptness at brand cultivation, innovation propulsion, and result attainment across B2C and B2B landscapes. Alok's prowess encompasses brand positioning, product innovation, and strategic proficiency in D2C and B2B marketing realms.

In an interaction with CEOInsights India Magazine, Alok shares his views on ease of buying tiles with innovative technologies. Also, he suggested market campaign techniques for growth of the tiles business. Below are the excerpts from the exclusive interview-
How does technology improve tile buying for customers? What innovative technologies can be implemented to boost customer experience?
Technology is a transformative force in revolutionizing the customer purchasing process, streamlining it for ease and efficiency. Adopting technology, various organizations have introduced creative digital strategies to elevate customer engagement. For instance, an advanced search function has been integrated on websites, utilizing technology that enables customers to identify products based on specific attributes such as color, location, or other preferences. This feature accelerates the decision-making process for customers, saving their time and energy by quickly refining their choices and identifying the ideal products for their needs.
Moreover, the introduction of the Quicklook feature showcases another application of technology. By utilizing this feature, customers can promptly visualize different combinations of products. This is achieved by uploading images from popular platforms like Instagram or Pinterest. This empowers customers to explore numerous design scenarios and make educated choices. Additionally, there's the Trulook feature, which presents an elevated experience in product selection. It empowers customers to request custom 3D visualizations of their chosen products in their intended setting. These renderings are accompanied by expert recommendations, enriching the decision-making process. This technology-driven solution offers customers a realistic preview of how the products will appear in their space, fostering confident selections.
Through the utilization of technology, the aim is to deliver customers an enriched and immersive purchasing journey. This allows them to explore, visualize, and make informed choices from the convenience of their own surroundings.
How D2C strategies will impact the tile industry's brand growth, sales, and customer engagement as the CMO?
Strategically focusing on establishing a successful direct-to-consumer (D2C) business model has been the driving force behind enhancing customer engagement, driving sales, and fostering overall brand growth. A key strategy involves optimizing the online platform for seamless purchases. The user-friendly interface, intuitive navigation, and convenient features enable customers to explore the product collection, access information, and make direct purchases effortlessly. This streamlined approach simplifies the online buying process, encouraging customers to engage with the brand and make confident decisions.
In addition to the enhanced website, the implementation of digital tools and solutions personalizes the customer experience. Increased customer engagement is observed as more customers directly interact with the brand through the website and digital channels. Furthermore, D2C initiatives contribute to the brand's growth by strengthening the online presence, expanding the customer base and establishing a trusted and preferred choice for consumers.
Could you suggest marketing campaign techniques that can boot the tile brand's growth? Outline its key elements and its resonance with the target audience.
A remarkable marketing campaign that significantly contributed to growth and success centered on the 'Design Your Dream Space' initiative. This effort aimed to spark inspiration among customers and guide them in envisioning their ideal living spaces, utilizing the capabilities of the products.
D2C initiatives contribute to the brand's growth by strengthening the online presence, expanding the customer base, and establishing a trusted and preferred choice for consumers.
Key components of the campaign included visually appealing content, an array of design ideas and active engagement with the target audience through diverse social media platforms. Through visually engaging content, the product range was showcased in meticulously designed spaces, emphasizing attributes of sophistication, durability, and innovation. By showcasing products in settings aligned with their aspirations, the campaign sparked inspiration and furnished customers with the confidence to incorporate these offerings into their personal projects. The campaign's emphasis on design, personalization and interaction resonated deeply, leading to heightened brand exposure, increased customer interest, and ultimately, a noticeable surge in sales.
How do you integrate sustainability into your marketing and convey it to eco-conscious consumers?
In the context of conscious business practices, the recognition of sustainability's importance is growing. This awareness is evident in the shaping of marketing strategies, aimed at connecting with eco-conscious consumers. The objective is to convey not just a dedication to sustainability, but also a sense of responsibility towards the environment.
As part of these endeavors, an engaging addition has been the incorporation of Tangram puzzles in packaging. Beyond serving as an educational tool for under served children, this also aligns with a sustainable agenda by encouraging packaging reuse. The integration of packaging technique caters customer needs and waste reduction, showcasing a commitment to sustainability and environmental preservation.
The Tangram Project offers a glimpse into a comprehensive approach to sustainability and social accountability. Through innovative solutions, the efforts are directed towards a brighter future for stakeholders, their communities, and the planet. Marketing pursuits aspire to inspire wider adoption of sustainable practices, fostering collective endeavors to leave a positive impact on the world.
As CMO, what is your vision for the tile industry's marketing future? How would you utilize tech, evolving preferences, and trends to ensure growth and competitiveness?
As the Chief Marketing Officer, the vision I hold for the future of marketing within the industry revolves around harnessing emerging technologies, adapting to evolving consumer preferences, and proactively anticipating market trends. A central focus is on enhancing digital tools and platforms. The plan involves utilizing emerging technologies like augmented reality (AR) to offer customers immersive experiences, enabling them to virtually engage with products in their spaces. By incorporating AR, the goal is to create a more engaging, interactive and user-friendly product exploration process. Moreover, acknowledging the dynamic nature of consumer preferences, the strategy is to remain in tune and adjust marketing approaches accordingly. Prioritizing robust customer relationships through tailored communication and responsive service stands out as a priority. Through a consistent commitment to innovation, customer-centered strategies, and proactive response to industry shifts, the aim is to drive growth, maintain a competitive advantage, and establish a prominent position within the industry.