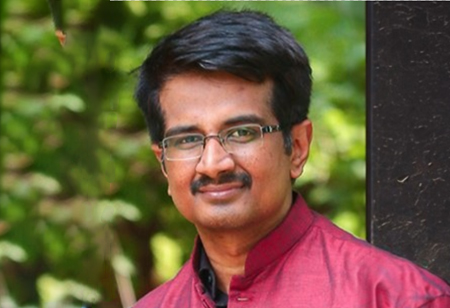 Krishnamurthy S, Director - Partnerships and Alliances, Tiger Analytics, 0
Krishnamurthy is a dynamic global marketing and alliances expert with 16+ years of experience, excelling in crafting winning go-to-market tactics. Adept at fostering strategic partnerships, marketing, and business growth, he fuels demand for products and services. MBA from IIT, Kharagpur in 2009 underlines his exceptional journey.

In an interaction with CEO Insights India Magazine, Krishnamurthy explores the crucial partnerships essential for thriving in the present market revolution. He delves into the possible obstacles that might arise in alliance collaborations. Additionally, he offers perspectives on utilizing technology to foster effective partnerships by employing suitable tools.
How do you strategize and execute go-to-market plans with key alliances to ensure maximum market penetration and growth?
For any partnership and alliance, the key to success is having an effective strategy in place along with a clear go-to-market plan. It's very important to understand the strengths of your organization, the mutual strengths, and strengths of the partner before you kick start strategizing and building your GTM plans. Typically, a strategy will revolve around these five dimensions.
a. Market gaps and the needs: What are the current gaps in the market that we can jointly address. If it's a new market, what should be our approach to penetrate and if it's an existing market, the approach to identify adjacent areas in the market.
b. Target customer and Market evolution: In a new market scenario identify which market segment will be ideal to start and expand further. For an existing market, focus will be on the new segment – Ex: moving from SMB to Enterprise with new offerings.
c. Current Market presence and reference able customers: Do we have relevant public and private references in the market we are focusing on and if not, similar references across other markets.
d. Vertical driven approach: Is there a specific industry or a use case that we want to jointly go together with various options.
e. Joint USPs and market notions: What is the unique customer value proposition you aim to bring to the market. Are we aiming to co-build a new offering to address the gap and the timelines to penetrate?
f. Partnership strength: We can also leverage the power of the partner's ecosystem to get better insights. What existing relationships are there and adjacent companies who can share on the ground intel with us for better planning.
Once you have these answers in place, you can work out the joint solution, sales and marketing efforts to penetrate or grow deeper in the market. It's important to align the marketing and sales efforts collaboratively to drive penetration and growth.
What steps do you take to identify and address potential conflicts or challenges that may arise during an alliance partnership?
It's important to be transparent and communicate regularly with the partners to be proactive in terms of opportunities, business plan and alignment. This way you can avoid potential conflicts and challenges.
For any P&A lead, the conflicts and challenges are around, the following.
a. Customer Opportunities: Around opportunities we face the following - Why can't we go together; can you introduce us to the customer? Let's position this offering; for this opportunity we are the best fit.
b. Partner sourced opportunities: It's a mutual collaboration - I am not getting any leads from partners. We took them into a few conversations and would expect the same from them.
c. Sales alignment: Typical messages you hear from sales - It's my account and I am not comfortable taking a
partner – our relationship with customer might be hampered. You need to think about getting both organizations' sales teams to align towards a particular goal and manage the efforts.
d. Delivery alignment: Resources are critical to any partnership - Should I train and keep them ready or should I do later. Also do I invest in an offering now or later?
I tackle the challenge using the CVP principle: Customer, Value, Product - the foundation for decisions. As P&A lead, I assess customer needs, deliver value and find optimal solutions. I align actions with this principle to enhance the present and future customer interaction.
Technically, partnerships enable access to sandboxes, tech experts, roadmaps, and co-development, enabling innovation, not just service sales.
For sales, it's vital to pinpoint key accounts/opportunities that benefit both sides, ideally focusing on existing accounts. Collaborating closely, we solidify relationships, establish strategies, and ensure success. Delivery-wise, emphasizing value is key. Addressing challenges, we invest internally, starting with established accounts. Open, transparent communication is essential for a seamless partnership.
3. How do you prioritize partnership opportunities in the context of the organization roadmap?
As organizations evolve, finding new avenues for growth becomes crucial. Customers now seek comprehensive solutions from partners who can address end-to-end challenges in their field of expertise. Participation in transformative initiatives through partnerships holds great significance for growth. Another growth source is reselling partner licenses or becoming a managed services partner, boosting top-line figures.
Identifying prime opportunities and partnering collaboratively is vital. Value revolves around customer and technology intelligence. Partner insights aid in understanding customer landscapes and challenges, benefiting sales and client growth. Technically, partnerships enable access to sandboxes, tech experts, roadmaps, and co-development, enabling innovation, not just service sales. Internally, using partner products, like X1, when partnered with X1, enhances the overall partnership more than using Y1.
What role does technology play in supporting your alliances and partner marketing efforts, and how do you ensure the right tools and systems are in place for effective execution?
Technology plays an important role in supporting your joint marketing efforts. The key ones are:
• Platforms that give you access to decision makers and to other key stakeholders. We get information about what challenges they are facing. This helps us to target better and is a very efficient manner since all our efforts go to the right place and right time.
• Account insights and market research to get the right intel around your customers and competition.
• Partner ecosystem platform that connects to CRM and helps map opportunities.
• Outbound marketing initiatives through digital marketing methods – traditional and newer approaches.
• AI Tools like ChatGPT can also be leverage for account intelligence and introductory mails and responses to customers in a marketing campaign.
As the Director of Alliances and Partnerships, how do you foresee the evolving landscape of strategic partnerships in the industry over the next five years?
Partnerships have transformed across phases – products, services, markets, outreach, quantity, etc. Future alliances will prioritize value-focused teamwork, expediting customer benefits. Traditionally, firms built capabilities organically; the future emphasizes adjacent partnerships – services firms with others, product firms with likewise. Amid escalating innovation, adaptability spells success. Agile newcomers will target specific customer issues. Next-gen partnerships prioritize efficient value delivery, forming multi-tier collaborations. Organizational shifts include introducing a Chief Partner Officer, aligning with Sales and Marketing for growth.