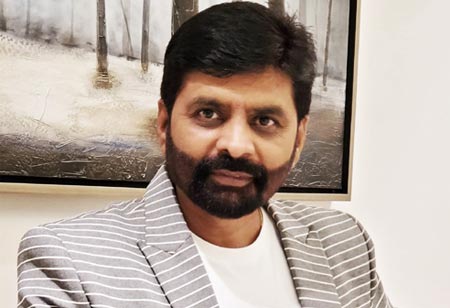 Praveen Kakulte, CEO, POWERCON Ventures India, 0
With 25+ years' experience in Wind & Solar PV fields, Praveen is highly skilled in operational efficiency and asset longevity management, asset visualization, diagnostics, cure and care management, technology assessment, development and validation.
We are in the midst of the sixth great extinction... err of the traditional workplace. As dramatic as it may sound, a part of us does feel that, don't we? From our former hunter-gatherer days to the corner office heyday, all somewhat appear in the rear view mirror now. Those times weren't too far back actually, but unfortunately we have now been bound to an office that's co-located with home.
In my view, Work from HOME is an oxymoron. Home – the term itself, has a calming effect, it is a tranquil experience. It's supposed to be one's place to go back to – from their occupations, from the daily grind, from 'war rooms' and from battles.
The intrusive aspects of YOUR work towards your cohabitants at home is almost an oversight, which we're all guilty of. Co-locating and yet secluding from your family thus becomes mandatory
For me there is no question of Work from Home. I was rather forced to carve out a workplace at home. Moreover this stopgap arrangement posed further questions beyond Where (to work), such as, What (will qualify as work : definition), When (hours of performance: lines between work time and personal time blurred) and How much (quantum, output: further, even outcomes and impact) would one be able to accomplish. After all, inefficiencies do creep in.
The fundamental of a workspace is a work environment built for delivery and human productivity. This in turn is a correlation of collaboration, integration, body language
and eye contact – all missing in this hyper-connected but 'virtual' office age. For true innovation is not simply about compiling data and tossing it around in bits and bytes, but joining hands to lend a human touch to output and outcomes.
The present forced conditions of isolating, distancing, telecommuting and working from home have been akin to an emergency switch. Our confusion of course is about how long this switch will be active. If all our interactions can be broken down into those which must be avoided and what is it that must be done together necessarily, collaboratively, we will have a lot of answers about the way forward.
The segregation into avoidable and unavoidable interactions, while still adhering to fullest safety and efficiency may not require a silver bullet. And so, by telecommuting, or with substantial reduction of avoidable interactions and only engaging on a minimal basis to deliver quality output, has meant that the formula has been slowly but surely struck.
The fundamental of a workspace is a work environment built for delivery and human productivity
Co-working spaces, offices and business complexes thus come to mind. It is a welcome change from the quagmire we have found ourselves in. Particularly since human beings are social creatures. Monotony cannot be accepted, and frustration, depression and staring down the abyss is an outcome, which is unfortunately around the corner for some.
True power cannot be realized, if such social creatures are bereft of their ability to express. So true intelligence is about connecting people with a fair mix technology, tools and amenities. A co-working space ensures all the above along with structuring and segregating as necessary, while quality infrastructure and good housekeeping is a given.
Trust me, we believe every bit in the power of interaction and collaborating. Not only to fulfil the must dos of business, but also to realise a future vision. After all, we're building out a co-working office for ourselves in-house, within our business premise. And you won't find us going anywhere from our corporate headquarters, since we're steadfastly back in business!!