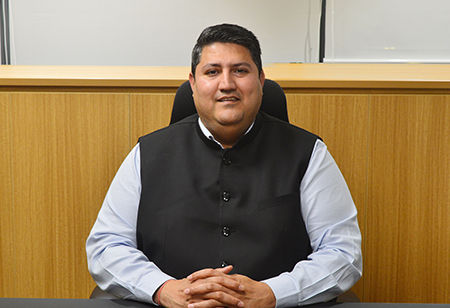 Munish Kumar, CEO, Quess IFMS/Security Services/Industrial (OAM), 0
Munish Kumar is a seasoned Management Executive with expertise in rapidly scaling businesses in multiple global markets across diverse business assignments. He has over two decades of experience in Staffing, Construction, IT, and Skill Development Industries. He has held leadership positions globally in organizations such as Shapoorji Pallonji, LabourNet, Tech Mahindra, FirstMeridian, and General Electric. He holds a Mechanical Engineering degree and has done his post-graduation from IIIT Bangalore. In his spare time, he likes to read. He is also passionate about mentoring start-ups.
________________________________________________
The job of a workplace security guard has evolved significantly in recent years, shifting from a primary emphasis on surveillance and physical security to a more supportive and proactive approach. Physical security and surveillance were once the primary responsibilities of security guards. Their role has evolved with the changing nature of threats and the emphasis on employee well-being.
Security measures such as CCTV cameras and access control systems have long been traditionally part of the workplace security strategy in India. Despite their continued importance, these measures alone cannot ensure the safety and well-being of employees. As workplace threats have changed, organizations must now take a more proactive and holistic approach to security.
Changing Nature of Threats:
The complexity and maturity of workplace threats have increased. Today's security professionals must be prepared to prevent and tackle terrorism and workplace violence. According to a global survey by UN International Labor Organization, more than 22 percent of respondents reported experiencing at least one type of violence or harassment in the workplace, highlighting the widespread nature of this issue. These concerning statistics emphasize the need for security guards to possess a broader skill set to effectively recognize and respond to changing threats, including violence and harassment. Proactive strategies prioritizing prevention, support, and a comprehensive approach to security have replaced reactive strategies as the main area of focus. They must be capable of identifying and de-escalating potential workplace threats and collaborating with law enforcement to identify terrorist threats.
In addition to this, organizations are increasingly turning to integrated security solutions to address these evolving threats. An integrated security solution produces a comprehensive security framework combining manpower, technology, and analytics. By integrating various components, organizations can improve their ability to identify, stop, and quickly address security incidents. This integrated approach empowers security guards with real-time visibility, quicker response times, and optimized security operations. Organizations can utilize command centers, online dashboards, and guard patrol tracking to further improve their security system. QR codes allow for effective guard patrol monitoring by removing manual checks and increasing officer responsibility. Advanced electronic surveillance, real-time video analytics, and centralized command centers provide round-the-clock security coverage for numerous sites. Online dashboards offer quick access to reports, including information on challans, Employees' State Insurance Corporation (ESIC), Provident Fund (PF), and night/day check reports, as well as the specifics of Universal Licencing Technology (ULT) training programs. Organizations can improve communication and coordination among security staff, streamline security
operations, and increase the overall efficacy of their security system by implementing these digital tools and technologies.
One real instance of the benefits of these solutions comes from India's top solar energy provider. At their solar farms, they had to deal with problems like theft, vandalism, and fires. Using manpower, CCTV surveillance, and video analytics, we fashioned a cutting-edge integrated high-tech security and safety solution. By integrating manned guarding and housekeeping staff with CCTV surveillance and video analytics, on-site guarding efficiency was significantly increased, and trespassing was reduced by 80 percent. A 49 percent decrease in operating costs and annual savings of 2.7 million rupees per farm were achieved by this solution, which also offered 24/7 security coverage from a remote command center. This exemplifies how security personnel with cutting-edge equipment and expertise can successfully prevent and mitigate workplace threats, resulting in sizeable cost savings for organizations.
By integrating various components, organizations can improve their ability to identify, stop, and quickly address security incidents
Need for Training to Transition Towards More Holistic Workplace Safety
It is crucial to emphasize thorough training and skill development as part of the shift from conventional surveillance-focused approaches to more supportive measures in the context of the changing workplace security landscape. The demand for security guards in India's blue-collar jobs has significantly increased, according to Billion Careers, with a growth rate of 219 percent annually. This statistic emphasizes how urgent it is for organizations to invest in providing security guards with the knowledge and skills they need to successfully navigate the evolving security landscape. The current training and skill development framework must improve to promote a safer work environment as workplaces face more complex threats. This requires moving past conventional training techniques and adopting cutting-edge strategies compatible with the changing security landscape.
Organizations can utilize government initiatives that can help the training and skill-up efforts, such as the Skill India Mission, which offers a variety of training programs. These programs are funded by the National Skills Development Corporation (NSDC), and the Recognition of Prior Learning (RPL) program accredits the guards' skills. Furthermore, organizations can achieve this by collaborating with security service providers who are experts in training security personnel and understanding the evolving security needs of the modern workplace.
Security officers will have access to a range of specialized domain training courses through these initiatives and partnerships, covering vital subjects like fire safety and evacuation drills, terrorism response, operating firefighting, and security equipment, managing emergencies and disasters, protecting industrial assets, gate management, access control, basic computer literacy and security records and documentation. However, soft skill development is just as important as industry-specific training. Soft skills training improves their capacity to interact effectively with staff, visitors, and law enforcement in an emergency. It also equips them with problem-solving abilities, enabling them to think critically, quickly resolve crises, and make sound choices under time constraints.
The role of security guards must evolve as businesses adapt and transform. Organizations that recognize and adopt this modern security paradigm will be well-equipped to safeguard their valuable assets and employees effectively. Therefore, organizations must employ the services of security companies that employ well-trained and certified security guards to ensure optimal protection.