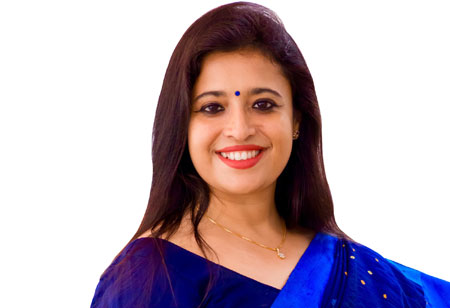 Peuli Das, Chief and Appointed Actuary, IndiaFirst Life Insurance Company, 0
Known for her humanistic approach to the professional world, she is an award winner in A S Gupta Memorial Fund Award, and Meena Sidhwani Award.
I wouldn't be far from the truth if I say that today, nearly all conversations in the world eventually land up on the same subject - COVID! No matter how far we try to go away from it. Last weekend, while catching up with a school friend and reminiscing about the good old days, it took us just few minutes before we converged on the inevitable "how is your work going with this pandemic"? "Long story", I sighed. And that's when I realised that while I spoke to many people over the last few months, my response to this very question has spanned an incredibly wide array of issues we, actuaries have been grappling with.
This time, I was telling her about how product pricing has become an area of unprecedented challenges. As a recent article by PWC pointed out, insurers in India are having hard time getting a grasp on their projected insurance claims experience. It is a tricky problem indeed. How much of claims you will have in the next quarter, depends so much on the extent of a potential COVID-19 flare up in the areas where your customer base is concentrated. In fact, super-spreader events have been so unpredictable that it is almost impossible to know whether one metro city is going to be better or worse than the other in a week from now. As actuaries, we are not only redesigning health and life products to include COVID and related comorbidities, we are also resorting to remarkable amount of data crunching as well as lot of out-of-the-box thinking to make the products both profitable and affordable to the customers.
I was rambling on, and not surprisingly, she was suddenly sleepy; so, we hung up. But my worries have been regularly keeping me up till late. Remember, a life insurance plan is unique from the risk perspective since it is a long-term contract. We not only have to assess a plausible premium structure but must also determine how to ensure long term returns to the customers, given the extreme volatility and uncertainty in the financial market. India's GDP has shrunk over 24% this quarter. Different economists are theorising differently how it will be the next quarter. As such, the assumptions we make today can end up creating severe strains on the insurer's finances in not so distant future. One must also not forget the reinsurers who absorb huge exposures. Their financial viability can make or break the entire insurance industry. Spurred by the crises, reinsurers too are implementing new ways of risk sharing like stop loss arrangements and financial reinsurance. It is a tough balancing act that the actuaries need to pull between the customers, shareholders, distributors and reinsurers.
Thankfully, it's not all gloom and doom. Some are looking at the silver lining: heightened insurance awareness. Insurers are reacting to it with a slew of protection products, along with options to convert into pension or health insurance plans. Marquee online service providers are racing to partner with insurers to distribute products featuring life, health and pension benefits.
This is where the conversation ceases to be at an execution level only. . The key question when discussing long term business plans revolves around sustainability, based on the core financial yard stick solvency. The insurers must ensure ongoing solvency and protect the future of its customers through sound business plans, that are built on the back of balanced products and risk mitigation strategies. All this, while keeping the product viable to the customer in these troubled times.
In fact, this aspect of viability can be easily underappreciated. The pandemic has not just made people sick but made them lose their livelihoods as well. While we need to expand life and health cover in many situations, we also have to be empathetic towards the customers' financial plight. IRDAI has proactively enacted many customer friendly measures such as forbearance of premium payment for a period. The industry, in turn, is trying to go an extra mile in alleviating the financial stress on the customer through flagship products that promises long term investment guarantees. One may appreciate that making these commitments on financial guarantees in a volatile market is as difficult as predicting claims in an uncertain, undeveloped environment. That too, when interest rates are almost 100 bps down from year back, further jeopardizing the future returns on the insurers' assets. On this front, insurers are leveraging state of the art techniques like asset liability matching for in-house hedging and financial derivatives. These have become supremely critical overnight.
The insurers must ensure ongoing solvency and protect the future of its customers through sound business plans
While I can wax eloquently on the stress taken by actuaries, it is equally important to emphasise how hard the sales and operations workforce serving the insurance industry has been working. Recently, some eyebrows were raised when RPG announced that their entire sales workforce is going to WFH permanently. Insurance sales have some way to go before making such a radical move. Nonetheless, we are taking serious strides towards developing online platforms for soliciting business and simplifying paperless digital application payments and renewal channels. Sourcing of business through tele and video underwriting have already seen the light of the day as also several other novel initiatives that mark the new age of digital processing. It is just a matter of time that such technological breakthroughs would cascade into efficient distribution delivering huge cost savings. The biggest stumbling block, of course, remains in having internet penetration and digital literacy among the majority of Indian population. But what COVID has made very clear is that it is a future that is inevitable!
It's strange how, if the same friend had called me back in March, I would have surely talked about very different stuff. I would have only complained about poor internet connections, teammates unable to get through zoom calls, employees not able to focus on work without domestic help amidst soaring demands of parental and child-care. It was a time when I was increasingly getting anxious with how to deliver on year-end financial closure obligations and declare financial results, when there is a question mark on our day to day operations being effective. It is remarkable how resilient and adaptive our workforces have been that the industry is now flourishing in this new normal and is ready to take the leap into the new future, a future marked with digital, technology, innovation and efficiency.