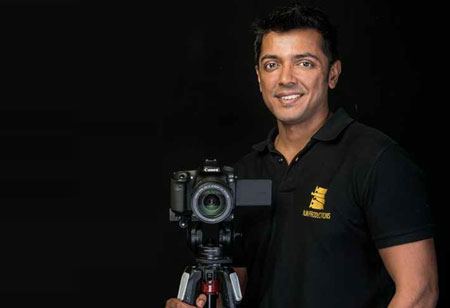 Nikhil Mehta, Creative Director and Co-Founder , 0
NJM Productions is one pioneering business that has been able to make impressive growth in the video content creation industry through its unique ability to convey meaningful stories through films. This award-winning visionary organization is offering an entire gamut of content creation services including Corporate Stories, Promotional Events, Brand Films, E-learning, Live-Streaming, 360 walk throughs and much more.
Nikhil Mehta is the Creative Director and Co-founder of the company and his passion towards video content creation has been a primary catalyst behind the success of NJM Productions.
In an exclusive interview with CEO INSIGHTS, Nikhil talks more about his professional journey and the evolution of NJM Productions.
Give Us Brief Details About Your Educational And Professional Background. Also, How Do You Leverage Those Learning To Lead Your Organization?
I pursued a Bachelor's degree in Computers, and did miserably in college due to lack of discipline. I struggled to clear some backlogs to complete my degree which eventually took me an extra year to complete. With that, I joined a call center so that I would stop relying on my parents for pocket-money. I loved my job: It involved speaking with enterprise customers from across the globe and assist them with Server related problems. The pay was enough to get me by,and it gave me theconfidence in communication, people interaction, and above all sincerity at work. I was soon hired by the parent company Microsoft, and I moved to Bangalore. I thought I finally 'made it'. I loved the people and the vibe of the city. I went about my way towards making a career in Enterprise Servers. I could see myself spending the rest of my life in the company. As the years passed, and as I made friends most of whom were in the advertising space, I found myself enjoying the conversations about building brands, what makes a post funny, what works and doesn't on social media, etc. To add to that, the startup culture always fascinated me. Things took a drastic U-turn in my IT aspirations once I laid my hands on a GoPro camera, gifted by my ex-wife.
I made a trip to Bali with it, and couldn't wait to come back to edit the footage. I realized my real passion was buried somewhere in this beautiful world where I could control the direction of a story via cutting and sequencing the footage. I decided to dig deeper by watching hours and hours of Youtube videos on filmmaking/editing techniques at the cost of my managers being upset with me at work.
This is when I decided that to do justice to my new-found passion and I realized that I would have to take the plunge. So, my new journey began, and that gave birth to 'NJM Productions'. My friend, Fahad Janvekar who had also quit his high-paying finance job, whom I would often spend hours talking to about the lack of stories in films joined me and we believed in the same cause on telling stories via film.
The day after we incorporated, we both played to our strengths when it came to meeting new potential clients across town, mostly over coffee. Different stories, but a unified goal to be able to tell your story in the most creative of ways. That also gave birth to our company slogan 'You Narrate, We Create'.
I Wake Up Reminding Myself That I Am On This Gratifying Journey With NJM Productions, Where We Can Deliver An Experience That Is Truly Amazing
How Has Your Expertise And Professional Experience Helped In Molding The Company's Operation?
From the years that I worked in the IT field, there were some valuable experiences I gained and certain principles that I now live by: 1) Trust is the cornerstone by which companies do business with each other. Coming from the corporate world, I realise that trust comes from sincerity to do work, managing expectations, and transparent communication, 2) Treat people like 'people'. Not resources. Great companies come from PEOPLE who deliver great work consistently. But you need to treat them right to keep them motivated consistently, 3) Setting and Managing Expectations: When speaking with a potential client, be realistic practical BUT be optimistic. There is a fine line between being optimistic and over-ambitious which can severely hurt your cause if you don't set the right expectation with the client.
How Have You Been Able To Face The Challenges And Strive For Sustained Success In The Industry? Also, Can You Mention Some Of The Major Awards The Company Has Received Over The Years?
Challenges are part and parcel of running a business and some of the notable challenges that we have been able to overcome include: a) To be able to trust my team to deliver in my absence: Due to COVID, I had to sit out of a few shots and my team did an amazing job. We delivered a bunch of films where all our clients were very pleased with our work and promised us more in the pipeline, b)To be able to showcase our good work and market our company effectively: We won the Mad Over Marketing award only because we had the confidence in our work, and knew it deserved recognition, and c) To be able to identify possible options and decide on the direction we should take as a company. We have also won `Video Startup of the Year' award because the directions we took as a company made significant impact in the media industry.
In Your Journey So Far, Which Are The Milestones That Bestowed You With Utmost Satisfaction Both As An Individual And A Co-Founder?
From being a dreamy, introverted kid who would struggle to face the real world ­ I say that NJM Productions has taught me a lot for me to come a long way in handling my personal and professional ambitions. Youtube, Instagram, speaking to founders in the creative space, speaking to people who are GREAT in sales are some of the things I try to make a daily routine which has helped me to stay current in the industry.
Some of the various awards that I received over the course of my career include Mad Over Marketing Award I directed the best film during Lockdown for Bengaluru FC. India Film Project 2017 I directed the Best film for the 50 hours filmmaking challenge across India. Directed all films for Liverpool football club during their Leg-ends visits in India, Seoul, Malaysia, Dubai, Hong Kong and Jakarta.