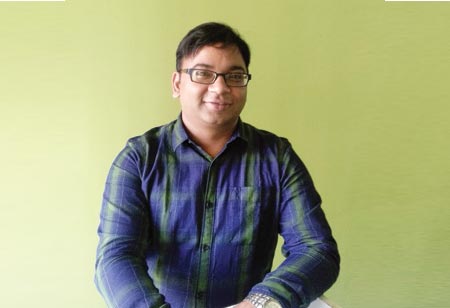 Naveen Kumar, Co-Founder & CEO, 0
India has marked its eminence in the IT sector as the world's largest outsourcing destination, possessing an astounding 55 percent market share. Topping the chart as one of the most preferred investment destinations in the IT industry, the country has witnessed mountains of success stories. Although cost reduction has played a critical role in attracting these investors, the roots of these IT outsourcing service providers' success is pinned on their commitment towards quality and timely project completion. This holds true for the story of Gloify, a Bangalore-based custom software development company which delivers high-quality software solutions by combining proven techniques, industry knowledge and the technology expertise of its skilled software developers.
Under the able guidance of Naveen Kumar (Co-Founder & CEO), Gloify has built several innovative products for clients of all sizes across various industries worldwide, solving complex business problems and empowering them achieve their business goals. Specializing in product & business development, marketing and building strategic insights & alliances, Naveen is passionate about innovating and building scalable intelligent systems. In an exclusive conversation with CEO Insights, Naveen looks back on his journey, delineates the unique factors of Gloify and shares his future aspirations. Here are the excerpts:
Please brief us about the distinct factors that propel Gloify ahead of the competition.
We are more than just an IT outsourcing company; we work closely with our clients to successfully deploy their products in the market. The fact that our managers & consultants come from diverse fields gives us an in-depth understanding of client's business needs. Additionally, being a technology-agnostic company, we have developed experience in various technologies (be it Angular, ROR, React, Node, Python, Android, or iOS), which helps us to choose a technology that perfectly fits the goals & budget of client's project, thereby enabling clients to drive maximum value. On top of these, we follow agile model and involve the client in the process regularly.
Apart from being pure frontend & backend players, we have even built expertise in new age technologies such as Machine Language, Artificial Intelligence, Virtual Reality and so forth to ascertain a top-notch experience for our customers. The credit can be conferred to our dedicated R&D team that keeps researching latest trends & technologies in our field and up-dates everyone on their respective streams via regular internal sessions. Whereas, our QA team ensures top-notch quality by putting the product through multiple tests at various check points from the moment a product is ideated till it ends-up in the end customer's hands. In fact, we ascertain that all the 45 people in our team has a responsibility in the company and are enriched with required expertise and industry perspective.
Please brief us on the various IT services Gloify offers.
Besides taking care of the end-to-end technology aspects of our clients' business as their technology partners, we also engage with them on a project basis, where we assist them to accelerate the project development process for a span of a few weeks. We also facilitate the clients to fill a position quickly with the right employee through our Staff Augmentation solution, leveraging our access to larger network of skilled employees.
Being a technology-agnostic company, we choose a technology that perfectly fits the goals & budget of client's project, thereby enabling clients to drive maximum value
Kindly throw some light on your professional background & experience that helps in moulding strategic business modules for Gloify.
After gaining more than three years of experience as a software engineer post my graduation at IIT-Bombay in 2008, I embarked on my first entrepreneurial venture­ FoodTang, where I handled every-thing end-to-end. This year-long endeavour taught me lots of business lessons on what needs to be done and what shouldn't be. Playing to my strengths, I moved-on to 99tests (a crowd-sourced software testing platform) as its Technical Co-Founder. This bestowed me with a fair understanding of various frontend, backend & DevOps technologies and more importantly helped me to crack the code to connect business to technology. As I was well-aware of all the nuances involved in the product industry when I founded Gloify in 2017, I could easily understand our clients' problem statement and build a complete product that can solve it using the right technology. This strategy not only helped us to retain existing clients, but also to attract more clients through word-of-mouth reference.
What is the future roadmap set for your company?
We intend to continuously invest in diverse technologies (machine learning, recommendation sys-tem & blockchain) to build cutting-edge digital products for meeting all the advanced requirements and delivering high performance. We would also be integrating more relevant verticals (like digital marketing) to our port-folio so that we can offer a 360o solution at a lower cost, but with a way better service. Plans are afoot to broaden our geographical spread by opening an office in the US, thus further solidifying our offshore presence. We also aim to open our branches all over India (starting with Delhi) and increase our headcount to 150 in a few years.
Naveen Kumar, Co-Founder & CEO
This IIT-Bombay alumnus is an ardent serial entrepreneur with a knack for spotting & solving gaps in the industry. Naveen translates his passion for developing teams & creating systems that empower individuals to the highest level of performance into innovative projects successfully.
Location:
Bangalore
Offerings:
Enterprise Solutions, Mobile Applications, Cloud Solutions, Big Data Technologies, ML & AI, MVP Development, UX-UI Design, DevOps as a Service and Resource Augmentation
Industries:
Fintech, Logistics, Interior Designing, App Development, Accounting & Finance, Housing & Accommodation, e-Commerce, Sales CRM, Healthcare and Construction Lending