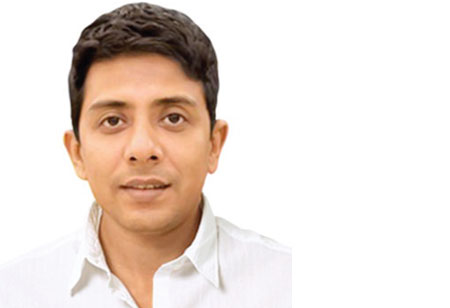 Samujjwal Ghosh, COO, Xanadu Realty, 0
Samujjwal has two decades of experience in real estate & FMCG categories that has helped him in creating multiple successes in marketing and sales roles.
In today's techcentric world, digital platforms are the key to connect with prospective customers. Businesses today can accelerate their growth because they transitioned from conventional models to digital ones. The customer base is much more accessible and readily available in the digital medium and the best way for businesses to allure them is by employing a digital marketing stratagem. This is much more imperative when the business in question is real estate.
The service centered on face-to-face interactions relies heavily on customers interacting with their possible surroundings. It might seem like the robustness that digital marketing could provide is trivial at best. However, this notion is absolutely nescience. According to the Global Web Index's Social Media Trends 2019 report, an average Indian user spends close to 2.5 hours a day online. This can be translated as every real estate company getting a 2.5 hour window of opportunity split across different periods to connect with their prospective customer base in just a single day. If precisely capitalized, this opportunity is nothing short of a gold mine that needs to be immediately seized upon. Digital marketing accords real estate companies the platform to do needful.
Conventionally, real estate companies would target prospective buyers through giant vibrant billboards, through community outreach programs, flyers and a few companies would also do untargeted SMS/email blasts. These marketing tactics were usually hit and miss and quite expensive. But, digital marketing truly opened up real estate companies to an invaluable customer base. Through targeted and cost-effective approaches realestate companies were able to do more than just tap into prospective buyers. They were able to encourage new buyers.
COVID-19, though devastating in every way, did pave the way for innovative methods to ensure business continuity. For real estate companies, it meant truly capitalizing on the potential of digital marketing. Digital meetings and targeted marketing allowed real estate companies to gain a greater customer base. True to the famous saying, `Necessity is the mother of all invention,' the pandemic situation provided a great sandbox to test and improve several ingenious tactics. One such is aggressively adopted and will surely evolve in coming years is Virtual Property Tours. Giving prospective buyers an experience where they can comfortably view properties and inspect every nook and cranny of a listing from the comfort of their own homes was truly inspired. Furthermore, the pandemic has also given rise to a trend where real estate companies have begun investing in techdriven marketing solutions.
How does Digital Marketing Complement the Real Estate Industry?
•Credible Online Presence:
A user-friendly landing page, an easily navigable sitemap, and interactive blog posts that use SEO ideally have a better shot at achieving the desired customer satisfaction and leads to in-person interactions. When a layperson has no clue how to approach something, the first thing they do is search online. So, ensuring a reputable online presence is mandatory. When an agent tries to onboard a customer, the agent must connect with the prospective buyer at the right time. This might be an arduous offline task, but it is like shooting fish in a barrel. The buyer online has a plethora of options, that they can visit the website anytime they are avail-able in order to peruse the various
amenities leisurely, contact an agent only whenever required, and many more. Most importantly, they get to customize their experience exactly as they desire that is hassle-free.
•Creating the Best First Impression:
The first impression is more often than the deciding factor. An accessible website that has a vibrant and interactive landing page has better chances of providing the desired first impression, than the most skilled real estate agent. The perfect online presence is apt to generate leads and business continuity. A website that has 360º panoramic photos of living spaces, kitchens, and bedrooms provides customers with seamless virtual open house experiences which helps in keeping the prospective buyer curious, included, and more engaged than even the most talented agent. Photos of new, recently sold properties and flattering client testimonials increase the chances of visitors becoming buyers.
The key to successful marketing is providing the customer with what they need before they need IT
•Stay Connected as Much as Possible:
Social media platforms are littered with opportunities. With the right innovative digital marketing strategy, this space can be properly leveraged to attract more customers. For example, the Instagram user that views several people in the most picturesque locales is more attracted to the notion of becoming a resort-owner or a villa owner. Social media also provides real estate companies to directly connect with customers with no wait periods. Furthermore, it makes the entire onboarding process/sales pitch feel like a conversation among friends.
•Targeting Customers that are Genuinely Interested:
Pay-per-click advertising (PPC) is a great digital marketing strategy that has been vital for real estate companies. Pay-per-click ads are used to target potential leads directly. Not everyone that inquires is invested in the idea of purchasing real estate. But when a real estate company operates on a conventional workflow they mismanage and invest resources that can be better targeted at actual leads. This is why PPC is vital. PPC ads can be targeted toward individuals who have searched for correlated keywords in search engines. This means a targeted approach on leads that can assure you better success rates. According to research published on Hub-Spot, marketer's average over 2.47 percent conversion rate with Adword. The most beneficial factor is that PPC is cost-ffective. Companies don't get charged for PPC adverts until someone clicks on the adsv
•Optimization & Performance Tracking:
By employing digital marketing methodologies like call tracking forms and form submission tracking, real estate companies can glean insights on which strategy drives visitors to pick up the phone or fill out the website contact forms. This data is crucial to determine which marketing channels generate the highest quality leads, prompting the company to invest more accurately. Furthermore, employing analytics platforms and processing lead generation reports helps companies to understand how they are performing in the sector and equips them with enough data to comprehend the areas to improve upon.
Marketing is essential for every business model and real estate is no exception. A common statement that typically comes up when discussing marketing is, 'the key to successful marketing is providing the customer with what they need before they need it'. However, this is taken so much further by digital marketing. It is when successful digital marketing instils the prospective customer with an idea that they need this.
Real estate is the kind of asset class that requires immense capital, and the marketing done for it should not be short of perfection. The ability to provide more people with the opportunity to invest and secure their legacy, or start a bold venture, deserves the right marketing strategy. There is no second guessing that Digital Marketing acts as the linchpin for the perfect real estate marketing strategy.