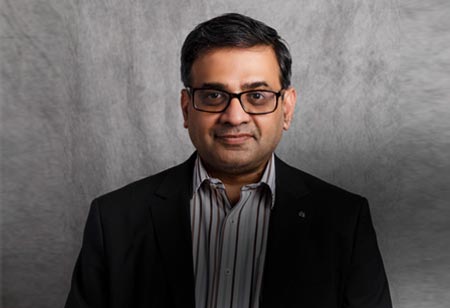 Dr. Abhay Chopada, Co-Founder & Director, 0
Healthcare segment is growing rapidly in recent years with novel technologies coming in. However, technology itself cannot really transcend the future of healthcare. It needs to be aligned with the right IoT devices, applications and solutions. More so, addressing the healthcare bottlenecks requires the right brains and a vision. The zeal to fix certain existing challenges in the healthcare industry is the key to a new horizon in this domain. With a keen eye to push healthcare with technology integration to unlock benefits of data driven AI insights, Clinivantage was founded by Dr. Abhay Chopada, and Mr. Nilesh Jain, in 2017.
Clinivantage is a very innovative and disruptive healthcare data platform. The company is dedicated to joining the dots in the healthcare ecosystem, comprising innovation, devices, and AI, with clinicians and hospitals. Clinivantage has revolutionized how healthcare providers, especially doctors, cater to their patients. More so, this firm has streamlined how patients communicate with their doctors. Traditional medical transactions between a Doctor and his/her patient required piles of hard copies of medical records.
The health record is an essential communication tool that supports clinical decision-making. Clinivantage has enabled the doctors to analyze patient's data from anywhere in the ecosystem, and the same time empowered patients to keep their medical records always ready to produce, should there be any medical emergency. Simply put, Clinivantage furthered reduced the gap between a patient and his doctor.
The architecture built by Clinivantage supports both sides of the healthcare ecosystem. Given the cumbersome schedule the doctors have, it becomes difficult for them to take detailed look at the patient's history. Clinivantage's platform has automated the process for the doctors to a certain extent. A Doctor using this platform to analyze a patient's record is automatically suggested some predefined tests or medicines, as relevant to the ailment of the patient. Thus, the doctor's work is automated. The copy of the same record is made available to the patient in no time.
Addressing 3 Key Problems - Access, Availability, And Affordability
"The world is fragmenting. People are getting old, but they're also getting lonely. They're not connected with their systems. Healthcare was barely unified. I asked myself how do I address three key problems of healthcare?", says Dr. Chopada. He goes on to explain the three key problems. Access, Availability and Affordability are those 3 problems. Majority of the population in India, does not even have access to a doctor, leave out the question about the right doctor.
Availability is about consulting the right doctor. Affordability is considered the most unnecessary, yet perpetual challenge to exist. Dr. Abhay says, "Healthcare is expensive for no reason". After having carefully observed the above challenges, Dr. Abhay Chopada along with the other co-founder, Nilesh Jain, realized, that Data is the singular answer. With a humble beginning, laying brick by brick, the duo built the Clinivantage platform. Dr. Abhay, who has been a practicing surgeon for the past 30 years, says, "It has been a lifelong dream for me, and I always wanted to do something that will evolve the healthcare industry".
From a single patient to the entire country and everything in between, Clinivantage has taken giant strides in leveraging the best of technology to empower doctors and patients. "We have built the capability to talk to any device or any technology, EMR or HMIS, and have also built our systems on top of it in such a way, that a country, irrespective of its size, can provide healthcare to every citizen in a seamless fashion", says Dr. Abhay Chopada, Co-founder & Director, Clinivantage.
Connecting The Dots
Clinivantage has worked toward becoming a modular HIS, that does not replace anyone in the healthcare ecosystem, rather augments the process and helps the stakeholders achieve seamlessness.
Some Of The Offerings Of Clinivantage Are As Below:
For The Care Provider
Clinivantage's flagship solutions ACE and CliniQ, digitizes healthcare services, management & care delivery. It streamlines communication between healthcare stakeholders, standardizes workflows and creates transparency that mitigates medical errors and adverse events. Comprised of several modules that address a plethora of touch points for the Doctors, this platform is truly comprehensive one. CliniQ is a complete practice management with telemedicine features that encompasses a mobile application for patients and integration of smart IoT devices. The vision is to inspire futuristic healthcare that is accessible to all.
CliniQ unifies all roles of doctor's practice, provides advanced clinical care and enables him to bypass various redundant tasks via a dynamic dashboard and application for practitioners and patients to seamlessly communicate, exchange medical records and information. CliniQ offers a full spectrum of collaborative tools to enable remote consultations in a seamless and secure environment. Such robust technology enables doctors to see patients beyond the clinical setting. With CliniQ, practitioners can build, scale and optimize their practice by providing service through virtual examination.
Any healthcare platform is incomplete with a Hospital Information System. ACE offers single interface to manage the entire hospital administration including bed management, process management and resource management. The solution helps to automate the healthcare organization for reliable, cost-effective, and efficient systems to transform it into smart hospitals. The analytics and business intelligence built into this platform offers an innovative reporting module designed to ensure realtime access to actionable data to enhance hospital safety and portability. It helps gain insights regarding patient care and satisfaction, labor distribution, clinical operations, daily practices of physicians and nurses, and administration and management.
Its intuitive and easy-to-use EMR solution minimizes clinician input and ensures higher usability. It is a fully integrated, scalable platform that helps you achieve interoperability, patient engagement, regulatory compliance, and value-based care delivery. Another module, OTIMS is a unique innovative surgical safety platform which automates theatre processes to minimize human input.
It also offers integrated check lists, electronic surgical record and robust patient centric management essential aid for CQC. An in-built patient management system allows the integration of personalized and intelligent templates for easy clinical documentation as per CQC requirements. The solution helps the Doctor to handle complex billing matters, automate routine tasks, and streamline office workflows.
For The Patient
The CliniQ patient's app is built with the sole motto of putting the patient at the centre of the care. This app allows patients to self-manage and maintains lifelong health for themselves and their families. Patients can book doctor appointments area wise, specialty wise, services appointment, health packages, store their current and past medications records, medical history, lab results, record health vitals and track progress. More so, patients can self-monitor their vitals by IoT devices through this app and order medications as per prescription.
We have built the capability to talk to any device or any technology, emr or hmis, andhave also built our systems on top of it in such a way, that a country, irrespective of its size, can provide healthcare to every citizen in a seamless fashion
Global Outreach And Accolades
Incepted in 2017, Clinivantage now has an operational presence in several countries including US , UK,India, Malaysia , Kenya,UAE and Saudi Arabia with a patient footprint in excess of 10 million patients with 35+ signed up hospitals and global associations with IT majors. Over the span of 3 years, Clinivantage won several accolades. Clinivantage is a multi award winning, disruptive solution which excels in transforming the entire patient experience and offers a unique innovating data platform for healthcare integrating IoT devices and transforms operational efficiency in healthcare space.
Clinivantage has recently partnered with healthcare transformer, StartUp Health for 'Access To Care' moonshot. In a firsts, Clinivantage also served on the committee for Health & Nutrition, established by National Institute for transformation of India (NITI Aayog), and was part of the team called 'Champions of Change' formed by the Prime minister of India, Shri Narendra Modi. More so, Clinivantage has been part of the VSTF program called DigiVillage, chaired by Maharashtra CM Mr. Devendra Fadnavis and the rest of the executive committee.
The Zeal To Innovate
Clinivantage has been discovering new frontiers in the healthcare space every day. As Dr. Chopada says, every day is a new opportunity. Clinivantage innovates in all spheres of the healthcare space. In fact, now more than ever, with the pandemic setting the world back, Clinivantage stepped up when the world needed more such innovations. "What are we about? We are all about building it", says the Co founder. At the core, Clinivantage runs on the fuel to innovate, and streamline the country access to basic healthcare. And evidently, they are reaching for the stars, soon to become the most trusted and premiere healthcare solution providers, not just in India, but globally.
Dr. Abhay Chopada, Co-Founder & Director
Dr.Abhay Chopada is a passionate leader with deep understanding of healthcare issues who actively applies technology to address healthcare issues globally ranging from poor efficiency, manpower gaps, poor patient experience and lack of access to healthcare. He practices as a Consultant Surgeon in the private sector and is deeply involved in strategic and executive roles with healthcare institutions from operational transformation to M&As.
Abhay is a renowned Consultant Surgeon a passionate Healthcare Entrepreneur & an active Investor with companies transforming healthcare. With a global experience spanning over 26 years in Medicine, Healthcare and Health-Tech, Dr. Abhay is an alumnus of the University of London – MMedsci (Surg Sci) and was an integral part of the ' "Ready Now" program at NHS Leadership Academy. He has been recognized by Tatler Magazine as one of the Top GI Surgeons in UK. He is the recipient of the 'Top Doctor Award' by Top Doctors, UK and was named as one of the most influential leaders for three years in a row.
He is experienced in combining key medical and business competencies that dramatically improve quality care and outcomes. He has been instrumental in defining how current and future technology improves administrative operations and decision-making and has been working in the process, protocols and technological advancements that reshape and improve caregiving practices and policies over the last 15 years.
With a motto to deliver competent and compassionate care, Dr. Abhay co-founded, CliniVantage Healthcare Technologies Inc, an award-winning SaaS-based platform that ensures real-time access to healthcare data to caregivers and patients for transparent and safe care management. Given his passion for technology and in-depth domain expertise in healthcare processes, he leads the product strategy. He mentors the team to design solutions in the current constantly evolving challenges environment in technology, clinical and non-clinical. He also ideates on new cutting edge devices concepts that equip frontline caregivers with the latest available hi-tech tools
Dr. Abhay has volunteered with several organizations and helps strategize around technological innovation that supports positive patient outcomes. He is also actively involved in strategic and executive roles with healthcare institutions from operational transformation to M&A. Abhay has used innovation and transparency to transform practices and system of hospitals into a forward-thinking, profitable healthcare quality companies.
Read More: