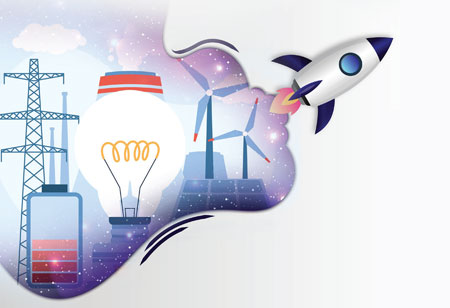 CEOInsights Team, 0
Given the pragmatic developments across businesses and industries today,coupled with increasing urbanization, energy industry currently is overwhelmed with energy needs. The paradigm shift in the Indian energy sector is definitely expected to influence and shape the global energy economy. Where there are many forms of energy Chemical energy, Electrical Energy, Mechanical Energy, Thermal energy Nuclear energy, and Gravitational Energy, and more, including the various renewable energies, energy sector is classified into two industries sections- `energy equipment and services' and `oil, gas and consumable fuels'.
As per study, India is the third largest producer of electricity in the world. The national electric grid in India
has an installed capacity of 403.759 GW as of findings until 30 June 2022. More over, the renewable power plants, which also include large hydroelectric plants, constitute 39.2 percent of total installed capacity. As power sector is vital in the economic growth and human development respectively for every country, the Indian power sector is fore casted to attract investments worth $128.24-135.37 billion, between 2019-23.

The future of the power sector seems bright since by 2026-27 the country's power generation installed capacity will close to 620 GW, of which 38 percent will be received from coal and 44 percent from renewable energy sources. There are many efficient leaders in the Energy industry including the startups who are proficiently leveraging their prolific energy equipment and services in the industry. They need to be acknowledged for the same.

In this issue of the CEO Insights magazine, a list of `Top 10 Leaders from Energy Startups Companies - 2022' is provided to the readers in corporate and different sectors, for informing on the excellent services leveraged by the Leaders in diverse domains. The listing is prepared by a team of industry veterans, CEOs and VCs, and the CEO Insights magazine editorial board.