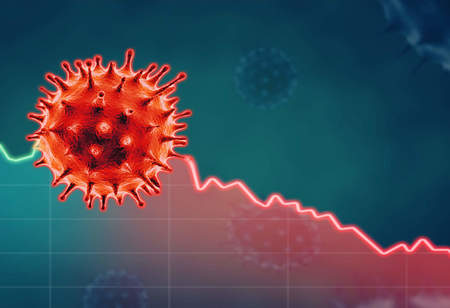 In the last 24 hours, India witnessed the highest COVID-19 positive cases surge till date, numbering 19,800. Since the lockdown was uplifted and Unlock 1.0 implemented, the country is constantly witnessing rising coronavirus cases each day, while the death rate too have crossed 16,000. The downside of this surge in coronavirus cases have resulted in the Indian economy to nosedive. A recent Economic Research by S&P Global Ratings projects that Asia-Pacific's economy will contract by 1.3 percent in 2020 but will grow to 6.9 percent in 2021, implying $2.7 trillion of lost output over these two years.
The research also states that the largest downward revision will be for Japan, but India's economy will also shrink five percent this year as lockdowns compound underlying vulnerabilities, followed by rebound next year. The report also expects that the permanent costs of COVID-19 will be highest in India and Philippines. Earlier this year, the World Bank has already lowered its projection of India's economic growth from six percent to five percent in 2019-20 fiscal year. "In India, growth is estimated to have slowed to 4.2 percent in the fiscal year 2019-20 and output is projected to contract by 3.2 percent in fiscal year 2020-21, when the impact of COVID-19 will largely materialise," the World Bank said in the latest edition of the Global Economic Prospect. "Stringent measures to restrict the spread of the virus, which heavily curtail short-term activity, will contribute to the contraction."
Last week, NCAER forecasted India's GDP growth to shrink to 1.3 percent in FY21, while just last month, New Delhi-based economic think tank mentioned that the economy could contract by 12.5 percent during the same period in the absence of a government stimulus. Just a day before NCAER's forecast, the International Monetary Fund reversed its projection for India, forecasting India's GDP to contract by 4.5 percent in FY21. Earlier it estimated a growth of 1.9 percent. IMF also warned that the global public debt could reach an all-time high, exceeding 101 percent of GDP in FY21.
While the earlier stand of the government was 'Jaan hai to Jahaan hai', it now has transformed to 'Jaan bhi, Jahaan bhi'. Walking on this line, the Karnataka government declined to impose a new lockdown in the state to ensure the state economy doesn't limp to its worst. But on the other hand, India's Nifty which soared on Unlock 1.0 and ease of China-LAC tensions, has slipped today morning due to the increasing COVID-19 cases and increasing tension built-up on both sides of the LAC. Even if the government doesn't impose the next lockdown, the rising COVID-19 cases will significantly impact our economy and public sentiment.
But earlier this month, Fitch Ratings forecasted that India's economy will bounce back with a sharp growth rate of 9.5 percent next year only if the country avoids further financial sector collapse. "After the global crisis, India's GDP growth is likely to return to higher levels than 'BBB' category peers, provided it avoids further deterioration in financial sector health as a result of the pandemic," said Fitch Ratings in its APAC Sovereign Credit Overview release.
The Stimulus & the Way Forward
Last month, the Indian government declared a relief package of Rs. 20 lakh crore to revive the economy and give it the much needed boost. But is this relief package enough to infuse new life into our economy or the government needs to create and adapt a new business model altogether to ensure the country stands strong if any such situation arises in the future? ORF, an independent think tank, says that there are two crucial elements of a blueprint to revive the post-pandemic Indian economy. It states that there should be clean energy-focused stimulus and increase the health GDP. Government programs like Ayushman Bharat – Pradhan Mantri Jan Aarogya Yojana is indeed a positive step towards accomplishing this, but not enough to counter the sudden pandemic the world is undergoing.
COVID-19 presents an opportunity for India to strengthen and redefine these two pillars. Not returning to business-as-usual, India needs to build an economy of the future with emphasis on qualitative changes in the country's growth pattern, which remains less impacted by any such untoward situation. This should indeed be a learning for not just the government but even businesses to ensure they play an increasing role in countering such situations by being agile and creating more sustainable business by adding value to the society.