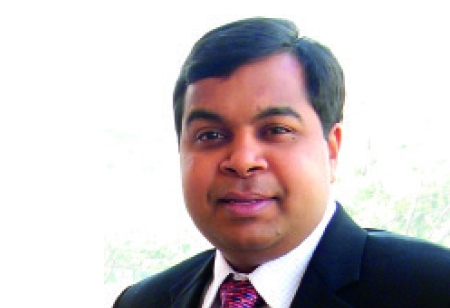 Mohan Raju, Chief Strategy Officer, Azuga
Headquartered in San Jose, Azuga is a leading Connected Vehicle Technology company which provides end-to-end solutions for Government agencies, Insurance companies, Automotive industries and many more enclosing with its software, SaaS applications and data analytics.
Connected Vehicles - vehicles that use different communication technologies to communicate with the driver, passengers, other vehicles on the road, roadside infrastructure, and the 'Cloud'. Connected vehicles not only improve vehicle safety & efficiency, but are transforming our daily lives as well. Connected Vehicle technologies are increasingly saving lives, prevent injuries and are fast enriching our interactions with the Vehicles themselves. What's interesting is that the car of the future is apparently about more than just the vehicle itself because the cars will not only interact with other road users, but with the home, workplace and other connected infrastructure in our lives!
With the technology, the mobility ecosystem is tightly integrated into a person's life, not just into the car, for example, a consumer could order a vehicle to come to the house through voice recognition technology in a smart speaker. Because the consumer has a personal profile, the car arrives automatically configured to that person's preferences. The same process could occur in a workplace environment because we think the office is a huge piece of this conversation. As cars become more autonomous, the opportunity to become more productive in the car becomes increasingly important.
With the use of Human Machine Interface(HMI), the technologies will be relevant not just for fully autonomous cars, but also for semi autonomous cars with the transition away from the classic style of driving. At the CES, this was demonstrated with the ability to join conference calls and update work calendars directly from the car, for example.
And you dont have to worry about the cyber hackers as when ever any additional component is connected to the Internet, a new attack surface is created by the system itself and even if something happens then, the controls can be transferred back to the driver. Also, National Highway Traffic Safety Administration Administration (NHTSA) revealed that semi autonomous drive technology would stop the vehicle, after issuing any alerts, if the driver with hands away from the steering wheel for an extended period were deemed inattentive as it requires a three point checklist before control can be returned to the human driver. Hands must be on the wheel, and can be detected through sensors. Eyes must be on the road, and can be confirmed via camera based eye gaze tracking and finally is a pupil because the technology correlates the amount of pupil dilation to cognitive load so it makes sure that your concentration is on the road ahead. What's more, this is no Sci-Fi but the transformation of connected vehicles is happening NOW!!
Connected Vehicle Markets in India
With over 300 million smartphones users in India and population of 1.3 billion, a recent report states that the
global connected automobile market alone is expected to grow to 37.7 million units by 2022, at a CAGR of 35.54 percent. India is fast emerging as a huge market for connected automobiles. Currently, less than two percent automobiles sold in India have some basic form of connectivity. But as we have seen in the past with smartphones, adoption of latest technology is on the rise in India and it is certain that the adoption of connected vehicles will grow exponentially in the next few years as India's reliance on smartphones is increasing day-by-day, i.e.,around over 300 million are using smartphones as a source of navigation, music streaming and many more.

Although in its infancy, vehicle connectivity in India is potentially more important than in any other market because the time spent behind the wheel in heavy traffic is more than average but now with the help of this technology, it could be better utilized, and emergency services alerts could save lives in the event of a crash–one of the common occurrence on India's hectic roads. Some of the motivation for connected vehicles in India are:

a) Safe Driving: In a country where traffic is a huge problem, the day is not far when your vehicle will wake you up and remind you to get dressed and hit the road to avoid a jam using telematics. With connected automobiles, not only will drivers have a clear incentive for driving, but also insurance companies will be offering better premiums for those who allow their driving habits to be monitored. Drivers can use this data to improve their driving.

b) Predictive Maintenance:Vehicle diagnostics will help generate alerts when a part of the vehicle starts functioning in a less than optimal manner. This will reduce breakdowns and ensure hassle-free driving along with improved mileage resulting in savings. Well maintained vehicles would also emit less pollutants.

c) The Data Opportunity: A recent research which outlines the potential of data generated by connected vehicles, states that a single connected vehicle has the potential to generate more revenue than 10 conventional non-connected vehicles. In the next few years, auto OEMs will be rated based on the units of data generated and not units of vehicles sold.

d) Smart Suggestions: Connected cars will also be able to predict task lists and to dos for the day. It is predicted that they will be able to make smart suggestions on which place to visit next and what task to take-up after.

e) 5G Connectivity: With the arrival of 5G, connectivity complaints will be a thing of the past. 5G will enable connected cars to send & receive messages faster. It will also enable more situational awareness and provide warning in case any roadblock or hindrances were to appear on the road giving the driver more time to react.

f) Autonomous Vehicles: From the early days, OEMs are delivering a certain degree of automation. Autonomous parking, collision alert and protection systems that slow down cars or issue warnings to drivers or even dial emergency numbers are already part of main stream automobile narrative.

g) Connected Entertainment: Connected automobiles will turn into content delivery platforms soon thereby opening a whole new market for infotainment providers. Connected cars are undoubtedly the most exciting concept powered by IoT. In the years ahead, this segment will witness more path breaking developments and breach new personalization frontiers. The possibilities are indeed endless but within our capacity to imagine.

Hence, the increased use of connected vehicle technologies could provide many benefits to India's automobile sector, its growing economy.