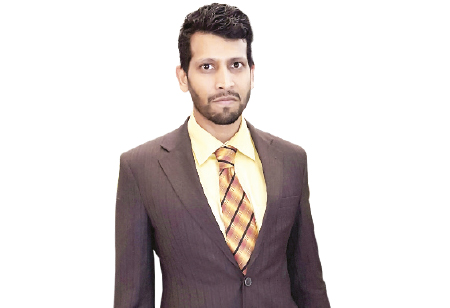 Kunal Mehta, General Manager - IT, Raymond Limited, 0
The Raymond Group was incorporated in 1925 and within a span of a few years, transformed from being an Indian textile major to a global conglomerate. Today the Raymond group is vertically and horizontally integrated to provide customers total textile solutions.
Customers' expectations of how they should be able to interact with retailers have changed dramatically in the last few years. Driven by an increasingly connected world that knows no time constraints for online shopping, customers are demanding the same access to a retailer's service and support operations.
To further complicate matters, today's millennial customer wants inexpensive, highquality goods delivered to their doorstep within days, pushing the limits of the traditional manufacturing business model to its breaking point.
This has made the retailers sit back and re-look at their processes right from product design thinking, sourcing, production, supply chain to delivery at stores, which typically boils down to providing better, faster, more memorable service
Hence, using technology for manufacturing garments has become important in order to have systematic and comprehensive insights into this multifaceted process. Automation in garment production involves different stages from handling, spreading and cutting, through to finishing and pressing techniques along with advanced tools for assessing productivity in manufacturing Further, automation is also being driven by the fact that there is a huge shortage of skilled manpower not willing to work in factories under difficult conditions. The socio-cultural mindset, poor working conditions in factories apart from the large textile manufacturers makes it an unattractive option for skilled youth as an unappealing career choice. Non-availability of niche courses and absence of institutionalized training infrastructure has resulted in significant skill gap for the textiles industry.
There are a number of machines available in the market that helps in the various stages of garment production. Autoconer helps in the winding of yarn. Dosing machines help textile units to add chemicals in appropriate quantities and during appropriate time. Overhead travelling cleaners help in cleaning textile mills and its machineries.
In an industrial environment, a manufacturer could automate each stage: cutting the fabric, stiffening it, shaping it with high frequency acoustic vibrations, stitching it and then rinsing it back to normal.
On the other spectrum is the supply chain. There's a growing need to reinvent the retailer's supply chain to support the changing market dynamics,specifically in warehousing with significant technological advancements happening in the automation space.
The retail supply chain is highly fragmented in India. This leads to retailers having limited visibility over inventory. Issues with demand forecasts and inventory
management further lead to excess inventory and stock losses, resulting in high costs of supply chain. This also leads to poor customer experience due to non-availability of products at the right place at the right time. For multibrand retailers, the problem is even more complex, requiring coordination with multiple suppliers and vendors.
Continuing to operate with a traditional supply chain just isn't viable. It could kill customer loyalty drain away profits and damage long term growth.
Non-Availability Of Niche Courses And Absence Of Institutionalized Training Infrastructure Has Resulted In Significant Skill Gap For The Textiles Industry
Instead of the tactical approach to supplychain transformation that most retailers have adopted, they could take a more strategic view, enabled by scenario planning, a more agile supply chain, and hybrid fulfilment models
Robotics can in many situations increase productivity, safety, efficiency, quality and consistency of products. The main benefit is that it works consistently, tirelessly and the speed of operation is fast. Further the issues pertaining to human labour can be completely ignored with robotics.
With fastfashion gaining traction, reprogrammable robots could churn out a variety of products, which will "shorten supply chain timelines and lessen the lead times that hamper the fashion industryFour key elements need to be in place for you to take full advantage of robotic process automation in your supply chain:
1.Robots can be used for picking orders and moving them through the facility
2.Sensors to ensure product quality and stock
3.Cognitive learning systems
4.Artificial intelligence(AI)to turn processes into algorithms to guide the entire operation.
A strategic approach to retail supplychain transformation leveraging the insights of scenario planning, as well as building agile supply chains and hybrid fulfillment models would help turn a weak link into a remarkably strong one. But where does one be¬gin? Retailers need to start finding answers to some critical questions:
1.Do I have a clear view of what my customer wants in terms of supply chain capabilities now and in the future?
2.Do I have a clear plan to address those requirements? • Could I materially analyse, re-configure and plan large portions of my supply chain in a matter of months?
3.Can I supply "any product from any location" If the answer to any of the above is "no", then the retailer needs to act now to cope with the fundamental changes sweeping the retail landscape.
The methods of the past will only take you so far. They must now coexist with new realities especially the need for full inventory visibility and the escalating demand for flexible fulfilment. Adopting a bold approach to discovering new supply chain models and paradigms embracing new age technologies can help improve the customer experience.
Retailers will also need to strongly collaborate internally along with their suppliers and tie all management systems back to order management and Enterprise Resource Planning(ERP) platforms.
The future is of course uncertain. The time to start preparing for it however is now.