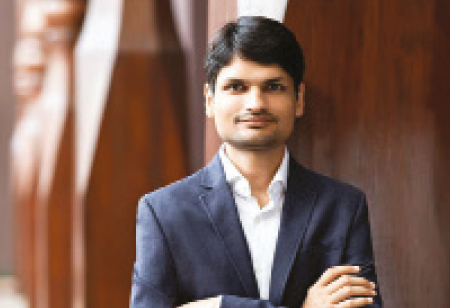 Deepak Bansal, Director, Cantabil, 0
Cantabil is in the business of designing, manufacturing, branding and retailing of apparels. With a network of 270+ exclusive retail outlets & employee strength of more than 2500 spread across India the CANTABIL brand offers the complete range of formal wear, party wear, casuals & ultra casual clothing for men and women.
Retail sector in India
The retail sector in India is emerging as one of the largest sectors in the economy. Indian retail is one of the fastest growing markets in the world and fifth largest global destination in the retail space. Retail market in India is projected to grow to $1200 billion by 2021.India's modern retail to double in size over the next three years. India will become a favorable market for fashion retailers on the back of a large young adult consumer base.
Policy formalization and Increasing Investment
With 51 percent FDI in Multi brand retail and 100 percent FDI in Single brand retail under automatic route is leading towards foreign retailers to continuously entering in Indian Market. More ease in policy norms are expected in coming years. GST as single unified tax system has given boost to the organized retail in India.
Growth Drivers
With huge millennial generation coming up, Brand Consciousness will be one of the key growth drivers for fashion retail in India. Easy credit available and increase in quality product will be a leading growth driver. Urbanization with increase in purchasing power has led to growing demand in organized sector.
1.Measures taken to ensure quality of raw materials used in the manufacturing process and achieve maximum customer satisfaction
We, at Cantabil, procure raw material from leading suppliers to ensure that quality and premium product can be supplied to the customers. After procurement, the fabric swatch is sent for lab testing and 100 percent fabric is checked internally using the four points checking system through advanced machines to check specifications and ensure quality.
Also, during all the stages of the manufacturing process i.e. cutting, stitching, washing and finishing, the garments are closely and regularly monitored, checked and inspected by our inhouse quality assurance team to ensure that we deliver best in class product to cater to maximum level of customer satisfaction.
Now-A-Days Apparel Job Is Growing With New Technology, Which Makes Easier Production Of Garments With Quality Finishing And Standard Product Quality In Less Time
2. Latest Technologies & Methodologies used for designing, manufacturing, branding and retailing apparels
Now-a-days apparel job is growing with new technology, which makes easier production of garments with quality finishing and standard product quality in less time. We have our own state of the art manufacturing facility in Bahadurgarh (near Delhi) that uses an array of latest machines for cutting, stitching, fusing, pressing, finishing and packaging. Though apparel industry is a labor intensive sector, however, the use of technology and modern machines helps to improve the overall productivity, efficiency and quality.
For design work we have trend forecasting tools that help designers to visualize and predict upcoming trends and ideologies that would be in trend in the near future. Social media marketing for fashion brands is new key to reach out to their followers and provide them with time to time updates of our new in developments. Customer loyalty programs also help to create recall value and help to tap the target market. Thus technology is also playing a very important role to reach out to new and existing customers and expand the target market.
3.Latest Fashion Wear Trends
Latest fashion wear trend for AW - 19/20 is more focused on sustainability, usability, comfort and vintage appeal of the garment. For fabric new popping trends are stripes, ombre checks, contrast stripes in subtle checks, dobbies, hologram textures print, abstract camo and trans seasonal appeal. For women most popping global trend is animal skin prints, asymmetric tie-knots, ruffled hems and stripes variations. Color inspiration for this season is interior inspired color pallet country color hues and darker shades of green along with evolved neutrals.