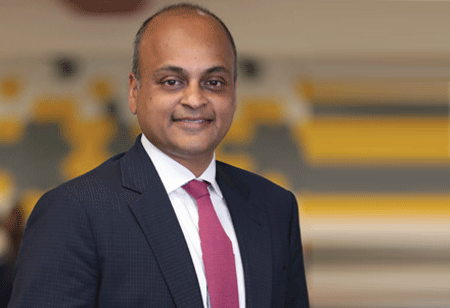 Anshul Jain, Country Head & Managing Director, Cushman & Wakefield
Headquartered in London, Cushman & Wakefield is a global commercial real estate services firm which offers agency leasing, asset services, capital markets, facility services (C&W Services), tenant representation, valuation & advisory and many other services.
India's infrastructure needs are currently estimated at $4.5 trillion over the next 25 years. A large part of this is likely to go towards creating new economic engines of growth which will happen on the back of putting together physical, as well as transformative infrastructure in place. While the smart cities list currently stands at 100, there are debates about whether the program is enough for the country and does it not eschew inclusiveness. However, the facts are these - with an investment outlay of over Rs.48,000 crore, this is the biggest program of this scale being undertaken for the first time in the country. Along with the Atal Mission for Rejuvenation and Urban Transformation (AMRUT), the government has an investment outlay of Rs.98,000 crore for creating smarter, live able cities with inclusive growth and economic drivers.
The Background
A country's infrastructure is key to its sustained economic growth, while offering quality of life to its citizens. The direct link between GDP (the strongest indicator of economic development and velocity of growth) and infrastructure is well documented. With India being the fastest growing economy globally, it is but relevant to talk about the current and projected urban growth and the seminal policy changes which are pushing infrastructure growth over the past half-decade or so as the India growth story chugs along at a breakneck speed.
India's urban population has grown at a frenetic pace over the past 50 years. Currently, over one-third of India stays in urban cities, as per UN World Urbanisation Prospects Report 2018. It is anticipated that nearly half a billion people will be staying in urban cities by 2020 and around 850 million by 2050. Also from the current number of five megacities (population over 10 million), India shall add another two over the next decade. Interestingly, there will be 62 cities by 2030 with a population between one and five million. While this presents the biggest resource for India to continue its growth on the back of its young urban workforce for the next couple of decades, a conundrum threatens to undo the gains of this available workforce. India's urban cities are already creaking under the pressure of inadequate infrastructure across roads, power, water, and solid waste management all of which impact the quality of life and create a drag on the country's productivity, not to mention that for an economy, job & wealth creation are
key elements for pushing forward the goal for sustainable development.

In these circumstances, India's push towards smart cities created a new paradigm of how the polity of the country was pushing the agenda of inclusive & sustainable growth, while recognising the need for enhanced economic growth, job creation, municipal reform, urban renewal and international living standards.

The Road Ahead
India has completed around 33 percent of the total 5151 Smart City Mission projects or are currently under implementation, utilizing around 25 percent of the envisaged investment. Progress admittedly has been patchy, but tie-ups with countries, such as Singapore, France, U.S., Japan, Spain, Canada, Germany and others, who are keen to participate in this large-scale nation building in the country portends that not just technology backbone, but smart citizen systems in the fields of traffic management, solid waste management, utilities consumption and wider reach of facilities centred around education, learning, recreation and others will also find global resonance.

The idea is sound in its own right, with the government focusing on making existing cities smart. But it also comes with its own set of challenges. The multiplicity of local stakeholders, local laws, and regulations create an uneven setup. The smart city definition is also not standard so cities have looked to create a smart city project based on their own understanding. Also most projects are based on area-based development, where a part of the city has been chosen for implementation of the pilot project before the rest is replicated for the city.

The government from its perspective continues to push the smart cities agenda with all seriousness as evidenced by its fund disbursement and creation of a Live ability index, which aims to measure the quality of life across all Indian cities. This to some extent counters the criticism initially faced by the smart cities mission of being limited to just 100 cities. Along with other programmes such as AMRUT (which covers 500 urban centres) and the inclusion of Sustainable Development Goals, the government remains committed to achieving a higher quality of life for its citizens.

Funding such a massive project obviously needs private sector participation and this is the one aspect where greater traction would be needed. Of course, there have been private players who have taken-up projects associated with the Smart Cities Mission for the various city level SPVs (Special Purpose vehicles created to undertake the smart cities projects under each city which was part of the 100 smart cities list) but there is need for greater participation as part of the process of nation-building.

Certain debates still remain. Whether Greenfield smart city is better than upgrading an existing city? How will a low-carbon, sustainable city idea integrate itself with India's energy needs and city development agendas? How will these smart cities be able to deliver on the promise of inclusivity, while creating the right environment for economic growth and job creation?

Finally, smart cities are living laboratories which have to deal with complexities surrounding sustainability, technology and data security, quality of life and employment generation with a governance model that keeps people at its front and centre.