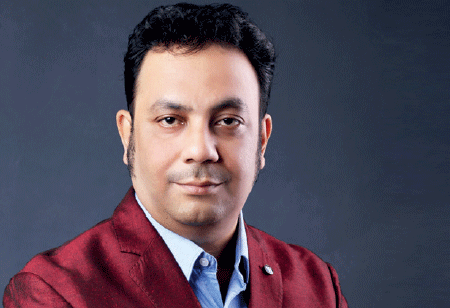 Dr. Abhijit Sarkar, Country Head-Corporate Real Estate, Administration, Infrastructure & Sourcing, Sharekhan
Headquartered in Mumbai, Sharekhan is one of India's largest retail brokerage company offering a large portfolio of financial products & services that includes securities brokerage, mutualfund distribution, loan against shares, ESOP financing, IPO financing & wealth management, and many more.
The Concept of Smart Cities is an initiative by the Government of India to drive economic growth and improve the quality of life of people by enabling local development and harnessing technology as a means to create smart outcomes for citizens. Since, more than two-thirds of the world's population is projected to be urban by 2050. In order to meet the demands of urbanization, we will see a huge growth in new infrastructure put-in place to support the largest population centers. Smart Cities is a mission towards Urban renewal, green field and retrofitting program, whereby the objective is to develop 100 cities across the country to make them citizen friendly and sustainable to focus on following infrastructure elements, amongst many others:
•Adequate water supply
•Assured electricity supply
•Sanitation, including solid waste management
•Efficient urban mobility & public transport
•Affordable housing, especially for the poor
•Robust IT connectivity & digitalization
•Good governance, especially e-Governance and citizen participation
•Sustainable environment
•Safety & security of citizens, particularly women, children and the elderly
•Health & education
Smart city technology can make cities more effective and efficient, which is necessary, given the projected rapid growth in urban populations over the next few decades, while improving services to citizens & businesses, among many other benefits. While the definition of a smart city is still evolving, a few things have become clear. Smart cities are expected to leverage information and communication technologies to enhance service levels, citizen well-being, sustainability, and economic development.
Advancements in 'big data' and connected devices will allow these cities to access the information that is never been available before. A well-designed data analytics strategy is expected to give city officials the ability to access & analyze a massive amount of information and easily glean meaningful, actionable insights. When a city can monitor desired metrics in real-time, service levels will definitely rise.

Smart city technology will have the ability to create a more equitable environment for citizens. To ensure digital equity, individuals must have access to high-speed internet services and to affordable devices. The adoption of public Wi-Fi hotspots strategically placed throughout a city can offer reliable internet services to all residents. Smart cities are expected to transform the work environment by streamlining manual processes and giving employees greater opportunities to reach their full potential, while also providing citizens with improved services.

"Smart cities are expected to leverage information and communication technologies to enhance service levels, citizen well-being, sustainability, and economic development."

Every Smart City is expected to have Smart City Centre (SCC)(i.e., Integrated Command & Control Centre) and will function as a city's nervous system where digital technologies will be integrated with social, physical, and environmental aspects of the city, to enable centralized monitoring and decision making. The SCC will play important role in real time monitoring and expeditious incident response management in city operations.

The aim of the Smart City mission is to create urban areas that priorities citizen's well-being, the economy and the environment through the interpretation of 'smartness'. As each city will be unique and will have different pain points, the focus will be on creating smart solutions in the areas that cause particular headaches for citizens in the individual city, whether that is transport, connectivity or safety.

Moreover, the growth of a smart city project can give way to massive opportunity, particularly when we talk about demand for affordable homes. Smart cities can also offer an excellent investment options with a sustainable scope for price appreciation, especially for a long-term investment purview. The smart cities project will be an amalgamation of commercial & residential projects in India, in close quarters. Evolution of these smart cities will push the demand of office spaces, as well as hotels, in addition to service apartments and shopping malls. The real estate sector contributes about six percent to India's GDP. With the vision of building 100 smart cities, many expect this share to increase to 10-12 percent by 2022. Thus, the developers will get a huge window of opportunity to offer new projects in the upcoming smart cities, which boost the regional, social and economic infrastructure.