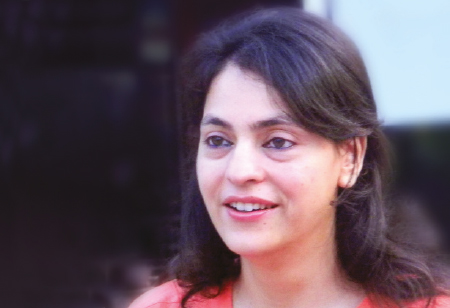 Gagan Jyot, Vice President & HR, RMSI
In today's world of gender flexibility and inclusiveness, when both the genders are equally welcomed in all walks of life in-terms of their identity, personality and leadership, I think it is high time to break the binary and accept both the genders as essential partners in leveling the playing field for everyone.
Nevertheless, women are called bossy in the workplace more often than men and business studies do proclaim this contention. Therefore, it is interesting and intriguing to introspect why a so-called 'weak gender' have a whole lot of "bossy" guts to change the world when it boils down to motivating and encouraging people as a leader.
I think the entire ballgame here is rooted in the fact that "Men Are from Mars, Women Are from Venus"! Undoubtedly, women do possess some qualities - caring, attentive, impactful; which are accepted by the world leaders, including men, time and again! Today women are assuming many important roles in business, politics, education and society, across the globe. Research indicates that women do bring impeccable impact in a workplace. They are excellent mediators, great networkers and highly value-driven professionals. Here, I am referring to how powerful and effective women are in applying their mind and brain than testifying their gender qualities against the male colleagues!
The fact of the matter is women often experience life differently and that experience affects the way they see problems and think about solutions. That is why any problem at workplace is always seen and judged by a male and a female boss very differently. Perhaps, the most important skill women have as best bosses is to be able to see a need in the organizations at its core, to its entirety and fill that need at its earliest– swiftly, sensibly and steadily.
It is an enabler triggered by some innate qualities of a female boss because she is an inborn multi-tasker. At the same time, she is blessed with the so-called 'feminine' qualities of patience and perseverance.
Essentially, bosses bring in some irreplaceable combination of traits to the table and some of them tend to be more intrinsic to women compared to their male counterparts. For instance, honesty, intelligence and decisiveness are considered to be 'absolutely essential' leadership qualities. However, women bosses, in general, place somewhat more importance on intelligence and honesty than men do.
What about decisiveness? Reality shows that women who strive to be the world leaders and display confidence, assertiveness and decisiveness like
Margaret Thatcher, Indira Gandhi, Angela Merkelare twice as likely to be called "bossy" than the men who displayed similar characteristics. I think this narrative needs to be changed in order to close the gap in the hidden pretext of gendered workplaces!

Contrary to what some might believe, research has found that women do not act bossier than men. In fact, women cross the hurdles all the way up to the typical male dominated leadership positions quite efficiently as compared to men. Though, that might require her to emotionally detach herself for sometime.

But her natural instinct of being an emotional person comes back and proclaims the world through a caring and campassionate attitude. This makes her more versatile than men.
Various surveys tells us that female bosses are more likely to be deeply involved with their work and inspire employees who are dedicated to their jobs because women bosses have the power to create, nurture and transform their world. They know the power of their mind and have the ability to program it to success.

Estee Lauder said – 'I never dreamed about success, I worked for it."
They are better listeners and hence effective problem solvers. They are creative and know how to activate passion and fun among people. They can empahize with their employees and place them in jobs that are in line with what they are good at. When people feel connected with their passion, their happiness quotient is raised to perform better.
This is where their emotional intelligence comes into play. They also have better social competency to be able to engage people who do have difference of opinions and other perspectives.
Largely, they are the people of high principles and professional ethics, which is why they bring a rare blend of professionalism and personal care for people. They are great mentors. Their quintessential approach to work, drive for quality and vision for the team are always exemplary. From their unique way of thinking, teams learn how to see and deal with an apparent trivial issue in a different manner and resolve it effectively without compromising its importance and integrity.

Striking a balance between being authoritative and compassionate is integral for an ideal boss. Being too rigid may cause the employees lose their motivation while being too soft shall make them take their bosses for granted!

Women bosses actually have a powerful mind, which strikes a perfect balance between these polarities. The reason being they seamlessly balance between their home and the world – day in, day out! Their span of responsibilities does not end when work calls it a day. As a result, they are able to stand by their families and teams both in good and bad times.

I would conclude by saying – "A woman with vision is unstoppable, a woman with desire to succeed is invincible, a woman with passion and commitment is undeniable."