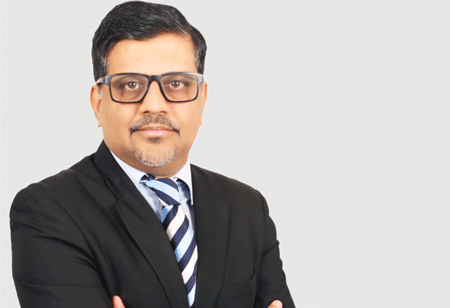 Manoj Jagathmohan, Director, QIAGEN, 0
Manoj has been associated with QIAGEN for over seven years now, prior to which he headed the sales division at bioMerieux, and held the role of Business Manager at Organon Teknika.
Over the few decades Molecular Testing has dynamically changed the paradigm and has been the fastest growing segment across the broader diagnostic market, Life Science Research and Forensic Sciences. Systematic evolution of technologies from an end point PCR to Next Generation Sequencing platform with increasing simplicity and ease of use has enhanced appropriateness of molecular testing. PCR technology hitting its mid-30s has been the dominant technology in molecular testing that has been fulfilling the need for better outcomes and accuracy for a clinician, researcher or forensics specialist.
For the past two decades, scientists and researchers have been exerting great effort to make molecular tests faster and be able to test multiple targets in a single reaction. These principles created fast and highly multiplexed polymerase chain reaction (PCR), digital PCR, and nextgeneration sequencing (NGS) assays. In some scenarios, testing turnaround times have dropped significantly to reach several minutes for simple molecular tests, less than an hour for complex syndromic panels, and less than a day for clinical genomics. While Global Molecular Diagnostics (MDx) is expected to grow from $8.5 billion at present to around $ 20 billion by 2030, in India, the Molecular Diagnostics only accounts for two percent of the IVD market.
Private market landscape is witnessing rapid change fueled by private equity capital that has enabled subscale players to become more aggressive and the hospital chains/corporate houses seeding diagnostic ventures. From largely being used in infectious disease testing and cancer diagnostics, the market of MDx is expanding into new areas such as companion diagnostics, liquid biopsy, genetic testing and direct to consumer. Some diagnostics, particularly in infectious diseases, are time sensitive, since rapid therapeutic intervention which depends on accurate diagnosis is often crucial. Multiplexing systems that can simultaneously test for a single or multiple pathogen for rapid infectious disease testing that return results in an hour or less will provide more insights to a clinician and enable better patient management. Newer technology with the random access feature of the Molecular Testing platform enables results from samples anytime without the need for batching. Deployment of NGS platforms with validated Bioinformatics tools will make genetic testing and specialized cancer diagnostics with actionable insights for the clinicians scalable and quicker. MDx market is
witnessing a gradual behavioral shift of consumers from sickness testing to preventive healthcare testing. Early detection will enable efficient management of patient, resources and eventually reduce costs.
Deployment of NGS platforms with validated Bioinformatics tools will make genetic testing and specialized cancer diagnostics with actionable insights for the clinicians scalable and quicker
Department of Biotech has initiated the India Genome project, wherein in the first phase, Genomic Data of 10,000 Indians will be catalogued. This is going to be transformational for our healthcare because these days, disease management is all about data. DBT is said to build on its own experience of genomic cataloguing and will rope-in 22 partner organizations. This would include public health institutions that have obtained regulatory ethical clearances. This data collection will be led by investigators in hospitals through a simple blood test from participants, and the information will be added to bio banks. Across the world, predictive diagnosis and precision medicine based on the genetic makeup of patients are emerging fields in the treatment of diseases such as cancer and other genetic disorders. The Genome India project will aim to make predictive diagnostic markers available for some priority diseases such as cancer and other rare and genetic disorders.
The passing of DNA Technology (Use and Application) Regulation Bill in India last year provides for the establishment of a National DNA Data Bank and Regional DNA Data Banks, for every state or two or more states. DNA laboratories are required to share DNA data prepared by them with the National and Regional DNA Data Banks. This provides an opportunity for organizations to offer their expertise and solutions.
The molecular testing ecosystem would embrace AI driven solutions, especially adoption of these solutions in Public Health Programmes to increase accessibility to the testing and patient management. This would enable to build capacity to deliver healthcare solutions as Distributed model of care. Predictive diagnostics powered by bigdata analytics will enable us to manage disease outbreaks through better understanding of disease origin and the transmission dynamics. Increasing demand for Nucleic Acid sequencing, initiatives from government & private sectors, and drug discovery for targeted therapy will be the propelling factors for Bioinformatics or Digital Insights growth.
The mantra to success is to democratize molecular testing with technologies that are accessible and affordable. A brewing social entrepreneurship focused on enhancing healthcare delivery high level commitment for sustainable implementation of health integration programmes, innovative funding mechanism to implement healthcare programmes at grassroot level and multisectoral engagement between key stakeholders will nurture an ecosystem that will drive startups to develop indigenous non-linear solutions for India, thus developing and adapting glocal (Globally local) technologies would be key here. It's all in the DNA!