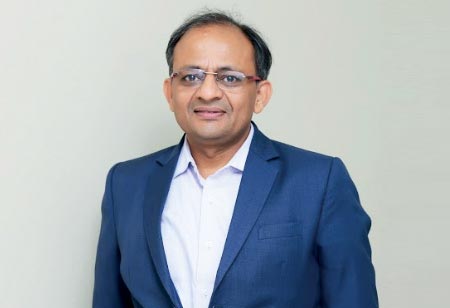 Anurag Garg, Country Head & Managing Director, Vitesco Technologies, 0
Holding over 32 years of experience, Anurag has worked previously for companies like Emitech, Continental, UNO MINDA Group and others.
Over the last few years, India has singularly focused on the path to become a global manufacturing hub. This is a feasible dream, with a large, young population that is also highly skilled, government policies that encourage and support manufacturing in India and a global opportunity.
The vision of 'Make in India', launched by Prime Minister Narendra Modi, is not just about making the country self-sustaining. The program aims to create over 100 million jobs by 2022, ramp up exports that will help the economy, eventually adding to India's role on the global stage.
The recently introduced PLI scheme saw a great response with 22 domestic and international manufacturing firms sharing proposals for mobile phone production worth Rs.11 lakh crore over the next five years, according to reports.
The next big focus is on the automotive sector, with the aim of making India a global automotive manufacturing hub - especially focused on electric vehicles.
India is the largest market for two-wheelers and the fifth largest market for both passenger vehicles and commercial vehicles in terms of sales. This showcases an immense local opportunity for automotive OEMs, component manufacturers, and others in the sector over the next few years.
As the Indian government continues to push for more EV adoption as well as localisation of the manufacturing value chain, it also creates an opportunity for exports.
Why Promote Localisation?
Localization primarily focuses on the transformation of the country into a global design and manufacturing hub by grabbing investors' attention through aggressive foreign direct investment initiatives and improving the process of doing business through legal and tax reform.
It helps in creating jobs in the country. When it comes to automotive, localization has an added benefit of customisation of the product and cost optimisation for the Indian market.
The Indian market is value driven. At the same time, the requirements of a vehicle in India are very diverse, requiring a mix of technologies and adapting them to suit Indian road and geographical conditions, while keeping the costs low.
This requires considerable R&D for the Indian market,
which can adapt products from other countries and ensure it works seamlessly in India, at a reduced cost. Additionally, India can also become the hub for other Asian regions, exporting the required quality to these markets.
Several OEMs and component makers have set up GICs in India, to conduct quality R&D in the country. The vast, talented labour force in India is a strength – allowing India to become the hotbed of innovation for not just Asia but across the globe.
Greenfield Facility
India is pushing towards a cleaner and sustainable future. One of the major steps towards this would be the Paris Agreement 2015, where India pledged to create a cumulative carbon sink of 2.5-three billion tonnes of carbon dioxide by 2030. India had also pledged to reduce the emission intensity of its GDP by 30-35 percent level by 2030 as compared to 2005 and targeted to achieve 40 percent of its power capacity from non-fossil fuel-based energy. To achieve this, cleaning up the vehicles on the road becomes a critical move.
Several OEMs and component makers have set up GICs in India, to conduct quality R&D in the country
India's goal is to achieve the target of making the country a 100 percent electric-vehicle nation by 2030. A change of this scale requires planning, and constant R&D to ensure quality and cost optimisation.
The move will happen in phases. The first shift towards clean mobility is with the implementation of BS VI norms, which puts us on par with global standards of emission for the first time. This has created a great opportunity for local players to not just create value products in India, but be able to sell these internationally as well.
Going ahead, there are more policies being put in place, including OBD-II (On-board diagnostics) and RDE (Real Driving Emission) norms. These are meant to bridge the gap between type-approval emission that occurs during the certification testing phase and those in the real world. These regulations are critical for India to move towards a cleaner tomorrow.
The average Indian consumer is also more aware and demands a certain quality in products. There are various drivetrain options that are provided with any model of vehicle.
These provide a great opportunity for a company like Vitesco Technologies. Our solutions encompass all offerings related to emission norms and electrification. Localisation is important to ensure we are able to fulfil the market's demands.
Realising India's importance as an automotive market, Vitesco has been making significant investments in Vitesco Technologies and has also established its greenfield plant in Talegaon, Pune to fulfill the customers' growing demands in the market.
Such investments in manufacturing reinforce the commitment of the company to the Indian market. As the production occurs in India itself, it boosts the exports leading to growth in the Indian economy.