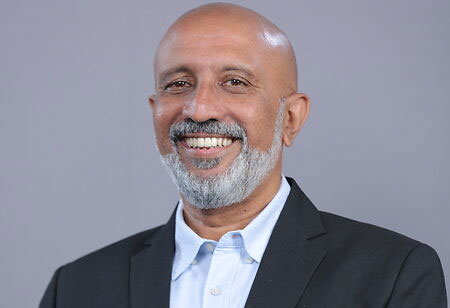 Mathew Philip, Senior Director & Country Manager, GoTo, 0
Micro, small and medium enterprises(MSMEs) are a silent army contributing to the socio-economic development of India. In an exclusive interview with CEO Insights Magazine, Mathew Philip, Senior Director & Country Manager, GoTo, talks about the resiliency of the MSME sector in the country despite being blown by the economic headwinds caused by the global climatic crisis, geopolitical tensions, and the COVID-19 pandemic. With close to 30 years of experience in Sales Management, Alliance and Channel Management, Account Management, People Management, and Business Development, Mathew decodes and delivers the formula required for MSMEs to thrive and stay competitive in the long run.
In conversation with Mathew Philip, Senior Director
& Country Manager, GoTo
You have had a remarkable professional journey over the past three decades. Tell us about the important turning points of your professional journey
My 28-year-spanning professional career has given me the privilege of being a part of the internet explosion, personal computer boom, and business applications ramping up the era. I have witnessed many disruptions that either birthed new technologies or accelerated the adoption of existing technologies. Each deriving prominence during different time frames, owing to trends. Similar to the global financial crisis that paved the way for the cloud, the COVID-19 pandemic signified and propelled the growth of remote-work technologies among businesses.
My career began in the hospitality management segment, which is deeply rooted in customer centricity. Also, being privileged to lead people has helped me comprehend managing essential connections. I mean happy employees lead to satisfied customers, resulting in successful businesses and delivering value to stakeholders. Today, with GoTo, I enable businesses to stay relevant by managing their vital connections and adapting to the dynamic world. I hope to continue this meaningful work as the days unfold.
According to you, what are the technological trends driving the sector?
Aside from the pandemic, uncertainties such as geopolitical tensions, climatic crises, and economic headwinds are helping to accelerate digital transformation across industries. Therefore, maintaining essential connections, as mentioned earlier, is a vitamin for business continuity. As a result, CIOs and IT leaders enjoya deeper, two-way relationship with businesses. They are not only able to educate stakeholders about the value of deployments but are also able to assume more accountability for IT projects.
On the other hand, cybersecurity threats rose due to the vulnerability that ensued from using personal systems. Therefore, tackling this issue with the cloud became another trend. An increase in the adoption of cloud technologies and more focus on cybersecurity can be seen driving seamless employee and customer experience.
What is the future of hybrid work culture in the sector? How fast are employees going to adapt?
As companies step up their automation plans, the hybrid working model is clearly here to stay. The employees will need to acquire new skills to function flexibly across this working model. Therefore, the right tools and skills should be provided to train teams. This will not only help companies secure the entire workforce but also future-proof the business as well. Particularly in the case of micro, small and medium enterprises (MSMEs), it is essential to have technologically armed individuals possessing soft skills to thrive in a distributed workforce. As Alvin Toffler, the American writer, futurist, and businessman says, "The illiterate of the 21st century will not be those who cannot read and write, but those who cannot learn, unlearn and relearn".
Maintaining essential connections, as mentioned earlier, is a vitamin for business continuity
How are the latest technologies influencing the customer experience?
Earlier, most interactions happened physically between the company, employees, and customers. Now, these engagements increasingly happen through digital platforms. The focus is turning to video meeting tools to make virtual meetings appear more in person or more like virtual town hall meetings. Similarly, providing support also takes the right technology to resolve customer issues without any physical visits. Be it employee satisfaction or customer experience, technology is destined to play a crucial role in fulfilling the expectations of both parties, irrespective of geography.
How should MSMEs enhance their solutions portfolio and ensure business continuity?
According to the MSME ministry data, there are about 6.3 crore MSMEs in India, contributing about 29 percent to the GDP. However, the need to automate businesses has been challenging for them since it requires them to be equipped with the right tools and services. SMEs also need to be flexible to connect and support distributed teams securely. Again, SMEs need to scale their businesses, and platform solutions can be the key to fulfilling their IT requirements. Hence, I would suggest businesses browse available solutions and deploy them to reach out to their customers and support their employees across different devices and time zones.
What would be your advice to future leaders stepping into the software development space?
The aforementioned essential connections should be the driving principle for businesses, including aspects such as ease of use, reliability, security, and scalability, particularly for SMEs building software. One stop consolidated solutions with simpler manageability are the need of the hour. Secondly, it's crucial to acknowledge and act upon fundamental problems faced by the IT teams. This needs to be a top priority. Digital powered remote workplace business models are looking for unified IT management and support solutions capable of integrating a range of software and devices across the company's network. Thus, it comes down to software that can work in an ecosystem of different software and devices. Also, considering the economic headwinds, the right IT solution can help teams seamlessly manage workflows, troubleshoot issues, and ensure network security.
Mathew Philip, Senior Director & Country Manager, GoTo
A stalwart business leader Mathew, holds around 25 years of extensive experience across Sales Management, Alliance and Channel Management, Account Management, People Management and Business Development.