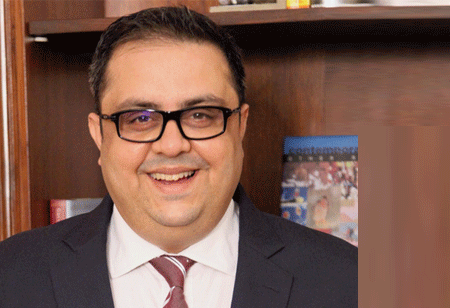 Vikram Khanna, Group Head - Talent Management, Magma Fincorp, 0
Vikram Khanna, Group head Talent Management - Magma Fincorp, is an expertise in driving key talent Management and specialized in leadership competency Assessment & Development. He comes with a very rich experience in HR consulting for various Business HR, Talent management and employee relations globally.
When a set of people work together achieving something challenging, it is often imperative that they have common thinking patterns and way of doing things. If they are able to achieve this condition, more often than not, the milestones are achieved and it paves the way for the desired goal. In a social setup collective brilliance is only possible when different minds work towards a common goal and an agreed path. Whether it be community with common faiths, community with common beliefs, community with demographical commonalities or an organization, excellence in anything is achieved when there is agreement and understanding of doing things in a certain way Culture is that understanding.
The concept was coined by Geert Hofstede, a Dutch social psychologist, former IBM employee, and Professor Emeritus of Organizational Anthropology and International Management at Maastricht University in the Netherlands, who defined Culture as 'the collective programming of the mind which distinguishes the members of one group or category of people from another'i.e. the collective similarities of members of a group becomes the distinguishing factor from other groups. Hence, we can say culture brings distinctiveness through Identity, by highlighting the commonality of a group of people and at the same time highlights how this group of people is different from other groups. Culture is therefore important to shape identities of an institution
The Common Programming in an Institution
Culture as a concept is known to all of us we have been exposed to it from the beginning of our lives, but we would see culture from an aspect of an organization. In the context of an organization, we cannot understand Culture without the Language of Behavior. Common Programming of employees can be achieved by highlighting certain behaviors as 'acceptable Behaviors' and certain behaviors as 'unacceptable Behaviors' in an institution or group. This segregation actually helps in defining Culture. It is important to bring clarity to Culture through defined acceptable and unacceptable behaviors as each individual may have their own nuanced version of the Culture and it may not reach the objective of creating a common programming. Hence, it is important for organizations to specify and make these behaviors explicit so as to define to its employees, the Culture Pillars or Ethos of an organization. So, Culture can be termed as a meaning making process, where the common programming of 'acceptable Behaviors' and 'unacceptable behaviors' are elucidated in a specific manner to the employees
Culture vs. Value – A Formula for Success
Peter Drucker as well known Management consultant, educator and author said 'Culture eats Strategy for Breakfast, Lunch and Dinner', i.e. strategy translates into
effective and efficient execution only when Culture of an organization is aligned to the strategy of the Organisation. The Culture needs to embed behaviors which support the long term strategy of the organization or else in the long run execution of a strategy becomes difficult. The Common programming of behaviors needs to help in executing the organizational strategy and achieving the overall goal of an organization. The outcome organization wants through its strategy should decide the Culture of the organization for it to create real business value.
The outcome organization wants through its strategy should decide the Culture of the organization for it to create real business value
Are Culture & Values Same?
Values and Culture are very different, Values can be defined as Boundaries and Culture is behavioral commonalities. 'Integrity' for an example is a Value, 'Fairness' is a Value, 'Honesty' is a Value but when acceptable behaviors are aligned to these then the understanding and displaying of those behaviors becomes Culture. Hence, there is natural inter linkage but subtle difference between Values and Culture. Thus it becomes, important for organizations to articulate Strategy aligned Cultural Ethos and a behavioral Framework to have an effective and performing Organization.
Diversity & Culture
Recognition of Diversity is a transformation in the mind a conscious shift in the Culture. The world by nature is heterogeneous and it is home to all kinds of beings. Diversity few decades back was limited to skill, competency, gender, geography and age with growing globalization and borderless workplaces, the mindset shift of the workforce is changing due to simplification connection flexibility and the impact of digitization. Diversity of workforce today is beyond skill, competency, gender, geography, age, background, culture and now includes physical abilities, ethnicity and preferences. The growing need is emerging that the representation of younger workforce is increasing and it calls for suave management styles to keep them engaged. Culture of embracing this diversity needs to be plugged in the organizational strategy for it to sustain in times of talent shortages.
What the manager and leaders need, is the ability to manage diversity of thought the fact that different people need different ways to be managed and have different motivational factors.
An employee's decision to join or to continue working for an organization is influenced by the organization's ability to create an inclusive workplace. It is important to acknowledge that the difference exists, finding commonality in diversity and designing policies to be executed around this is a constructive approach for an organization to create a culture of Inclusiveness and growth, not just in numbers but also in mindset.
Cultural & its Relevance
In an Organization with growth of businesses there is always a need to articulate the Cultural Ethos, the common programming of its employees, to deliver efficient and effective value. Many large conglomerates have established their unique culture, this unwritten yet effective Culture has seen these groups make a prominent name for themselves in different sectors.