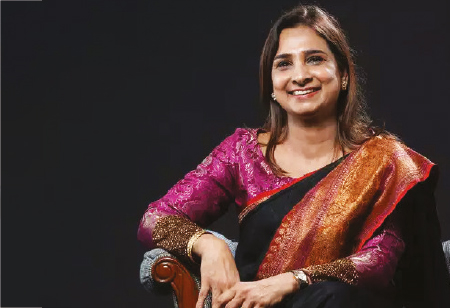 Rupal Dalal, Executive Director, JD Institute of Fashion Technology, 0
Established in 1988 in Mumbai, JD Institute of Fashion Technology is one of India's well-known Art & Design Schools which boasts of having trained over 25,000 students till date through its international collaborations and 36 centres spread across India.
Digital spending on education is rapidly growing across the world, because education is one of the underserved segments which can be lifted with the help of technology adoption, and it has catalysed the growth of the education sector in India. From augmented reality to smart spaces, 2019 saw their assimilation in the education environment.
These are some important education trends that we are looking forward in 2020 –
•The evolution of virtual learning classes has given a new wing to the education by removing the geographical barrier and improving the quality education in India. This technique has made students more self sufficient and has enhanced the level of knowledge as well. The availability of virtual classes has eliminated the social, economical and other existing barriers for students of rural and urban areas.
•Video learning has been major catalyst. It has freed students to engage and interact through visuals rather than cramming. Several tools and technologies are now available, and it has been found that students learn more through interactive methods than from ponderous texts.
•Gaming has emerged as a useful tool in the learning process. It was found that the amalgamation of game elements and cognition encouraged students to learn and retain knowledge.
•A focus on digital and concept-based learning has also led to a shift in the basic idea of teaching. Concepts have become the core of conveying knowledge. Understanding the concept behind methods and techniques has enabled the student to become more efficient in terms of skills and innovations.
•Language learning apps are also on the rising demand, as educators explore the best way to overcome the
barriers some people experience when trying to learn a language. Acknowledging that all learners are different and have different pace & styles of learning they continue to learn differently through out the program.
•Blended learning is a new trend which we can expect in 2020, where the learning trend is changing and transferring from computers to mobile phones. According to McKinsey, India is one of the fastest-growing and largest markets, with 560 million internet subscribers in 2018. It reported that Indians have 1.2 billion mobile phone subscriptions and downloaded around 12.3 billion apps in 2018. Students are opting for platforms such as Google, mobile apps and YouTube to gather information and watch video illustrations. Learners are enrolling into short online & offline courses to enhance their skills and learn & grow in their professions.
•Hybrid Homeschooling is a new move started for home schoolers who can attend self directed learning centers for certain subjects that their parents don't feel confident enough teaching.
•Personalized learning is also a more holistic approach towards learning and education. Personalized learning gives you flexible timing, cost efficiency and easy accessibility. Meanwhile, in personalized learning, every thing, including content, pacing, sequence and technology must be adjusted to suit each student's interests, curiosity, and learning purpose.
Consolidation of emerging technologies and immersive learning via AI, VR and AR technologies have enabled a keen interest in the learning experience from both teachers and the students
Consolidation of emerging technologies and immersive learning via AI, VR and AR technologies have enabled a keen interest in the learning experience from both teachers and the students. Analytics powered by AI helps in computing strength, weakness and proficiency of students and enables personalised learning paths.
Apart from this, the overall goal of education can be approached by integrating transparent online assessments and adaptive schooling. Day-to-day activities of millennials should be taken into consideration to increase their interest in education.