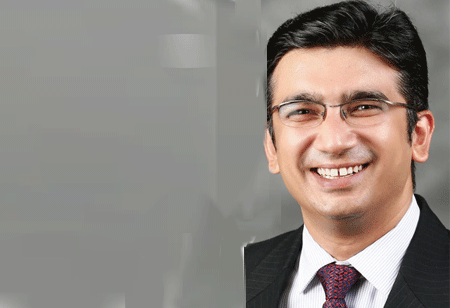 Amit Mehta, Managing Director, BlackBerry ASEAN & India
Amit has over 16 years of experience in the software and telecoms industries having worked and lived across South East Asia, China, and EMEA. He is responsible for helping customers realise the huge business benefit that mobility and mobility application usage can bring while maintaining the highest level of security.
Without a doubt, India is one of the fastest growing economies globally. With estimates that India is to be the world's most populous nation by 2022, experts predict that about 25-30 people will migrate every minute to major Indian cities from rural areas in search of better livelihood and lifestyle. To cater for a larger & growing urban population, it is imperative to help our cities be more secure, smart, and sustainable.
Smart cities are typically a complex network of connected objects and machines that transmit data using wireless technology and the cloud. In India, the government has unveiled a list of 99 cities so far for the Smart Cities Mission Project. The main objective of this mission is to leverage technology to address the issues facing urban cities in India. With almost an estimate of 2.7 billion connected devices in India by 2020, according to NASSCOM and Deloitte, one can imagine the whopping amount of data that these will create.
As networks, things, and people become ever more connected, it brings a magnitude of threats and increased risk. Data and information are simply far more vulnerable, threatening individuals, organisations, cities and even entire nations that are increasingly dependent on these technology frameworks. This is especially the case as the infinite supply of data becomes more integral to a wide array of operations.
At the core of any smart city design process is privacy & security of data and the safety of employees and citizens. Among many other elements, this starts with ensuring that government and private organisations have the appropriate systems, training and business continuity procedures in place to be both cyber-resilient and crisis-ready. So where do they start?
Data: The Core for a Smart Ecosystem
It is already understood that in the digital age we are living in, data is a smart city's most vital asset. It provides governments and companies with insights and influences decisions and actions required to resolve issues. It could be a false alarm that unnecessarily triggers panic, a cyber-attack on a hospital that brings a halt to scheduled operations or perhaps interference with traffic lights at intersections or train schedules. This is not in the future, it is happening now. Look at how Wannacry impacted the NHS in the UK in 2018 and the false ballistic missile alarm triggered in Hawaii.
Furthermore, as we progress towards a digitally enabled economy in India, we are seeing industries like the banking sector rapidly adopting newer technologies and digital channels to improve services for customers and encourage cashless transactions. Some financial institutions are even describing themselves as 'tech companies' these days.However, the adoption of advanced cybersecurity practices has not kept pace with the rate of evolution. Many of these communications involves interchange of confidential data, which if not secured, puts both the customer and the bank at risk.
Leading by example, Bank BRI, one of the largest banks in Indonesia, took proactive measures to mitigate cyber-risk. To protect the financial data of its customers and allow its employees to more effectively collaborate, BRI deployed BlackBerry's Unified End-Point Management software. With BlackBerry UEM, the bank now has complete endpoint management and policy control solution of devices and apps. More importantly, it ensures BRI is well-positioned to comply with any new privacy and security regulations.
Amplify Security When Stakes are High
In smart city design, information must be secured at every single layer. Taking a holistic approach with secure software, training, policies, and procedures will mitigate
risks associated with cybersecurity, data privacy and help prevent man made disasters. Understanding the growing need for trusted connectivity in rapidly growing smart cities, BlackBerry has introduced the Security Credential Management System (SCMS) service. This provides the mechanism for vehicles and infrastructure, such as traffic lights, to exchange information in a trustworthy and private manner using digital certificates.

In a world as connected as ours – and with our cities getting smarter, governments, emergency services and other organisations are increasingly reliant upon technology in a crisis. It must provide real-time access to correct data, enable effective communications with each other, and with those they are trying to help. Although organisations may not be able to control when security incidents occur, they can mitigate risk and control how they respond to them.

"In a world as connected as ours – and with our cities getting smarter, governments, emergency services and other organisations are increasingly reliant upon technology in a crisis"

For instance, among police, medics, fire fighters and other first responders, real-time access to key data and key people can be the difference between success and failure in a crisis. They need rapid communication and data sharing across wide ranges of organizations that have direct or supporting roles in emergency response. Importantly they need to be able to pull additional resources onto the scene on-demand, such as explosives experts, tactical teams, or contaminant experts – or additional officers, even if those resources are off-duty. According to researchers, almost 70 percent of government agencies say giving first responders access to real-time data in the field is critical or very important, nearly 80 percent want to easily communicate with state and local agencies in surrounding areas, and almost 75 percent want to connect personnel across different networks and devices.

A U.S. state police force uses the BlackBerry At Hoc Emergency Communication solution to dramatically improve its ability to respond to any emergency that involves SWAT teams. The police force instantly and securely alerts officers, both on-duty & off-duty via smartphone. This enables officers to check-in depending on their availability, time to scene, and expertise with the emerging situation. With this solution, the agency can call on a specified number of additional police and specialists in a matter of minutes or even seconds, allowing them to see all the relevant content, and communicate with other stakeholders – even interconnecting existing walkie-talkies.

Hyperconnectivity Set to Revolutionize the Way We Live
Let's also look at hyperconnected enterprises. Whether it is hospitals, banks, transport or governments, Gartner has cited that by 2020, there will be 7.3 billion connected devices inside enterprises. Defined by IDC as the inter connectedness of people, organizations and objects, hypoconnectivity is set to revolutionize the way people work and live.

So the Enterprise of Things (EoT), all those physical & digital connected end-points in an organisation, is not only real, but also growing rapidly. In order to securely connect the smart ecosystem, it is essential to have the right technology solutions that offer end-to-end encryption, strong password policies, updated firewalls fundamentally, and the ability to enable customers to create entirely new user experiences that take advantage of hyperconnectivity and advance their own digital transformation strategies.

With wearable technology, medical devices and embedded sensors getting connected, securing information has become empirical. Technology-backed secure solutions and services offer a holistic approach to provide everything from crisis communications to collaboration to unified endpoint management which can make smart cities secure.

Opportunities & Way Forward
Inter connectivity is the basis of smarter cities, creating infinite opportunities, however there is a corresponding need to ensure every end-point, every layer – is secure by design. This holistic approach to security, supported by the right tools, can enable technological advances in critical areas such as personalized health personalized health care, banking and finance sector, emergency response, traffic-flow management, smart manufacturing, homeland security, and energy supply management.

To ensure modern India is a safe and secure India, it is crucial to invest in secure software solutions to mitigate the risk of numerous breaches and threats. A city that is truly 'smart' should operate for the benefit of everyone, offering efficiency, opportunity, safety and progress.