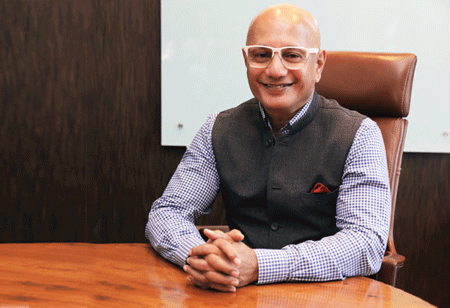 Pramoud Rao, Managing Director, Zicom Electronic Security Systems
With over 22 years of business experience, additionally served as the former National President of Fire & Security Association of India, Pramoud has always believed in value based leadership and the integration of ideals in business functions, he currently leads India's most preferred electronic security company and aims to set trends via innovation
In the security industry today the buzzword echoing around is AI & IoT. Almost every company is either ventured into or trying to venture into the exciting domain of AI driven Security Solutions and IoT based platform services.
In the technology domain, the first wave occurred in the 1990s when computers were the hottest talks of the town and companies like Dell, IBM, HP, profited and became very successful, then came the second wave of smart phones and all technologies being developed a decade ago were focused keeping smart phones in mind. Companies like Ola, Uber, Paytm, Zomato, became billion dollar companies, and now we are witnessing the third wave focusing on Sensors. Data collection from Sensors followed by data analytics and data outcome, resulting in business ROI and intelligence has become the order of the day.
The next unicorns are going to be IoT companies which build technologies around sensors and create business models that help organizations do predictive analytics and save huge operation costs further improving productivity.
Another emerging technology which is gaining good momentum is "PaaS" - Platform as a Service. A category of cloud computing services that provides a platform allowing customers to develop, run and manage Web/Mobile applications without the complexity of building and maintaining the infrastructure typically associated with developing and launching an app.
Companies are now further innovating to offer some ingenious & innovative solutions like:
Digital Forgery Detection - (A lie Detector for Documents)
Whenever some one alerts an image, even if they are pixel perfect in their work they always leave behind indicators that the image is modified. Al based technology helps identify and eliminate fraud in a business ecosystem - A digital way of enforcing ethics in Business, Consumer and Government.
More often than not digital frauds start with digitally tampering a document. Whenever there is something to be gained, crooks will resort to document forgery, be it college admissions bank loans, government funding, getting grants, securing a job or even bill clearance, it catches the crooks and nips digital fraud right in the bud.
What is the cost of becoming a victim of forgery? Can you really employ some one who is willing to forge documents to get an entry into your organization? What might be a later day cost you will end up paying if you don't stop this person now? How do you stop financial losses before they happen? How do you protect profits before you become a victim to digital frauds?
Document Management System -(A CMIS compliant content store)
DMS (Document Management System) software is
specially designed to deal with the documents Scanning, indexing storage, retrieval and use of documents and content within the application context. Business applications deal with a large number of documents. Scanning them, digitally signing them, safely storing them and using them within the applications is a far more efficient usage of office space and employee time otherwise waste in dealing with the paper documents. Moreover digital documents are age proofed have legal sanctity and are transportable at electronic speeds.
The next unicorns are going to be IoT companies which build technologies around sensors and create business models that help organizations do predictive analytics and save huge operation costs further improving productivity
Ai Based OCR / Text Extraction
As compared to generic OCR engines that work on pixel formations and statistical inferences, AI based OCR tool provides multilingual text extraction with far better accuracy. The text extraction works with equal ease on printed documents, embedded text within photographs such as number plates and street signs as well as hand write text.
Why waste time and resources on tasks that can be automated with technology? AI based platforms meets all the organizational needs of data capture from structured and unstructured sources to achieve business process automation to increase productivity and reduce costs.
Robotics Process Assistant(AI helps automate processing decisions that require a human action)
RPA tools help identify, understand and structure the extracted data and helps process the workflow based on rules. Think of RPAs as Excel Macros that can automate everything based on a set of rules that you can define. RPA engines deliver more value to customers using AI capabilities.
Image Analytics Tool Set-(Comprehensive tool set for image analysis tasks to complete the process)
The tool set helps you do much more with your images. With an ever growing list of Image Analytics tools, you can practically slash your operational costs and improve profitability.
Current set of tools are: Image Comparator, Font Comparator, Hand Writing Comparator, Ink Comparator, Face Detection, Language Translation tools.
Face Recognition System
AI based 'Face Recognition System' captures still images or live video images to identify an individual from a certain distance as it does not involve any physical interaction with the person. Face detection is the key technology used by large corporates for Access Control, Time & Attendance, Individual Identification, People Counting, and Behavior Analytics & Business Intelligence
It's really interesting what AI can do to drive PaaS. We recon the future belongs to those companies which adapt PaaS powered by AI & IoT. The next unicorns in the Indian Security Industry will not be hardware or integration Companies but the companies which will engage in SaaS (Security as a Service) PaaS (Platform as a Service) & IAAS (Infrastructure as a Service), and create interesting and enduring business model which revolves around Safety & Security, Business Intelligence and Comfort with Convenience.