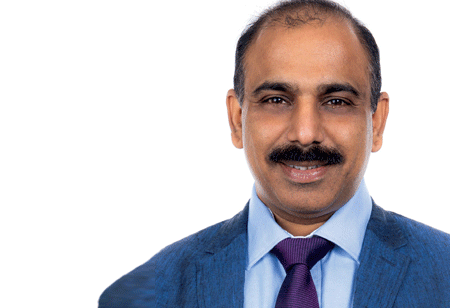 Nimish Gupta, FRICS - MD, South Asia - RICS, 0
Nimish has over 24 years of profound experience working with companies across multiple verticals such as Real Estate, Real Estate Finance, Design & Engineering, and Construction, to name a few.
The mass migration of people to cities and the global warming resulting in climate change, has metamorphosed into multiple new challenges for thebuilt environment. It has become essential for the sector to foresee and respond to these issues through sustainable transformation. A significant aspect of driving sustainable change is creating resilience in realty assets/infrastructure projects. This will support in ensuring a strong future for the market, counter the effects of climate change and enable people to live better.
Despite the adverse impacts of climate change and the rapid pace of urbanization globally our sustainability efforts have increasingly focused only on green buildings in the country. The time has come to 'smell the coffee' and realize that a broader agenda needs to be implemented by the Government, industry and people alike to handle this issue. Given the challenges our cities are facing or are about to face due to extreme weather conditions and exponential population, India needs to desperately push its agenda towards resilient cities.
In view of the current situation, it becomes imperative to develop infrastructure which will help advance a sustainable built environment. For instance the entire North India suffers incomprehensible levels of air pollution for more than a month making cities in this belt an unattractive proposition for investments. Taking into consideration that more and more investors are now giving a lot of weightage to Environmental, Social and Governance (ESG) frameworks, it is important that we adopt goals around sustainable and resilient cities faster through adoption of technologies.
However, technology adoption is slow as the industry is hesitant to venture into this field. This is compounded by the fact that challenges exist in the industry primarily due to demand and supply gap owing to lack of skills. The gap becomes more pronounced when we look at sporadic adoption of technology.
It is good to note that many government and corporate players have adopted green building concepts in their development initiatives. Nevertheless, more needs to be done in terms of fostering a culture of strong research and development focus within corporate sectors and through government backed initiatives. Focus needs to be equally on value engineered products keeping life cycle costing as an important criterion for various developments.
In view of the time restrictions that businesses are managed in built environment investors will have to look at newer better and efficient uses of technology. This is where green technologies including digital and lean
construction can come to our rescue and help in meeting sustainability and resilience objectives.
Building Information Modelling(BIM):
Businesses should adopt BIM for design engineering, construction and construction management as these are greatly enhanced through the use of BIM. Its usage allows preconstruction project visualizations which reduces cost and mitigates risks.It is also a very convenient way to engage with clients for sustainable buildings, minimize wastage and low carbon print.
3D Printing helps in saving significant costs by bringing construction projects to market through shorter project timelines and fewer wastage of resources
Design for Manufacture and Assembly(DFMA):
Construction projects, with the use this technology, are built at a higher quality at lower cost and in less time. It helps in reduction of waste by ensuring that almost all that is left over can be recycled. It also increases safety and takes care of common causes of delay on site like lack of materials and labour,
Augmented Reality(AR)
can be used in infrastructure projects especially at the planning stage, to circumvent future problems. It can help in improving traffic congestion and security in cities; enable easy navigation of railway stations and airports. It can lead to enhanced efficiency in a capital project's execution allowing workers to receive and send key information via smart glasses and fast-tracking the speed and quality of communication on the job.
Internet of Things(IoT)
is linked to the rise of smart cities and grids. During construction of infrastructure it offers several economical options to supervise and oversee a project end to end including remote realtime monitoring, controlling machinery, appliances and devices through sensors. It provides faster and smarter business intelligence for decision-making, realtime tracking of location and safety of employees and delivers specific information to workers who are on-site supporting augmented reality.
3D Printing
helps in constructing buildings that are fabricated faster, cheaper and safer. It is also useful in on-site printing of replacement parts to maintain power infrastructure quickly and efficiently. The technology helps in saving significant costs by bringing construction projects to market through shorter project timelines and fewer wastage of resources, as well as boosting efficiency for labour intensive jobs.
Integrated Solid Waste Management (ISWM):
An integrated solid waste management system helps to extract resources contained within waste. These resources can be reused safely and disposed with a minimum impact on the environment. The system should have a 'Projects to Precincts to Cities' approach to ensure success.
Green technologies will enable companies to collaborate better and improve productivity immensely by changing patterns of production and consumption. This will lead to leaner construction, optimal cost value better quality, and value engineered products. They will truly transform the built environment and make it possible for a city, a country and eventually, the planet to be sustainable and resilient.