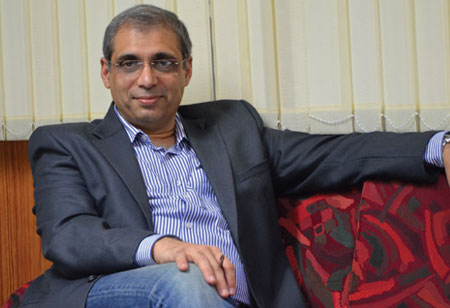 Zurvan Marolia, Senior Vice President & Head of the Manufacturing Council, Godrej & Boyce, 0
Powered by his strong business acumen and leadership capabilities, Sameer is building India's fastest and most accurate diagnostic lab
In the postCovid world, there is a need for multi scenario planning and realtime operations alignment. How should planning be framed to streamline supply chain operations in a post Covid world?
The industry is seeing a fundamental shift since the start of the pandemic, and the journey will continue.
Digitization will play a vital role in bringing transparency to the supply chain. This will help in providing lead indicators which will avoid last minute surprises as we grapple with uncertainty in the VUCA world. There is a need to diversify risk to ensure that there are alternatives available to satisfy customer demand within the committed time frames which builds customer confidence and provides a big boost to business. The practice of TOC within the framework of Risk Enabled Process Management is the way forward in the current scenario.
A move to a more self reliant model is also some thing that as an industry, we need to strive for, and in this direction, work has already begun. Building supplier capability is something all manufacturers strive to do. There is, however, a fine balance required to be maintained between building supplier capability and outsourcing areas of core competence. The tiered system of suppliers, as practiced by the automobile industry, is a good example of how vendors are encouraged to move up the supply chain while developing Tier 2 suppliers, expanding employment, optimizing cost, and ensuring the reliability of supply. This system will not work across all industries though and must be judiciously practiced to ensure that quality and timely delivery commitments are not diluted in chasing cost optimization.
What factors can be vital for building a more sustainable and resilient supplychain?
In today's world, competition is not among companies but their supply chains. A sustainable and resilient supply chain seeks to ensure that it is robust enough to survive disruptive incidents and influences. A bulk of the supply chain consists of MSMSEs many of whom have had their resilience severely tested during the pandemic, and require a helping hand from their OEM customers.
Through an initiative called 'Beyond Sourcing,'we started a journey over a decade ago to work with key suppliers to establish a business partner relation ship with them. Through this initiative, suppliers have been taken through basic development of management and then on to initiatives of building robust productivity and quality systems. They have further been taken through sustainability in terms of Lean & Green Management leading to ZED (Zero Effect Zero Defect). Over time an internal rating system has been put in place where each supplier receives a periodic report of their performance along with pointers on improvement areas that will push their performance a notch higher. The inputs from this system aid the Supplier Maturity Assessment, which then indicates the readiness to become a viable alternative to current global sourcing.
What are the supply chain priorities that need immediate action?
The number one priority that comes to mind is to ensure the health and safety of every individual in the supply chain. This comes from redefining systems to ensure contact less working whether it be transaction or physical working on factory floors (social distancing). This includes redefining systems to ensure the paperless information flow, to relay outing of manufacturing areas
to ensure minimal physical proximity in operations.
In the context of the supply chain it also refers to documents such as purchase orders delivery schedules material in word notes invoicing et cetera all being done digitally. For example the creation of an advance supply note which adds value to the transaction in terms of transparency and an assurance of goods receipt which builds reliability in the system.
Leverage data to improve visibility so that the company can maximize visibility into demand, inventory, capacity, and supply across the ecosystem
Leverage data to improve visibility so that the company can maximize visibility into demand, inventory capacity, and supply across the ecosystem. Mobilize dedicated planning and execution teams that can undertake multiple interventions and ensure quick responses, run simulations to predict when and where excesses and shortages are likely to occur and evaluate outcomes to get actionable insights that will optimize operational metrics.
Is the supply chain too interconnected, and should the current model be reevaluated?
The supply chain will always be interconnected. Whether to evaluate the model or not involves assessment of geopolitical risks, pandemic risk, onshoring/offshoring risk, and dependency/ redundancy risks and more.
After a tumultuous year, what does the future supply chain look like? Have we learnt enough to mitigate unexpected challenges like the Covid-19 pandemic?
The pandemic has forced a leap of about five to eight years in the way in which business is done, and that includes the definition of supply chains. Development is a continuously evolving process, and irrespective of where we are today, changes will keep shaping the way we do business in future.
For businesses, the pandemic has brought about opportunities in terms of global supply chains now looking for an alternative to Chinese sources. This requires our factories to ensure that we benchmark global quality standards at global cost competitive prices.It also requires digitization and automation of our information systems so that the same can be managed within globally accepted lead times. It is truly said that competition is not between manufacturing companies, but between supply chains, and we cannot afford to lose sight of the prepared ness of our supplier partners, particularly the MSME players, who we have handheld through the pandemic and who are now responding as demand has started to show a healthy recovery.
Finally, there is a need to be in tune with the changing needs of the customer, and to be able to bring new products to satisfy these needs with a focus on reducing the time to market.
What is your perspective on supply chain 4.0 and how can it reshape the concept of the supplychain?
The Covid-19 pandemic has accelerated the pace of digital adoption across different sectors. Businesses who've been able to think digital first are relevant growing and scaling up their operations. Advances in technology are already helping make supply chains more transparent. Internet of Things(IoT) has enabled businesses to strengthen their planning and inventory management systems with real time information on product location. I have also enabled businesses to know more about customer behavior. These advances have already brought a host of benefits. And as supply chains go digital, businesses are generating massive amounts of data that can be used to identify hidden opportunities. 5G technology is also playing a major role in making IoT solutions work. By connecting to data from suppliers, ware houses, production facilities and distributors, businesses can establish an integrated approach to managing their supply chains. Artificial intelligence is used for adding a layer of predictability in the processes which can help in identifying possible quality failures leading to a first-time right experience in the supply chain which is a significant factor in cost optimization.