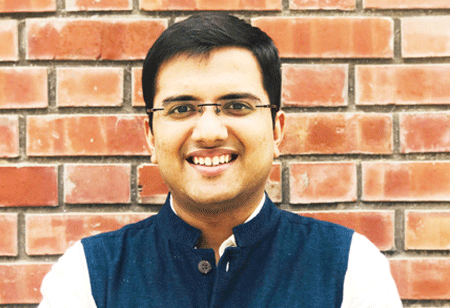 Sahil Aggarwal, CEO & Co-Founder, Rishihood University, 0
With the exponential rise in the number of entrepreneurs in India, startups have kept growing as well. We currently are the third-largest startup ecosystem in the world. But what makes for a good startup ecosystem? The components of a flourishing ecosystem are the talent, education, funding, mentorship, and incubators & accelerators. One of the ways that this ecosystem has seen progress is because of the universities/colleges in India. Students with innovative ideas and an aspiration to transform their ideas into business ventures have been encouraged to do so within the environment of some esteemed educational institutions.
Some college students have seen success stories of how their startups grew into big chains or brands. We have stories of Swiggy, Ola, and many other startups. These stories say a lot about the role that universities have to play in nurturing the startup ecosystem. One story that I would particularly mention is of the very well-known and popular food delivery app - Zomato. Started by two IIT Delhi students, Zomato is a very big name today and is running a successful business. A simple idea in the college of turning print menu to digital for easy access brought them both a whole new venture. We have a number of startups from our IITs and IIMs and they very well showcase how essential it is to have an environment that supports startups and provide entrepreneurial training and courses. Our students are ambitious. They have the aspiration to do something for themselves and for the community. Given the right set of skills and a good nurturing environment, they can go a long way.
Before we get into why & how incubators & venture funding have come into the dialogue, let us understand what it means and what kind of difference does it make. The primary role of an incubator is to assist budding companies by providing them with an opportunity to grow their network, meet industry mentors or even interact with entrepreneurs. It increases the chances of a startup's survival and growth. From encouraging an entrepreneurial mindset to funding, many universities can support students in their initiatives.
With the resources that the universities hold together, it will be beneficial for the students that the academic institution where they study is an incubator and helps them achieve success in various ways. Conducting various guest lectures, field visits, workshops with expert advisors or successful startup owners, opens doors to various opportunities and questions. Students would get
a chance to discuss their goals and create a wonderful network, which otherwise would be a far-off level for any young person who aspires to run a business. It helps build up a direct connection with the best in their field out there.

Their involvement doesn't just end at well-known names, but also in the development and creation of a studio or an office space where students can get the real experience or innovate and build their very own prototypes. You could call it the room of innovation. Along with this, the pedagogy with hands-on applied projects and real-life problem-solving experience will give them a better knowledge of what they'll be facing out there.

Another key aspect that helps with a student's growth is a live project. Colleges continue to find ways in which they can educate students and also give them the experience of theoretical knowledge. This particular factor is covered by many with their trained & enterprising faculty members who take up real projects and involve students to apply their book knowledge in a practical scenario.

In countries like the US, corporate companies themselves take up the opportunity to reach out to institutions to instil innovation and creation in their work. Some colleges in India including the IIMs, are slowly taking up projects and ensuring that students work on them as well.

At IIM Ahmedabad, some participants have to think and build on a powerful business model for Indian and global markets. Students go through a selection process with well-known companies and are thereon offered offline and online live projects as well. These live projects help them to learn how to be team players, engage with colleagues and align with their cultural values.

At the institutes, a powerful way of teaching is blended learning, especially in a multidisciplinary environment. Increasing engagement and improving flexibility are the factors that blended learning brings to the table. Blended learning is a good way to train with the use of technology and face-to-face instruction.

It's necessary today for all the universities to adapt their teaching process, enhance the depth of learning, and understand the importance they play in the startup ecosystem.

Sahil Aggarwal, CEO & Co-Founder
An entrepreneur and education provider, Sahil is the trustee and board member at Gateway Education, Sonipat.

Sahil completed Mechanical Engineering graduation degree from the Indian Institute of Technology (IIT) Delhi and contributed to a plethora of policy discussions, social service, spirituality and voter awareness. Sahil is the co-author of a public policy book and has co-designed political card game.