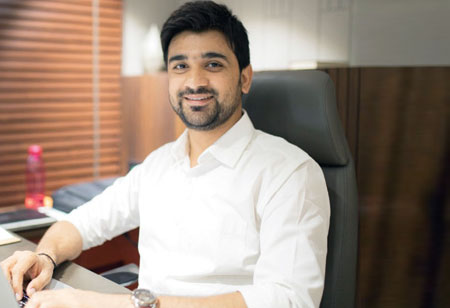 Sanjay Desai, Director, Fabcurate, 0
An excellent sales, marketing, and technology expert with success in digital technology.
We are living in the era of Technology. Surrounded by gadgets, smartphones and machines that no one conceptualized would be possible to build. Advance ment was never at this blistering rate. It's an opportunity for everyone to do what they desire, however they like, and wherever they are inclined. We are at the inflation of 'True Freedom.'
Being familiar with the word, 'Online stores' is requisite now. Who doesn't want the whole world to buy products from them? Having such a vast market area platform, these online websites are salient features of revolution in the Textile Industries. A shop offers a limited number of customers with restricted time.But when the listing is done online, business runs 24x7 and there is an extensive range of customers ready to buy. People don't want to waste their time going to the store and buying. What's the easiest way? They just search for the required product and order it online.
Perspectives are varying with more alternatives. Sit at home, relax and open your shop, without going through the hustle of finding a place, renting it, sitting there all day, waiting for buyers to arrive. That's full of ennui and a waste of funds. Traders have discerned it and accepting the fact, that the retail industry is now furnishing a window of opportunities to everyone. Customization of online fabric stores is an effortless proceeding. The textile industry contributes almost four percent of the total GDP, and 35 million people are employed in it. This shows how much important it is. With the population increasing day by day, the deficiency of fabrics is obvious.
India is leading and paramount in the textile industry. And with the evolution in automation, we are adapting the online version too. The premier thing about online stores is that they are not bounded. One can advertise their products anywhere they want to. However, in retail stores, one's reach is limited in a particular area. Fabrics are part of our lives now, and who doesn't want more to explore? Scrolling through the online stores, sitting in your comfort zone is kind of fun and moderate. A retail shop has a restrained space, only a limited variety of fabrics can be in stores. Whereas an online store has immense storage space. Being virtual has its richness.
Before & After Covid-19
Covid-19 had a ravaging whack on all the industries, and its repercussions are not going to be easily rectified. No one saw that coming. e-Commerce was already rising, but when the retail shops got whack by the Virus, there
was a surge in online shops. Online retail sales increased 32.4 percent year over year in 2020 and are up to 39 percent in Q1 2021. In trepidation of getting in contact with the virus, no one wants to get in contact with people, and that's fair. During the lockdown, groceries, food, beverages, and all the necessary items were ordered online by most of the citizens. During that time, the market succumbed to recession. When it comes to life & livelihood, the obvious answer is life, even though both are co-related. Livelihood can be retarded, but life can't be. So, sitting at home and getting what's required is safe. We are getting habituated to this new life of living with the Covid-19.

Customers' Opinion & Competitive retailers
Psychology only helps in anticipating the behavior of humans, and when it comes to shopping, a customer's behavior being accustomed is a myth and it sometimes vexes the shop owners. But when doing online shopping, there is no direct interaction; the product is already there on the website along with the descriptions & specifications. The number of online retailers has been escalating a lot, and this presents a prospect of rivalry. In every business, the customer is 'king.' If he/she likes the product they are seeing, only then they will acquire it. This has made the merchandiser smart too; they are enumerating the standards of anything they are selling, keeping the prices low compared to others. So, it's an open market where there is no direct bargain because it's been already done for the sake of the customer by the retailer.

Transparency of Online Fabric Retail Stores
Even though our convention of shopping is different now, the positivity of it has only elevated with online stores. There is no scam in doing online shopping. The customer is aware of what he is buying, and if he is not, there are details accessible, and one can go through them. There is recourse, of returning the fabric, or any other apparel if it's not as per the expectation of the customer. Consider the same scenario in retail stores. You buy the fabric, bring it home and after a couple of days you comprehend, it's not good for you. You'll have to go back to the shop, argue with the retailer, and a covenant might not be satisfied. As a result, you waste your time, money, and mental stability.

The Delivery System is Getting Faster
Retailers are making the delivery nimble most are endeavoring to get it in one day, as they want to keep their customers forever. And providing services is the key to that lock of loyalty. It's an intuition that a bad impression will result in losing the client. And the online market is enormous, yet delicate. A slight delay in delivery or any fault in the product will cost retailers more than money. So, the room for getting enhancement is never full, and hence they are trying to make the process easy, reliable, and fast.

Verdict
Changes are good when we acknowledge what it is bringing to the table. Online stores are justified, because there is no stability in retail stores, given the circumstances. Shifting is not an easy job, but it is mandatory. From customers reaching the retailers to the retailers reaching the customers, online stores have brought a drift on our mindset. Unorthodox is the new trend.