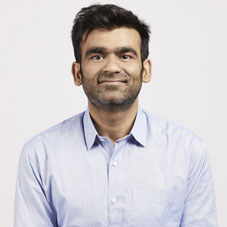 In the world of global business, where profit margins and market share often dominate the narrative, there are few leaders who go beyond traditional measures of success. These extraordinary individuals not only lead their companies to great heights but also have a strong commitment to making a positive impact on people's lives all over the world. Apoorva Kumar, former Group COO of Jumia Group, is one such remarkable leader. Throughout his successful career, Apoorva has dedicated himself to a noble mission: to impact as many lives as possible in different parts of the world through his groundbreaking work in E-commerce and supply chain management.
Apoorva's African journey began with a daring decision ten years ago when he ventured into the world of E-commerce in Nigeria, leaving behind a successful corporate career in India. This bold move marked the beginning of a unique profile that spans various geographies, including India, China, the Middle East, and Europe. Throughout his journey, Apoorva has focused on E-commerce and supply chain, with a special emphasis on cross-border E-commerce and food delivery across four continents.
As Apoorva continues to leave an indelible mark on the global business landscape, his unwavering commitment to impact and empowerment serves as an inspiring example for aspiring leaders worldwide.
Tell us about your professional background and experiences? What is the motivation that fuels your daily routines?
My educational background includes graduating from the prestigious IIM Calcutta, and I began my career through the Tata Group's leadership program (TAS), where I gained experience across various divisions.
My professional background and experiences encompass a bold decision I made ten years ago to start E-commerce in Nigeria, leaving behind a successful corporate career in India. Some of my notable achievements include establishing a 1000+ 3PL marketplace ecosystem in Africa, creating a network of around 3000 distributed Pick-up stations, enabling 12-minute grocery deliveries in major African cities, and implementing a successful
drone delivery network in Ghana. Additionally, I played a significant role in leading Jumia Egypt's business to achieve an impressive annual revenue growth million while competing with giants like Amazon and Noon.
Before joining Jumia, I contributed to building the 3rd Party logistics network and technology framework for E-commerce in India during my time at Myntra.
Currently, I am focused on advisory and board positions for several startups in Africa. I am actively mentoring and providing guidance to these startups, particularly in the area of E-commerce in Africa and the Middle East. I am involved with about five to six startups at the moment. I primarily help the founders solve problems of supply chain and product at scale and expand in Africa
I am fuelled by the realization that my work directly impacts people's lives, inspiring me to strive for excellence every day
My daily motivation stems from the realization that my work directly impacts people's lives. I envision millions of households across Africa, discussing how Jumia's services have positively influenced their daily lives, which serves as a strong responsibility and inspiration for me. The fact that my work touches people's lives in real-time is a driving force behind my dedication and passion for what I do.
What is your leadership approach, and what guidelines or methodologies do you follow?
My leadership approach is rooted in four key principles. Firstly, I prioritize Business Performance Management with strict and analytical adherence. This involves creating transparent KPI dashboards shared with the team weekly, conducting performance management calls to address issues, and devising root cause-oriented action plans.
Secondly, I believe in the importance of New Business Development, emphasizing intensive groundwork. This includes defining project goals, aligning stakeholders, and engaging in meaningful discussions with customers, vendors, and partners for project success.
Thirdly, I focus on Stakeholder Alignment, acknowledging the multi-dimensional nature of organizations. Crisp problem statements and documenting areas of misalignment facilitate productive discussions and understanding disagreements.
Lastly, team development is a vital aspect of my approach. I invest time in hiring and onboarding senior
resources, fostering trust and comfort through a structured 90-day plan. Overall, my methodology is systematic, centered on quality conversations, and geared towards effective team and stakeholder alignment.

How do you stay updated on industry trends to drive your organization forward?
To keep myself up-to-date with ongoing industry trends and steer my organization towards the future, I employ a three-pronged approach. Firstly, I actively seek to meet and understand a wide range of subjects by engaging with interesting people and learning from them. Secondly, I stay plugged into relevant podcasts that cover topics like technology and AI, providing valuable insights and knowledge. Lastly, I not only read and learn but also strive to implement the concepts and ideas I come across into my business. This helps me identify various use cases and problem-solving methodologies, ensuring that I stay at the forefront of industry advancements and drive my organization forward.

What is the future destination you are heading towards?
My future destination is to continue to focus on sectors that impact people's lives on a daily basis, such as medical health supply chain, essential goods, and delivery systems. I am particularly interested in regions like Africa and the Middle East, where there is significant growth and an opportunity to make a meaningful impact on the lives of a large number of people across various countries and societies. My career path will be guided by the goal of touching as many lives as possible and making a positive difference on a large scale.

What advice would you give to the budding industry leaders?
For budding industry leaders, drawing from my extensive experience within the field, I offer three essential pieces of advice. Firstly, lead from within; by fostering a collaborative approach with your people, rather than merely positioning yourself in front or behind them. This approach will cultivate a stronger leadership bond. Secondly, in today's complex and ever-changing business environment, co-leadership is becoming the norm. Therefore, it is crucial to develop the skill set to effectively collaborate with other leaders, building successful partnerships. Lastly, take the time to genuinely understand your stakeholders, including customers, vendors, and partners. By observing their experiences and behaviours, you can gain invaluable insights, leading to the creation of improved tools and incentives for their benefit.

Apoorva Kumar, Former Group COO, Jumia Group
Apoorva Kumar is an expert in E-commerce and supply chain management, with a remarkable ability to lead transformative initiatives and drive meaningful impact across diverse regions.