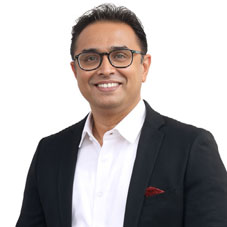 In today's interconnected business world, the rise of Indian profess- ionals in global leadership positions has been nothing short of remarkable. Their strong work ethic, cultural adaptability, and ability to think strategically have catapulted them to the forefront of multinational organizations, rede- fining the face of leadership on a global scale. Within this landscape, Paul Mathews stands as a shining example of excellence, earning widespread acclaim for his exceptional vision, relentless determination, and transformative impact as a COO at Vindico.
Paul's professional journey has been defined by a profound understanding of global operations and an unwavering commitment to excellence. By leveraging his unique Indian perspective, he is effectively navigating cultural nuances and industry complexities. With strategic insights and dynamic stewardship, Paul has propelled organizations to new heights, leaving an indelible mark on their growth trajectory. Through dedication, strategic vision, and pursuit of excellence, Paul Mathews has earned his rightful place among the noteworthy Indian COOs from global companies in 2023.
CEO Insights engages in an exclusive interview to deduce more about his journey, leadership style, future plans, and more.
Take us through your professional journey & experiences in brief.
I embarked on my professional journey in 1997. From the outset, I set my sights on leaving a lasting impact in the business world. During my tenure at Reliance Communications, I honed my expertise in setting up telecom infrastructure and overseeing construction, making significant contributions to the company's growth and success.
In 2007, I sought to broaden my horizons and explore new industries, leading me to join the esteemed Lulu Group in Abu Dhabi. It was here that I played a pivotal role in the establishment and management of multiple shopping centers,
immersing myself in the intricacies of technical operations and reshaping the retail landscape.
Driven by a zeal to push my capabilities further, I joined Vindico in 2012, specializing in retail design and delivery. As a senior leader, I spearheaded the development of complex projects, where I faced numerous challenges but worked out ways that helped the growth of the organization in the retail industry.
My hunger for new challenges and opportunities persists to make an even more profound impact. Moreover, the future brims with limitless prospects, and I am ardently excited to navigate through them.
To me, leadership extends beyond a mere role it encompasses being readily available for the team & proffering indispensable support when called upon
What are the guidelines or methodologies you follow as a leader?
Staying grounded is a principle I hold dear, as I believe in actively listening to others before expressing my own views. Leadership, to me, transcends a mere position it involves being there for the team and providing the necessary support when needed.
In my guiding philosophy, I emphasize delegation and enabling individuals to unleash their full potential. I encourage my team to embrace failure without fear, assuring them of my support and dedication to their success. Additionally, a crucial aspect of my role is cultivating future leaders within the organization, and fostering a culture of growth and development.
It is important to cultivate a clear and transparent business culture, where goals are well-defined, and everyone understands their roles and responsibilities. Equipping individuals with the right tools and resources to thrive is paramount to me.
Building positive relationships, whether with clients or internal teams, is a significant motivator for me. By nurturing these relationships, I can drive positive change and influence others in the team and beyond. This drive to continuously improve and bring fresh ideas to the table is what fuels my daily motivation.
What is the future destination you are heading towards?
My future aspirations revolve around the growth and global expansion of our business. We have strategically positioned ourselves in various verticals, enabling us to expand both horizontally, by venturing into different regions, and vertically, aiming to become industry pioneers. Our focus is on regions with significant development opportunities, while also exploring markets where physical presence may not be feasible, leveraging software solutions.

As a business, we have meticulously considered various perspectives to chart our path forward. Our ultimate objective is to expand the business, and we have set precise goals during our discussions. Achieving these goals hinges on two critical elements first, pursuing geographical expansions by establishing strong business partnerships in diverse regions, and second, diversifying our range of services within our portfolio.

Based on your experience so far, what would be your advice to budding industry leaders?
While leading a team, it is crucial to practice what you preach and lead by example. You will face numerous challenges, and it is essential to approach them with composure and maintain a positive attitude. Your team should feel supported and empowered, with the understanding that failure is a part of the learning process and will not be met with criticism. Building strong one-on-one relationships and fostering a positive team dynamic based on trust is paramount.

Additionally, it is vital to keep a watchful eye on the market and be open to accepting changes. Adapting to change and continuously seeking improvement is key to driving business growth. Valuable insights and suggestions can come from all levels of the organization, so it is important to listen and understand different perspectives. Developing these qualities will make it easier to navigate the challenges that arise in a leader's role.

For budding aspirants, my advice is to prioritize building positive relationships, fostering trust, and being open to change. By cultivating these qualities, you will be better equipped to manage the complexities and demands in your venture.

Paul Mathews, Chief Operating Officer, Vindico
A humble leader, driven by collaboration, growth, and accountability. Embracing diverse perspectives, motivating emerging leaders to thrive and surpass expectations.