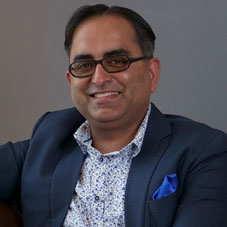 Time and time again, India has proven to be the birthplace of some of the world's brightest minds. Influential people in the world can trace their ancestry back to India, from the IT gurus of Silicon Valley to the tycoons who run the world's largest corporations. As one such accomplished and goal-orientated professional, Tapan Piplani leads Valor Hospitality in the Middle East. Valor Hospitality Partners is a full-service hotel management and development company that manage hotels globally, and offer site selection, conceptual design, technical services, project management, pre-opening support, and specialist functional services, amongst others. Tapan delivers each time on the company's philosophy of 'Reimagining Hospitality' with PRIDE- being Passionate, Real, Inspiring, Dynamic, and Excellent.
CEO Insights is engaged in a one-on-one interaction to speak with Tapan Piplani, here are the highlights.
Shed some light on your professional journey from its inception to the present.
After graduating in hotel management from Chandigarh, I began my professional career by joining the Oberoi Center of Learning and Development, which is affiliated with Oberoi Hotels. 16 years with Oberoi Hotels in India, Egypt, and Dubai offered me valuable international exposure and experience in Food & Beverage, Front Office, General Management, and Development Projects.
In 2010, while I was managing the prestigious Oberoi Vanya Vilas, Ranthambore, the hotel was recognized by the readers of Travel + Leisure US as the 'Best Hotel in the World'. This accomplishment was a source of pride for the entire team and evidence of our dedication and commitment to excellence.
I obtained certifications in revenue management from the UK's Revenue Academy and in hotel real estate investment from Cornell University, Ithaca, USA. This educational experience highlighted the significance of ongoing education and personal development for career growth.
Shortly after, I joined a family office in Abu Dhabi where I managed their hospitality portfolio with a focus on property management and asset management. Observing the expansion and success of the portfolio under my supervision was gratifying.
I joined my current company Valor Hospitality in early 2020, heading the business in the Middle East, Central Asia & Indian Ocean. Due to the pandemic, the hospitality industry faced significant challenges, but the region I was in, especially UAE, recovered relatively quickly. Working alongside talented individuals, I navigated these difficult times and grew to my current role of Chief Operating Officer overseeing both, the operating portfolio of hotels, and Business Development for new contracts and projects.
Could you describe how your journey has shaped you into the leader you are today?
Throughout my journey in the hospitality industry, I have honed a set of qualities that define my leadership approach. One of the fundamental aspects of my leadership style is simplicity. The essence of hospitality is intelligence and awareness, not complicated procedures. Through simplification and streamlining, we can
concentrate on providing excellent service and memorable experiences. Secondly, effective communication is essential. I value personal connection despite technology's convenience. Personal interactions help us serve our guests, employees, and investors more effectively. However, to remain relevant in a rapidly changing industry, I also recommend being creative. By rejecting conventional practices and embracing innovation, we can enhance and deliver successful financial results for investors, career growth for our team, and consistently memorable experiences for our guests.
Reputation matters! The ability to reimagine is our biggest strength
Lastly, though importantly, empathy forms the basis of my leadership style. By empathizing with people's goals, expectations, and concerns, I make everyone feel respected and heard. Empathy also increases guest satisfaction and fosters a positive, supportive work environment that encourages collaboration and development.
I am a leader who empowers others. I have faith in my team's ability to make decisions and take responsibility for their work. Their empowerment enables them to become leaders. I provide assistance and direction as required, but I also encourage autonomy so that they can contribute their unique perspectives and skills to the organization.
How would you define Valor Hospitality as a company and where does it fit within the hospitality industry?
Valor Hospitality, based in Atlanta, Georgia, is a fully integrated, full-service independent hospitality management company. We manage hotels under global brands for owners as independent operators. We work with premium, midscale, and economy brands from companies like Marriott, Hilton, IHG, Hyatt, Accor, Wyndham, Radisson, Deutsche Hospitality, and others.
Valor Hospitality operates in the United States, United Kingdom, Africa, and the Middle East + CIS with 90+ operating assets. The company has performed exceptionally well over the past decade. During the pandemic, we dug our heels in and came out stronger than our global competitors. Valor Hospitality is the region's only truly global independent hotel management company that offers owners and investors a highly reliable, rewarding, and established alternate route to manage their hospitality investments. Our global team of over 125 corporate employees offers expertise to a wide range of properties, serving business and leisure segments, across a wide geographical base.
How do you help your team gain market insights and demonstrate that the company stays afloat during market fluctuations and competition?
We focus on several factors to keep business operations running smoothly despite competitors and market fluctuations: Strong Commercial Performance is vital and is one of our pillars. We invest in smart people, and resources. Technology and data analysis aids decision making and market adaptation. Sound Business Practices that focus on cash flow thus creating a business that is run ethically and profitably thus rewarding our partners, investors, and shareholders from short-term to long-term.
Accessible Leadership: our leadership is accessible to our teams. We help the management team and the ground team when needed. This builds trust and supports good decision-making. Relationships and Reputation: Reputation matters. Valor Hospitality has spent years building its brand. We supported our colleagues, owners, and investors during the pandemic, bolstering our reputation as a trustworthy
company. Market Insights: We value market intelligence. MIS and data analytics from STR, HOTSTATS, and The Bench help us understand market trends and consumer preferences. A lot can be learned from trade events,tourism board briefings, development and investment shows. Customer and Employee Feedback: We listen to our customers and employees. We can adjust our strategies and offerings based on their input. Valor Hospitality focuses on these factors to stay competitive, adapt to market changes, and run a successful business.
How do you see the future of the sector, what opportunities may arise, and what advice would you give to aspiring leaders
Tourism has a prosperous future and technology will be a driving force. Like other industries, travel will also be positively impacted due to AI, VR, blockchain, and big data analytics. Sustainable tourism including Net Zero Carbon hotels, eco-friendly construction materials & practices, experiential resorts, boutique and authentic stays, and improved accessibility are all going to be an integral part of our ecosystem in the immediate future. We need to encourage, train and retain human resources by reimagining our work ethos, processes, and benefits and once again making hotels & hospitality an aspirational industry for the youth. Industry leaders should spend enough time on university campuses and schools sharing success stories of our industry.
To thrive in this ever-evolving industry, budding leaders should embrace change, be agile, and be open to adapting their strategies and business models. Placing a strong focus on delivering exceptional customer experiences will be a key differentiator in a market filled with options. Prioritizing sustainability in business operations will not only contribute to a better future but also attract environmentally conscious travelers. Leveraging technology, being adaptable, and being willing to pivot quickly in the face of disruptions will be essential to navigate the challenges and seize emerging opportunities in the travel and tourism sector.
What are your future aspirations?
Valor Hospitality has ambitious plans for expansion and growth. Our focus is on increasing our presence in UAE, Oman, Pakistan, and Uzbekistan, entering into countries in the region such as Saudi Arabia, Georgia, Bahrain, Jordan, Israel, Egypt, and the Indian subcontinent markets including India, Nepal, Bhutan, Bangladesh, Sri Lanka, and Maldives. Our goal is to actively manage hotels in these locations and continue to grow our portfolio. It's an exciting vision for the company, and we have our sights set on significant growth and opportunities in the coming years.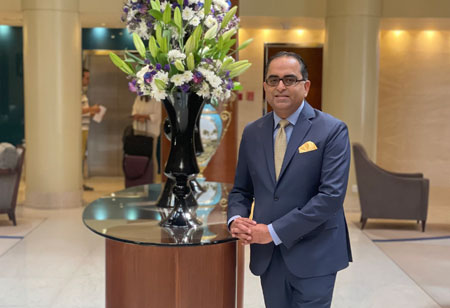 Tapan Piplani, COO
Tapan Piplani is an accomplished, resourceful, and goal-oriented professional with a comprehensive background in hotel management, including experience in strategic hotel development. During his career, he has consistently demonstrated strong leadership abilities in managing all aspects of hotel operations; training and developing staff; and overseeing annual budgets with a focus on sales & revenue generation.
Quick Facts
Hobbies
–Reading fiction, playing cricket, and watching football
Favorite Cuisine
– Indian and Indo-Chinese food
Favorite Books
– Dare to Dream (Rai Bahadur MS Oberoi's biography) and My Vision (by HH Sheikh Mohammed bin Rashid Al Maktoum)
Favorite Travel Destinations
– Considering UAE as my home, it would be India, Oman, Australia, and Scandinavia