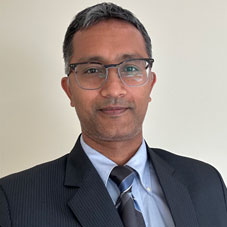 The pharmaceutical industry plays a crucial role in advancing healthcare by developing and manufacturing life-saving drugs and therapies. It is a complex and highly regulated sector that requires strong leadership to drive innovation and navigate the challenges inherent in drug development and commercialization. One such leader empowering this sector is Vijayakanth Pagadala, the Chief Operating Officer of Glycan Therapeutics. Vijayakanth's contributions have been instrumental in advancing the understanding and application of biotechnology in the pharma industry research and development. Let's hear more from him in this interaction.
Could you provide a brief overview of your education background and experiences?
I obtained a Master's degree in Biotechnology from Panjab University followed by a short research fellowship at IGIB, Delhi. I went on to pursue a PhD in Biochemistry and Molecular Biology from Rosalind Franklin University, USA and Postdoctoral training at NIH (NIEHS) and UNC Chapel Hill. Throughout my career, I have served as a principal investigator for several projects funded by the National Institutes of Health (NIH), focusing on the development of technologies and products in the field of biomedical research and drug discovery. Currently, I am involved in the establishment of scientific research and development facilities, as well as overseeing operations at Glycan Therapeutics.
What has been your success mantra in your journey so far?
My approach to success in my journey thus far can be summarized by a quote from Dr. Jayaprakash Narayan, the founder of the NGO Loksatta. He said, "Unfulfilled potential in learning and avoidable suffering in Health are two of the biggest sins of the modern era", which resonates deeply with me and serves as my guiding principle for pursuing and persevering in biomedical research. I firmly believe that persistent focus is essential for achieving even the smallest increments of progress, a principle that applies not only to my career but also to the field of biomedical research as a whole. Throughout my
journey, I have been fortunate to encounter numerous valuable opportunities, exceptional teachers, and mentors, starting from my early education. This strong foundation, coupled with the privilege of receiving advanced training in the United States, has provided me with a broader perspective and a wealth of experience, allowing me to benefit from the best of both worlds.
I firmly believe that persistent focus is essential for achieving even the smallest increments of progress
How would you define Glycan Therapeutics as an organization and its position in the pharmaceutical manufacturing sector?
Glycan Therapeutics is an organization that operates in the drug discovery with a focus on pharmaceutical manufacturing. As an early-stage drug development company, we are currently preparing for the transition to the clinical stage in 2024. Our primary focus has been on developing a robust platform technology that enables us to offer the research community a range of innovative products and services that were previously unavailable.
At the core of our operations is the enzymatic synthesis of Glycosaminoglycans, which serves as a strong foundation for the development of novel drug candidates, research tools, reagents, and analytical technologies. Our product portfolio encompasses molecules of high clinical significance, such as synthetic Heparin, while also catering to the diverse needs of various research institutions.
How do you maintain a competitive edge in leveraging latest technologies?
We employ various strategies to maintain a competitive edge. Firstly, we focus on enhancing existing techniques and generating new intellectual property. Secondly, we execute projects efficiently with a dedicated team, ensuring effective completion. Furthermore, we capitalize on opportunities by out licensing our patented molecules to global pharmaceutical companies, generating capital and creating more prospects. For example, we are actively assisting a global clinical diagnostic company in their trials, to reduce costs and improving technical feasibility. Additionally, we have developed novel LC-MS methods for Glycosaminoglycan (GAG) detection, which as an analytical service has gained a lot of attention and been profitable. These approaches contribute to our competitive advantage and revenue growth.
What are the factors you take into account to ensure the smooth running of business operations?
Ensuring the smooth running of business operations at Glycan Therapeutics involves several factors. Our success has always been attributed to our exceptional and dedicated team. As a start-up, we embraced an agile approach, swiftly adapting to changing needs using a short iterative learning cycle and efficient management of limited resources. Once we achieved initial validation, our focus shifted to stability, building critical infrastructure, and planning for the long term. Factors such as equipment reliability, resilient team building, and return on investment played a crucial role during this stage. Through productive collaborations and clientele development over our 8-year journey, we are now focusing on expanding and growing various branches of Glycan Therapeutics. Additionally, raising non-dilutive capital through research grants from esteemed institutions like NIH in collaboration with UNC-Chapel Hill, RPI, University of Wisconsin, Loyola University, Michigan State University, Caltech, has been instrumental in maintaining operational budgets, for which we are grateful

What is your anticipation about the future outlook of the market?
In the future market outlook, there is an anticipation that animal-derived Heparin will be partially substituted or completely replaced by synthetic Heparin, which would help alleviate frequent shortages. Additionally, there is ongoing development of novel diagnostic markers and tests based on Glycosaminoglycans (GAGs) for early detection of diseases such as Cancer and Alzheimer's. This presents increased opportunities for the application of synthetic GAG molecules. As for my future roadmap, I am fortunate to have been involved in technology, product, service, and drug development. Moving forward, I aspire to contribute to projects and teams addressing global issues and alleviating preventable suffering. One area of particular interest is addressing health disparities and unequal access to healthcare, where I would be enthusiastic to work and potentially participate in policy development at private or public institutional levels to improve healthcare.

Vijayakanth Pagadala, Chief Operating Officer, Glycan Therapeutics
Vijayakanth Pagadala, a highly accomplished leader in the pharmaceutical industry, holds a Master's degree in Biotechnology and a PhD in Biochemistry and Molecular Biology. His expertise drives innovation and advancements in drug discovery