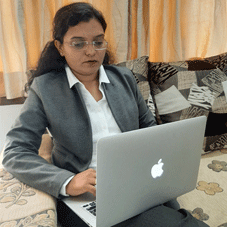 Let's recount the words of Harriet Tubman, an American abolitionist and political activist – "Every great dream begins with a dreamer. Always remember, you have within you the strength, the patience, and the passion to reach for the stars to change the world". A true embodiment of this quote is Jaya Prajapati (Founder, AppsTech Solution), who strongly believes that extreme passion can help someone conquer the world regardless of not possessing the requisite domain knowledge and competency. Through her brainchild – AppsTech Solution, she has been endeavouring to create the best and appropriate platform for the right talent and also develop their competencies day in and day out. Setting no predefined barriers for educational qualification or grades, she pledges to hire passionate talents even though they are irrelevant to her core business. For Jaya, it has always been the right attitude to learn and implement concepts that really mattered!
Today, she holds a team of aficionados at AppsTech Solution, an Information Technology company specialized in Network & Network Security Products, Solutions and Services. Jaya has exclusively shared a great deal about her entrepreneurial journey as well as her company with CEO Insights.
Narrate us your entrepreneurial story!
Hailing from a Gujarati family, I got married early when I was pursuing M.Sc in Microbiology. Post marriage, I realized that my family condition was not proper despite my husband being a working professional. Hence to contribute towards my family income, I started my career by catering to PG hostels with tiffin services. It was then I discerned my acumen in business & finance management, while I ensured to stay abreast of the flourishing market of Gujarat. Even during my stay at Hyderabad, I learnt about the IT market trends & requirements. This deep rooted knowledge and passion triggered me to start my own business and
become professionally independent. Kick starting with small opportunities, I gradually acquired bigger ones which gave me the confidence to grow. Eventually, I procured turnkey IT projects by associating with premium automobile brands and also successfully dealt with many Government projects.
Mean while, I started working on a minor, technical project during which I encountered many people with passion towards IT and invested largely in them. This was when the journey of AppsTech Solution plunged into a full-fledged implementation. During the initial days, my only thumb rule was to establish a fair platform for people to prove their talents with passion and no fear of top level management. Besides rigorously financing IT projects, I always assured that all my employees were bestowed with on time remunerations and extensive job security. That's how I gained the trust of my employees whilethey created a productive organizational culture. I also managed to gain a decent business turnover by smartly raising funds.
It was sheer self-motivation that helped me overcome these negative reinforcements and work on my own towards both personal & professional responsibilities
What were the various challenges that you encountered as an entrepreneur?
The foremost challenges were procuring capital for my business besides convincing my orthodox family that believed only Karta in family ought to engage in business & finance management. As I was in the IT sphere with very little experience, it was hard for people to trust me, while they had a prejudice that I wouldn't be able to deliver as per my commitment. It was sheer self-motivation that helped me overcome these negative reinforcements and work on my own towards both personal & professional responsibilities.
I also managed to grab various small opportunities and make the best out of each one of them through self confidence and additional efforts. In fact, I'm extremely fortunate and grateful to have received enormous support from my husband who stood up
for me even against his own parents. More over, the world was not always a bad place to live in; thanks to the people who trusted me akin to their kin and helped me greatly in my journey.

Brief us about your current and future plans for AppsTech Solution.
Currently, we are engaged in the provision of a mélange of comprehensive solutions for Greenfield to Brownfield projects. Having achieved financial stability in my business, I'm planning to allocate two percent of profits from each premium project acquisition to build a sustainable platform for women and degraded strata of the society with the passion to succeed on their own. My chief goal is to create more employment opportunities for this bracket of people, besides eliminating the gender prejudices. I have also started a unique campaign to accomplish this idea, while hiring dedicated manpower from premium institutes likes TISS & NIT. If things go as planned, then I'd be happy to onboard more people with genuine interests onto this mission.

This year, we came up with the drive 'Baat Karein Madad Karein' for women and under class to communicate all their needs, while we strive to develop a sustainable model for them. We are also organizing many meets through AppsTech to further encourage this motive and also invite corporates to participate. Furthermore, I read Economic Times every day to keep-up with the local & global technologies in IT, while my special research team provides synopsis on the same.

Key Management:
Jaya Prajapati, Founder
An epitome of sheer passion and hard work, Jaya has accomplished great strides at her IT company so far, while she started off with just a trivial business.

Favourite Books: Blue Ocean Strategy & Moneyball: The Art of Winning an Unfair Game

Favourite Cuisines: Rajasthani Food(Dal Bati), Pani Puri & Bhel

Favourite Holiday Destination: Maldives

Jaya Speaks:
"Technology is the only thing which keeps changing every second and simultaneously if we learn to optimize ourselves then our focus should be towards establishing inclusive & sustainable technical platform for all. Therefore, if anyone is starting their career, they should keepup with the latest technologies along with inclusive suitability for all".