Deepa Bachu: A Passionate Product & Design Expert, Evangelising Design Thinking & Customer Obsession from India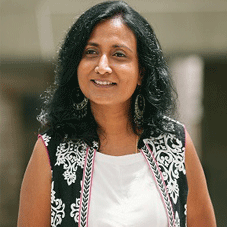 Today's environment is one that boasts of many technology pioneers doing us proud with their breakthroughs, innovations and achievements across a broad spectrum of domains. Deepa saw however, that these businesses mostly focussed on staying abreast of technological advancements and ensuring products & services hit the market ahead of competition. Sadly, many of these businesses ended-up losing focus on the end customer.
This was where Deepa found her niche, and setup Pensaar Design. Her background in technology, combined with her design expertise and her exposure to the principles of Design Thinking through the course of her extended tenure at Intuit, perfectly set her up for success in this area. Her work, while at Intuit, has been written-up as a Harvard Business Case Study and is used in many prestigious schools across the world.
Starting small, and growing organically over the last four years, she has built Pensaar Design up into a force to reckon with. Boasting a roster of technology as well as non-technology clients, Pensaar Design has worked with Indian startups, MNCs, Fortune 500 companies and non-profit organisations.
Deepa's goal is to use the process of Design Thinking to ensure companies engage with the end customers, identify their pain points and problems, and solve the right problem in the most delightful manner. In this manner she enhances Customer Experience and hence the company's growth by working with various teams across companies.
Below are excerpts of our conversation with Deepa, where she reflected on her journey so far, her aspirations and goals, her support system, and much more.
The journey of any entrepreneur is a blend of ups and downs. Brief us about your journey with Pensaar Design.
I played a range of roles across Experience Design, Innovation,
Product Management, General Management and Product Development, for almost 25 years. It was during my stint at Intuit, I decided to start helping other entrepreneurs in and around Bangalore by mentoring them on design thinking & customer obsession. That's when the idea of Pensaar Design formulated in my mind.
Being an entrepreneur is about weathering the ups and downs
Quickly, I realised that the gap exists in large companies as well and have had the great opportunity to work across clients who are Indian Conglomerates, Multi- nationals, Startups and Non-Profits. Being an entrepreneur is about weathering the ups and downs. The downs really help you build character, the ups keep you motivated to move forward, do things differently and take more calculated risks.
We have had a great run so far at Pensaar Design and we are ever so grateful. There have also been cases where we've not met our own and the customer's expectations. Those failures have made us stronger and have helped us work smarter, be constructively dissatisfied and apply the learnings to new customer engagements. I have constantly forged ahead to learn from our past, and keep evolving.
We've been extremely fortunate to have had great positive word of mouth from our clients, and this has almost always opened new doors for us, and business has been steadily growing as a result.
Walk us through your current role at Pensaar Design.
I have three priorities at Pensaar employees, clients and business. I believe that if we do right by the first two, viz., the employees and the clients, then the business will flourish as a result. I work towards keeping my team engaged to ensure they have the freedom and flexibility to learn and grow, because in their growth comes my growth, and that of Pensaar Design.
At Pensaar Design, we also often go above and beyond the stated task as far as client requirements are concerned. Ultimately, if one manages to create a great experience for the client's end customer, that means a great experience for the client as well, and that is our goal as a company.
Where do you think Pensaar Design
is currently positioned in the innovation space of India?
Today, the customer is truly spoilt for choice, and tends to switch between brands at will. This makes it essential for companies to constantly innovate and stay ahead of the curve, so as to remain relevant to their end customer.

However, innovation, despite being the buzzword these days, is not something most companies have as part of their DNA. This is where Pensaar Design comes in. We primarily have two services to offer. Experience Innovation, where in we help companies design awesome experiences for their customers by reimagining existing solutions (products, services, solutions & others), identifying unmet customer opportunities, and creating new solutions. Culture of Innovation, wherein we identify the problem areas in an organization and work with leadership to transform the organization to be more customer obsessed and innovative. Both our Experience Innovation and Culture of Innovation projects are fuelled by deep customer research.

How has your family supported in your entrepreneurial pursuit? Also, how do you managetime for family as well as work?
My family and close friends have been my rock, unconditionally supporting me throughout my entrepreneurial journey. My husband and my kids have encouraged me to take on risks and give things a try, especially in the early days where most days felt like an uphill challenge. My family has always been my No.1 priority! Between my husband, children and I, we try and plan well in advance to ensure a reasonable work-life balance. As a family unit, we ensure to go on at least two vacations a year. These are times when we all get to unwind and spend quality time together.

Key Management:
Deepa Bachu, Founder & CEO
With 25 years of professional experience, Deepa is a design strategist and innovation consultant with a thorough understanding of technology, design and research.

Interests: Reading, Travelling, Movies, Sketching, Trying to Sing

Favourite Cuisines: Indian Chinese & Italian

Favourite Destinations:
Russia & Italy

Deepa Speaks: "We all need mentors - people who truly care, help and advice. Do what you love and do a lot of it. Know yourself - know what you do better than most other people".