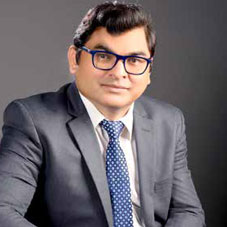 Energy markets function as auctions to manage the generation and distribution of electricity effectively. The gas production and gas treating industry hold immense utility for numerous reasons. It serves as a vital source of energy generation, powering various applications such as electricity generation, heating systems, and industrial processes. Natural gas finds widespread use in residential and commercial settings for heating, cooking, and hot water systems, offering convenience and efficiency. Enerflex is a globally operating company with a dedicated team of more than 2,800 experienced professionals. They have strategically established their operations in dynamic energy-producing markets across the globe. The company maintains a permanent presence onsite, ensuring efficient and customer-centric services. Mahesh Yesade, as the Director-Manufacturing of Enerflex, has played a pivotal role in guiding the company and driving its growth and achievements.
During our interview, Mahesh Yesade provided valuable insights into the functions and multifaceted benefits of energy production.
With over 20 years of experience in the Oil & Gas, and Water & Power sectors, what pivotal moments have shaped your career? What valuable lessons have you learned along the way?
I embarked on my career in 2002 as a Graduate Engineer Trainee at Thyssen Krupp Industry in Pune. In 2004, I transitioned to ISGEC in Yamunanagar, expanding my expertise. However, a significant turning point occurred in 2005 when I joined L&T in Hazira Surat. During my nine-year tenure there, I gained invaluable exposure to the oil & gas and power sectors, taking on various roles in manufacturing, planning, and project management. L&T also provided me with the opportunity to pursue higher studies in project management at IIM Indore. In 2013, my journey took another important turn as I relocated to UAE to join Exterran
Energy, a reputable American company specializing in gas and water projects. Working on notable gas plants and producing water projects in the MEA region for esteemed clients such as Shell, PDO, ADNOC, TOTAL, KOC, and HITACHI further enhanced my professional experience.
Selecting the right skills, training & providing time-to-time acknow- ledgments to people are the keys to building a successful team
What are your responsibilities in the company and what skills, traits, and knowledge are essential for a leader in this industry today?
As the Director of Manufacturing, my key role encompasses overseeing safety, quality, delivery, cost management, and employee well-being at a large scale manufacturing plant. Ensuring a safe work environment and preventing any injuries is of utmost importance, as evidenced by our accomplishment of surpassing 5 million man-hours without any loss of time injury (LTI). In addition to safety, I am accountable for meeting client specifications and international standards to uphold the high quality of our products. Simultaneously, I am responsible for maintaining cost efficiency and adhering to project budgets to ensure profitability. Effectively managing operating expenses (OPEX)and capital expenditure(CAPEX) for the manufacturing plant is another essential aspect of my role. This entails meticulous monitoring and optimization to achieve financial objectives. To achieve these objectives, it is crucial to build a skilled team and provide them with the necessary training and a conducive work environment. As a leader, I prioritize fostering collaboration, demonstrating compassion, and motivating the team to drive collective success.
Could you please tell us about your leadership style and the guiding principles that shape your approach? What is the mantra that drives your success?
My leadership approach is guided by four core principles inspired by the late Eli Goldratt. Firstly, I embrace the notion of inherent simplicity, acknowledging that all systems possess an underlying simplicity and harmony, even in the face of apparent complexity. Secondly, I
hold the belief that people are inherently good within a given system, refraining from attributing failures solely to individuals. Thirdly, I adopt a mindset of curiosity and humility, avoiding assumptions and seeking a genuine understanding of reality. Lastly, I consistently strive for win-win resolutions in conflicts, aiming for mutually beneficial outcomes for all parties involved. As a leader, I not only prioritize the organization's success but also consider myself a leader for my team and all employees, fostering collabo-ration, trust, and collective growth.

How do you personally define success, and what are your future aspirations as an industry leader with exceptional experience?
I believe that success and learning are continuous endeavors that should never cease throughout life. It is crucial to constantly strive for improvement and stay updated with evolving skills and knowledge. Drawing from my extensive experience in the oil and gas as well as water sectors, both in India and abroad, I have a strong desire to return to India in the near future. My primary objective would be to contribute to the growth and development of Indian companies by leveraging cutting-edge technologies and practices.

Given your extensive professional back ground, what advice would you offer to emerging leaders in the industry?
An important piece of advice I would give to emerging leaders in the industry is to prioritize the significance of detail. Whether it's taking on a task or assuming a responsibility, approach it with a genuine passion and a sense of ownership. Recognize that meticulous attention to even the smallest details can greatly impact the overall success of your endeavors. In addition, I strongly encourage aspiring leaders to consistently seek opportunities for personal and professional growth by actively engaging in training programs and pursuing relevant industrial courses. In an industry that is constantly evolving, it is essential to continuously upgrade your skills and knowledge.

Mahesh Yesade, Director– Manufacturing, Enerflex
Mahesh Yesade is an inspiring and influential leader who possesses exceptional abilities in team building and training. Mahesh strongly emphasizes product safety and quality and is dedicated to reducing costs And enhancing operational efficiency.