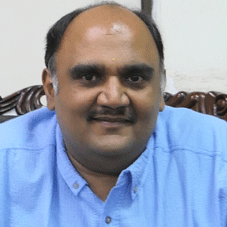 With the advancement in technology, the world's economy is gearing towards the next industrial revolution termed as Industry 4.0. Estimates from the World Economic Forum indicate that 65 percent of the children who entered primary school now will ultimately work in a job that doesn't even exist today. Looking at this scenario, educational institutions that are adapting their programs to better suit an ever-shifting work landscape have become the need of the hour.
A P Shah Institute of Technology (APSIT) is one such emerging college in India that is dedicated to imparting state-of-the-art technical education to students, making them ready for the industry. The institute started functioning since the year 2014 with a sincere aim of providing quality education in the ever-expanding horizon of technical education in today's digital era.
APSIT is managed by Parshvanath Charitable Trust (PCT) which was established in 1993, under the leadership of Late Ashokbhai Shah. PCT is committed to provide all the world-class facilities, infrastructure, technology and the appropriate environment to the students to achieve their goals of becoming successful professionals in the present era of globalization. Under the aegis of Late Ashokbhai's son, Chirag A. Shah (Chairman, PCT), the trust now aspires to develop APSIT in such a way that it will be recognized all over the globe as one of the prominent and authentic centres of technological training & research. CEO Insights interviews Chirag to know more about APSIT's endeavours.
Tell us about APSIT and its goals as an Institution.
At APSIT, our endeavour is to create a wonderful window of opportunities for our students. We don't just aim to impart knowledge but also to shape employable graduates. We are a student-oriented as well as student centric institution where we focus mainly on their academic-success.
Education at APSIT is the blend of traditional values & modern techniques of learning, which can sustain & bring success to all.
We are a STEM certified institute and aim to provide project-based learning
The shortage of appropriately skilled labour across many industries is emerging as a significant and complex challenge to India's growth and future. Jobs that existed 10 years ago are dying-out today. Besides, with the introduction of Industry 4.0 where automation & robots are set to take-over the routine jobs while creating various new opportunities, schools and colleges need to focus on building innovation, creativity and problem-solving skills in students to bridge the gap between their skills and the rising business needs. Our approach to tackle the problem of lacking job readiness is by collaborating with the industries. We have established ourselves as one of the biggest technohub and the only educational institution having the highest possible tie-ups with industries. Leveraging the partnership, we are trying to cover Industry 4.0's futuristic technologies, such as 3D printing, VR/AR, Cloud, Robotic Process Automation and more.
What are the courses offered in APSIT? What are the factors that differentiate you from other institutes?
We are a STEM certified institute and aim to provide project-based learning. The courses that we offer are Mechanical Engineering, Information Technology, Electronics & Telecommunication Engineering, Computer Engineering and Civil Engineering. But what differentiate APSIT from other institutions are the courses on trending technologies that we offer to our students (free-of-cost) under our industrial collaborations segment. We have collaborated with Google for Machine Learning, NVIDIA for Deep Learning, Bentley for Academic Programs, Autodesk for Skill-building, Oracle for various programming, e-Yantra for Robotics, and many more.
Another factor that helps us to stand apart is our academic initiatives, under which we provide eLearning Platform, MAC Club, Aptitude Training, GATE/CAT coaching, Foreign Language courses and more to our students.
I believe that there is no charity in business and there is no business in charity. With this belief, we provide all of the facilities to our students at no extra cost. We have invested a lot in developing these facilities just to provide the best academic knowledge to our students. We also provide fee reimburse scheme for students who are willing to take admission in defence.

What are the features that students can avail under your Academic Initiatives?
We leverage the learning management system, Moodle,for the administration, documentation, tracking, reporting and delivery of eLearning education courses to our students. The MAC Club empowers & encourages students to build innovative automobiles. Through our foreign language courses, we help students to improve their linguistic skills in order to increase placement opportunities worldwide. In our Udaan Incubation Centre, we help students to understand the technical know-how of today's industry. Our ultimate aim through all these initiatives is to place our students in MNCs to make a significant contribution to corporate industries all over the world.

What are the facilities that you provide to your students?
We offer AC Class Rooms, Wi-Fi Enabled Campus, Pearson empowered eLibrary, ATM & Bank facility, Cafeteria, Hospital tie-up and more to our students.

Share the working experience of APSIT's team of faculty and also tell us how they are helping the institution to excel in the industry.

We excel in what we do because we have a strong and dedicated team of faculty members and research fellows in APSIT, who are passionately committed to their work. Their experience varies from two-35 years, but the passion that each and every member brings to their teaching is one way in which they help the institute fulfil its noble mission.

Key Management:
Chirag A. Shah, Chairman
A leader with a strong willpower, Chirag is dedicated to provide quality education to the upcoming generation of India.

Offerings: Mechanical Engineering, Information Technology, Civil Engineering and more, along with special facilities under Industry Collaborations and Academic Initiatives

Office: Thane