AIMS College of Hotel Management & Catering Technology: Shaping Students with Right Attitude & Industry-Specific Knowledge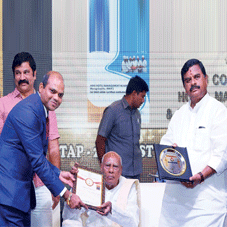 Indian hospitality industry is currently reeling under a severe manpower shortage and also experiencing high attrition rate, giving a major threat to the hotel groups, airlines and cruise liners. On the flip side, researches showcase that for hospitality students to be successful, hospitality management courses must meet the needs of both aspirants as well as industry, developing skill sets needed in the industry while achieving the academic rigor demanded by institutions.
This is where Hyderabad-based AIMS College of Hotel Management & Catering Technology makes a mark with its NON-NEGOTIABLES system, which shapes students with right attitude. Apart from a formative classroom delivery, the system bestows frequent interactive sessions with industry professionals and organizes field trips, thereby acclimatizing students with industry-specific atmosphere. Atop, learners are coached on basic communication skills, punctuality, grooming and hospitality and propel to take part in various departmental activities like food festivals, cocktail preparations, restaurant table setup, quiz and seminars.
In an exclusive interview with CEO Insight, Vooka Satish (Managing Director) shares how AIMS' vision is preparing industry specific professionals and filling the gap.
Among the number of hospitality institutes mushrooming today, what differentiates AIMS from them?
Established in 2012 by Lotus Educational Society, AIMS is a best place for students who desire to pursue career in hospitality & tourism industry for their bright future. The college not only helps students to fetch suitable job post completion of course but also renders them numerous insights on the entrepreneurial front, drawing their attention towards the ongoing bandwagon of startups. Additionally, all courses are developed aligned with recent advancements in the industry in order to yield maximum knowledge to learners. Since
inception, we have trained & placed 600+ candidates and presently 300 students are studying under different courses.
Candidates are trained in our digital class rooms and given hand-on experience in our state-of-the-art laboratory including kitchen lab and Wi-Fi enabled computer lab
We also envision providing affordable education to the society, especially middle & lower middle income group, in order to develop a competitive workforce for the industry and our BHM program with course fee of Rs.25,000/pa is the first step towards the same. At AIMS, we strongly believe in nurturing budding professionals and make them excel in their field of interest.
Give insights on various courses offered by AIMS along with admission, eligibility criteria and financial assistance details.
The institute conducts three years bachelors in Hotel Management & Catering Technology (affiliated to Osmania University), and one & half years Diploma, Advance Diploma and PG Diploma in Hotel Management (affiliated to JNCTE, New Delhi and recognized by National HRD). 10+2 qualified students can enrol for bachelor course whereas diploma courses can be taken by candidates looking for entry level positions with one year in-house practical & theory sessions and six months industrial training program in leading hotel chains.
Students have to clear entrance test followed by group discussion and personal interview to get admitted in our college that generally commence from first week of July. We offer educational loan in association with all leading banks and low income group students get fees reimbursement from Govt. of Telangana.
What are the facilities students can avail at AIMS?
Being centrally located in Hyderabad, we are easily accessible by any corner of the city and maintain a well furnished hostel to accommodate the outstation students. Candidates are trained in our digital class rooms and given hand-on experience in our state-of-
the-art laboratory including kitchen lab (basic, quality and advance training kitchen for beginners, bulk cooking and international cuisine)and Wi-Fi enabled computer lab. Additionally, we uphold well furnished library, training restaurant (bar counter) and model guest rooms to perform practical and conduct various sports activities & quiz competitions, keeping students engaged in the academics while focusing on their overall growth. Unlike others, we allow our students to interact with industry-peers which helps them upgrade on current norms/trends.

Share the experience & expertise of your teaching faculty and how do you keep them updated with recent industry trends?
At AIMS, every faculty aims to make student experience excited and thus inherits effective & deliberate teaching techniques in their course. Our industry-specific faculties not only support & motive students to attend classes frequently and involve them into various learning process but also keep them posted on recent industry challenges, innovations and upgradation. In order to meet the ever updating trends, we provide training to our faculties, regularly conduct guest lectures by the industry expert and encourage them to participate in programs/ exhibitions, adding valuable credentials to their knowledge.

Enlighten us on your placement process.
From day one, we focus towards career guidance & development of students wherein an individual file is maintained for each candidate by class teacher with their complete details (from attendance to marks) and we even provide counselling in case of any fault. Students are not only exposed to various group discussions, written examination and mock interviews but also given multiple opportunities as per their choice/skillset and regular feedbacks post interviews, which inturn boost their confidence level and make them ready for final interview. Furthermore, one-to-one student interaction is held with the HOD to rectify their issues.

Key Management:
Vooka Satish, Managing Director
Satish upholds 15+ years of experience in the hospitality industry and worked with various renowned educational institutes and hotel chains.

Offerings: Bachelor's in Hotel Management & Catering Technology and Diploma, Advanced Diploma and PG Diploma in Hotel Management.

Office: Hyderabad